Yo, its NB15KM!
Hell, it's about time! For a running post. Its already the month of May and its my first running event of the year. I went to collect my race kit on 15.05.2010, Saturday. There wasn't any queue for the race kit collection because the first kit collection event was held last week at Sunway Pyramid which I totally didn't know. My mistake for not READING their email regarding race kit collection. I do know about the change in race venue but I took for granted regarding the race kit collection days. Normally race kit collections are 2 days before race day at the same venue but anyway, lesson learnt :)
Sigh
I had a sore throat since Friday night. I was at an event held at Lot 10 and I took public transport to the place. I didn't take anything too hot, deep fried or spicy but my throat was fucked up. I drank a lot of water even in the office so I really don't know what caused it. I'm guessing its the weather + unhygienic public transport system! How painful was it? Imagine this, it was painful even to swallow your own saliva. Anyway, I took my medicine and prepared my running vest and stuff before the medicine kicks in.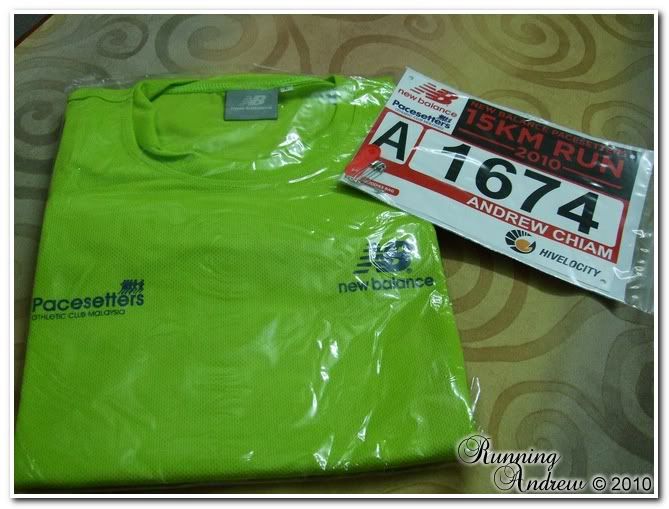 The vest for this year is lime green!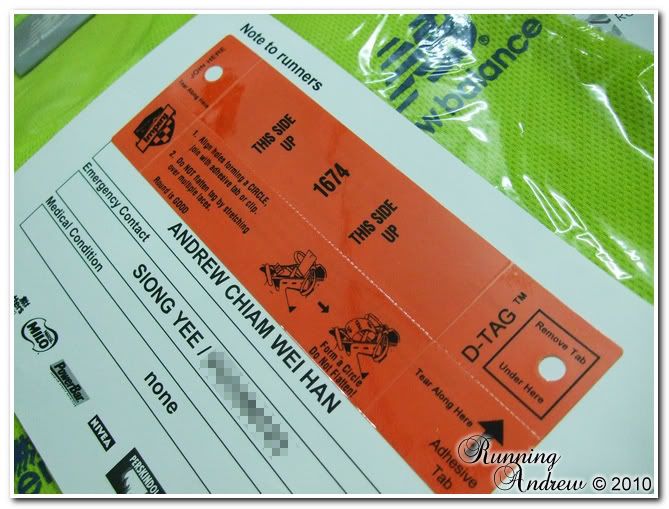 The bib number is really cool with your name, emergency contact and the timing tracking thingy attached called D-Tag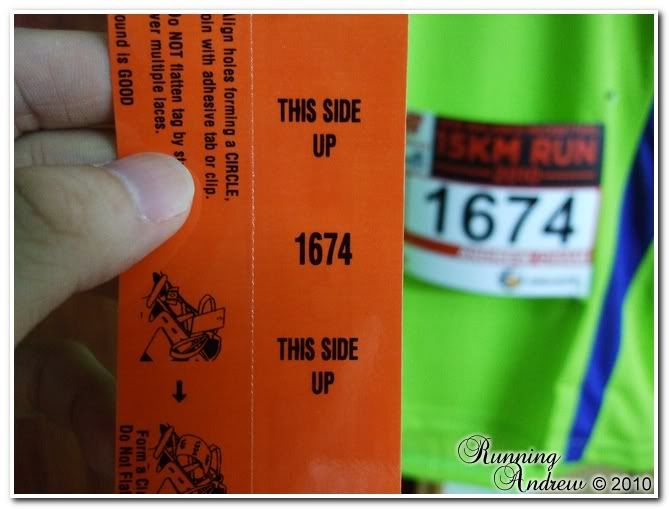 D-Tag for your shoe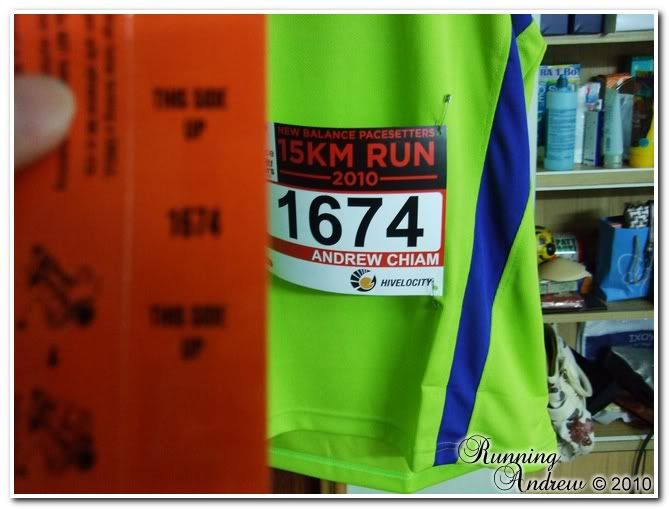 My running vest all prepped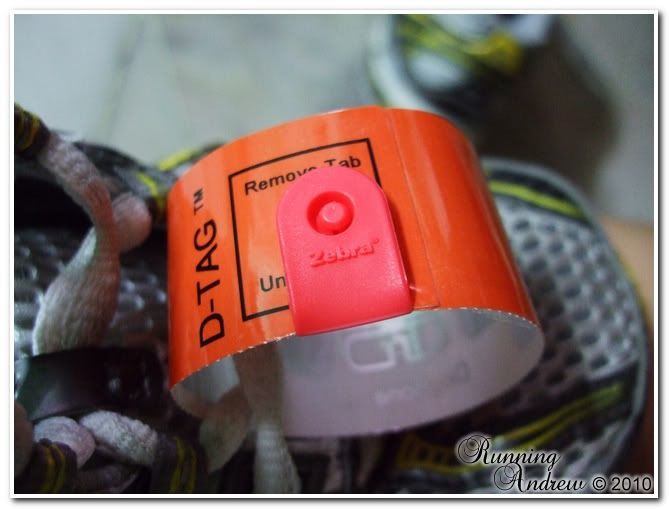 Running shoe checked
I woke up around 4.00am only to snooze my handphone. I ter-tidur balik and woke up again at 4.40am! My throat felt better and not feeling feverish, I decided to proceed with the run. As usual, I had a quick bath(not mandi kerbau lah) and some light breakfast. I was still blur as hell that I thought I took the Oat Cereal instant drink packet but it was some coffee drink instead. I only drank half a cup of the coffee and drank more plain water. With that done, I made my way to Bukit Aman Car Park. Got myself a well lit parking spot near the public toilet area. To my surprise, David called me up asking me where I parked and all. I honestly didn't know he was running for this event too. Not long after, he arrived and we both made our way to Padang Merbuk.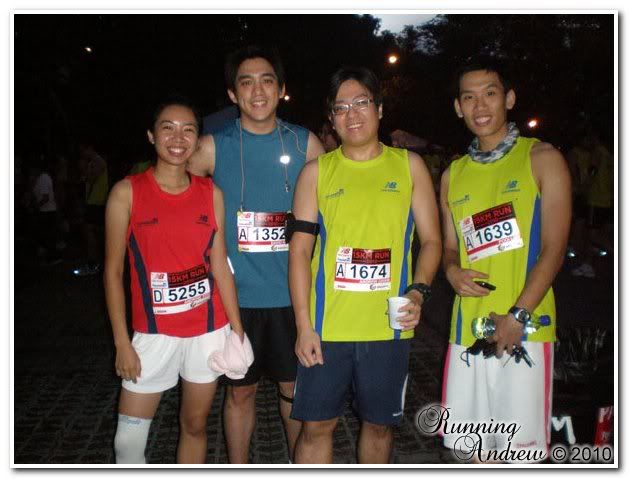 Met up with some friends since college days. L-R: Ee Chian, David, Me, Pooi Lum(Ee Chian's friend)
Here is David, Me and Lam( my colleague) after some warm up runs. David was sweating already :P
This year, the women category will start off first at 7.00am while the men's category starts 15minutes later. So there goes some nice "views" for us guys huh? My plan was to pace with my friend Lam although I don't know how far my legs will take me.
Once again, I didn't train enough for this. A couple of 5KM and 8KM runs ain't gonna cut it. Lam suffered a minor cramp after we passed Tugu Negara so he asked me to carry on. I continued with my own pace towards Bank Negara. Everything seems okay till I passed the 10KM mark. According to my watch, it was 1 hour 24 minutes then. By 12KM mark, I was already walking for the most part. I couldn't run. If I were to start running even just a little bit, I would be down on the road. Although walking seems to be safe, my right leg was already twitching like the cramps were gonna hit ANY time.
After awhile, my friend Lam caught up with me and we continued walking together. A good Samaritan runner passed me a tube of heat rub for me and my friend when he saw me stopped walking. It helped a lot but in my mind, all I wanted to do is to finish the race without limping pass the finishing line which happened last year. A St. John van even stopped beside me to check if I was okay to continue with the race. I gave him a thumbs up for confirmation and he drove off.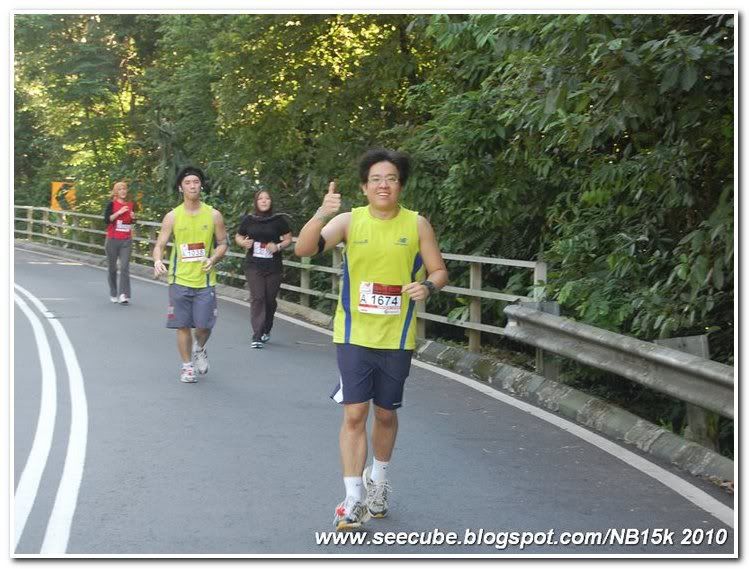 Thanks
Choi
for the picture
The final stretch along Jalan Parlimen was horrible as my legs were seriously in extreme danger zone. I walked even slower. To make matters worse, the sun was REALLY showing no mercy. I told Lam to go ahead and not to wait for me. He carried on while I continued walking towards Padang Merbuk. Final right turn towards the finishing arch, I took one long breath before trying to run again. I raised both arms as I run pass the finishing line signaling a sign of victory and relief. To my surprise, the cramps didnt hit me even after I have crossed the finishing line. My watched showed 2:25:XX. Despite the slow time, I'm glad to have completed it in one piece.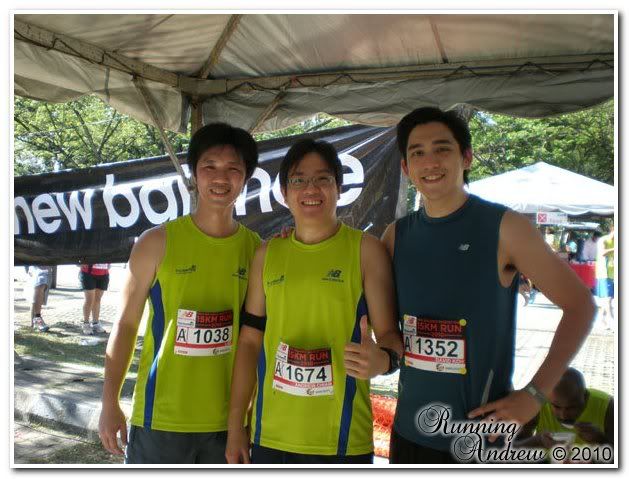 We did it :)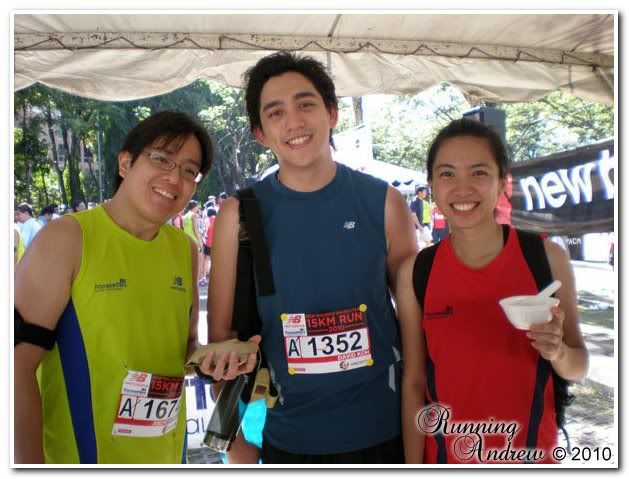 Nasi Lemak and tau fu fa provided
Thanks Lam for being my pacing partner although we didn't really pace throughout the race LOL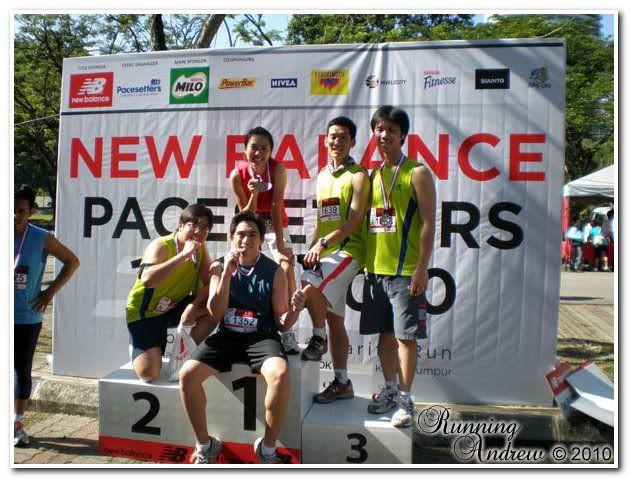 We're all winners!
I'm gonna try to train for my up coming 21.1KM Standard Chartered 2010. I don't care about the timing goals but as long as I can do something about the cramps, I'll be darn happy. So was the race worth it?
Yeah! Why Not?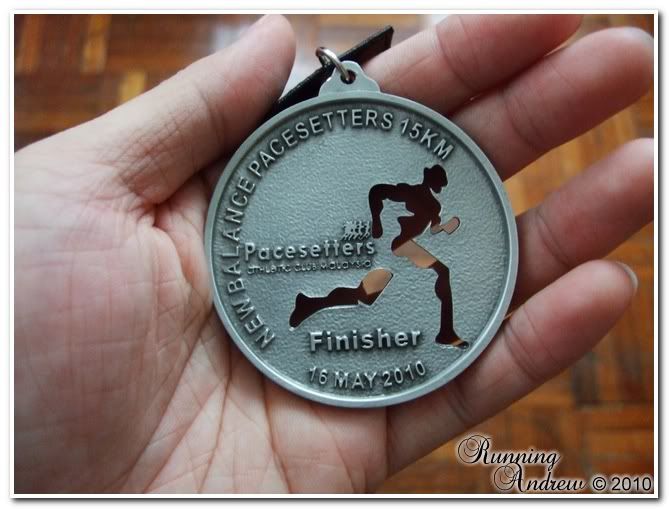 Afterall, 15KM is 15KM
Some people to thank:
Ee Fei for the photos. The before and after run photos were lovely!
Choi for taking my running shot :P
Ija and Zack! Thanks for the water and cheering :P
Lam for pacing with me
Pooi Lum, nice meeting you :)
Ee Chian, it was nice to see you after so long :P
Woon Chieh! It was good to see you too. We haven't seen each other since high school. Damn long sial hahaha.
Till the next race, see ya!