It feels weird as I am typing this...you know, those back in school days where one would be composing "Siapa Saya"
karangan
(Essay). Should I just keep it concise or a long ass description with all the herbs and spices about my life? Since this is my new blog, I'll pick the latter. I'll try not to be too
cheong hei
but hey, its about ME.
So for those of you who don't know me, I'm Andrew Chiam Wei Han, born on 13th November 1983 and my zodiac is Scorpio(if it matters). I graduated with a bachelor's degree back in 2005 from Asia Pacific Institute of Information Technology or better known as APIIT. I'm originally from Johor Bahru but I've been in Selangor ever since I started college back in 2001. I won't talk about what happened or what I did when I was young but I think the most significant part of my life is during my time here in KL.
When I first came up to KL, I didn't know anyone nor had any friends except for my relatives. Of course, I met alot of good friends in college whom are still my good buddies but growing up in KL was some what different. The pace of life is so fast and rapid compared to my life at Johor; or to be a little more specific, Batu Pahat.
College life was what I always thought it would be from television; Freedom, free from parent's constant nagging, no more home work and having a car. Did I enjoy the freedom? Sure I did. I remember the days where I would be going out with my friends to cyber cafes at night for some counter strike marathon and clubbing during the weekends. I was pretty much a party goer. But don't get me wrong, I don't do crazy shit like one night stand(honest). Hard to believe? Andrew goes clubbing? Well, those were the days and I thank my good graces that from all my clubbing nights, there were no random police raids and stuff.
Here comes the "holy" side of me. I used to be a Sunday Catholic till one day, my sister(who was studying at University of Malaya) invited me to a church that she have been going to every week. At that time, there was a group of college students and young adults called Lifeline, reaching out to people. And I remember being given a small form and the part that caught my attention was "What / How can you contribute to the church". My reply? I can play the guitar or sing. My sister and I were in a choir during our younger days back in Batu Pahat. Furthermore, we have some music background from our piano lessons and I was also very into guitars at that point of time. After 2 weeks, I received a call from Jeffrey and it all started from there. I started serving in the music ministry at the church of St. Francis Xavier(SFX) at Jalan Gasing every Saturday for Life Mass. The music was livelier but I'm sure there were some senior parishioners who aren't too happy about that.
Not long after, I meet a guy called Kenneth, whom I now call brother-in-law. He is a bassist and was looking for another guitarist for his band. I gave it a shot and guess what, we formed our band not long after and it was called Witnesses. All of the band members comprises of parishioners from SFX church! How awesome is that? We had alot of wonderful memories including recording our own single CD! I did not maintain the website for my band but the song is still up for
download
.
Now for the most important part of my life. It was in 2007 where I began this change. What change? Most of my friends will know what I'm talking about. Weight. Yes, my weight. Still don't have a clue? Here is my graduation picture:
That picture was dated back in 2005. Lets go back alittle further shall we?

This picture was taken in the RTM Studio 4 where we were recording some Christmas songs to be aired back in year 2004!

It was also in year 2004 where my girlfriend and I went steady during our college days. And yes, we are still together and we are tying the knot next year :) So count yourselves lucky to be told this information from HERE. :)
Anyway, I did not pay much attention to my weight those days. During my college days, it was just lots of mamak food, late nights of gaming and clubbing. My weight was more than 80KG and my mum would always say "Enough already, don't eat too much". When I first met my girlfriend's relatives, they too said that I was "quite big". Nah, its not that they are trying to put my down but its the way they chat. Apart from that, When I got my first job in 2006, society began to hit its pressure on me. You get joked around as some fat character or used in jokes for anything related with fat. Don't get me wrong, I'm not that
small gas
and I don't give a rat's ass about what others think of me but what I'm trying to say is, if all these are happening, they are happening for a reason.
I was thinking to myself - I used to be slim! what on earth happened? After stumbling across some younger(slimmer) photos of myself, that was when I extremely motivated for a change. I made a resolution for 2007 to lose weight and to look better not only for myself but for my loved ones.
I started by doing some cycling and watching my rice intake. Not soon after, a colleague in office suggested me to run instead of cycling as it burns more calories. I ran in the morning before work and after work in the evenings. My rice portion for my dinner was about a small bowl of rice. The results for the first two weeks itself was significant.
As I continued my journey in my battle for weight lost, I met some new friends who were runners and bodybuilders. Not long after, I started participating in running events, joining mostly 10KM running event. Apart from running, I also started working out from home instead of the gym with a pair of dumbbells and workout bench. I learned a lot from my buddy Nigel and Edmund about body building and the importance of diet with regards to that. And yes, my diet is still screwed up with the occasional Nasi Lemak and roast pork noodle!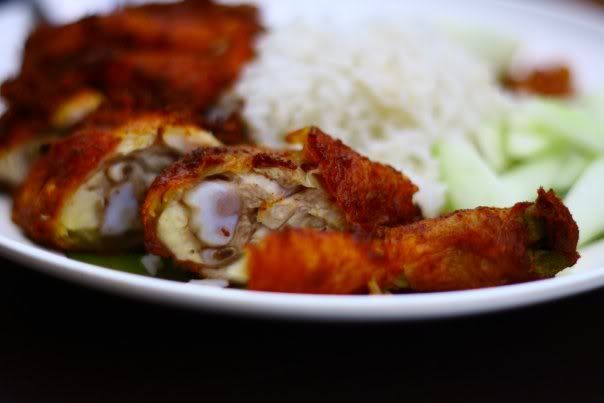 How could one resist to this? Mmmmmm

Roast Pork Noodle :)

Nevertheless, I continued what I love doing even till date; which is running and working out. It was only in December 2008 when I decided to run my first half marathon in Singapore. The feeling of crossing that finishing line was memorable.
My first half marathon in Singapore

My home gym

I really appreciate the motivation and advises given from all my friends. Without you guys, I wouldn't be where I am today.


So before I end this About Me page, from the bottom of my heart, Thank you.


p/s: Thanks for visiting my blog too! Please come back for more updates :)