Runner's circle indeed
After so many months of preparations and hard work, its finally here. My friend, Frank launched his new store "Runnerz Circle" last month. What is it about? Its one of the few shops that brings in some of the best running gear to our shores.
Unlike Nike or Adidas, you will find brands you've probably never heard of but in fact, these are REALLY good brands.
Injinji Socks
With individual toes separated with the unique design, you can say goodbye to blisters. Though I haven't used them before, many friends have gave their testimonials on this; amazing :)
Noticed the brand Halo eh? Those are headbands. SPI belts are ones starting from column 4(blue colour) towards the right. No longer do you need to use bulky pouches that bounces around whenever you run. This belts expands easily and it doesn't bounce or shift out of place during your run.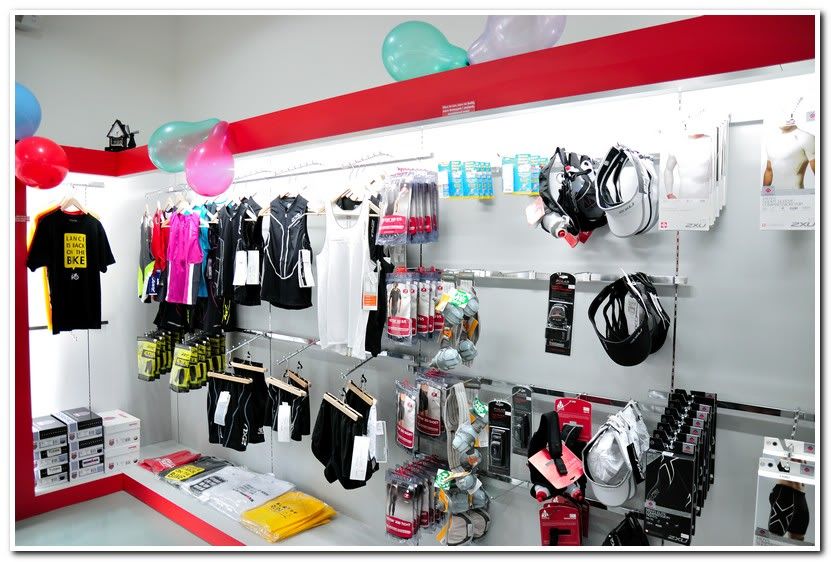 Pick one!
Compression Top


For the ladies too
So how does compression clothing work? I'm no expert in this but I did some google search and you can check out this one that I've read; you may click
here
. The only compression suit I got was for my calves by 2XU.
BV Sport
Also not shown here are running shoes by K-Swiss! Sorry Frank, I couldn't make it for the launch that day for the K-Swiss running shoe but for you guys reading now, you may check it out from Runnerz Circle's
website
.
I hope you guys can help share this with your running friends if they have not heard of Runnerz Circle. If you have any enquiry, do drop by the place and I'm sure Frank would be there to help whenever possible.
Smile! You're on camera! :P
Runners!


Friends


By a runner for runners :). By the way, Frank is the one kneeling.
Details taken from Runnerz Circle website for your reference:
Address:
12-1, Street Wing, Sunsuria Avenue,
Persiaran Mahogani, Kota Damansara,
47810 Petaling Jaya, Selangor, Malaysia.
Operation Time:
Monday: Closed
Tuesday: 11.30am – 6.15pm
Wednesday - Friday: 11.30am – 7.00pm
Saturday, Sunday & Public Holidays: 12.00pm – 5.00pm
They will be closed during certain major events. Do check with Runnerz Circle
Contact No:
Tel: +603 61426787 / +6 012 3959598
Email:
info@runnerzcircle.com
Web:
www.runnerzcircle.com
Facebook: Runnerz Circle
Map: