A friend/acquaintance wants to buy a pair of FAKE Crocs from the local pasar malam (night market). What would you say to him/her?
A: Go ahead, its cheap
B: Can also, since it cheap
C: Up to you lor, if its spoilt, just buy another one
D: My honest opinion. better get an ORIGINAL CROCS.
I'm sure most of your answer won't be D. I was having the same typical mindset of Malaysians. But now that I have used an ORIGINAL pair of CROCS, things have changed. I've said it before in my
previous entry
, and I will say it again:
"Don't let its price be the final decision maker but rather its overall quality and benefits of the shoe. Firstly, the material used for CROCS shoes are of a patented resin that is said to soften and mold to their shape to your feet when warmed by your feet. Sounds damn keng chau right? Wait, it doesn't end there. Thanks to their secret recipe for their patented resin called Croslite, its makes the shoe very lightweight while maintaining its soft cushy-ness feeling."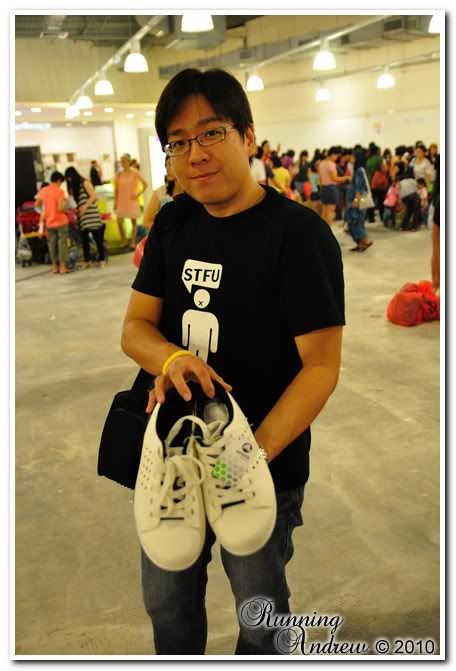 My first pair of CROCS;
CROCS AXIS
I bought my FIRST pair of CROCS during CROCS Warehouse Sales back in April 2010. Yes you have you be there very early, going through the crowd and the long queue at the cashier but when you find that pair of CROCS that catches your attention. BAM! Satisfaction! Here are some shots of my ORIGINAL CROCS: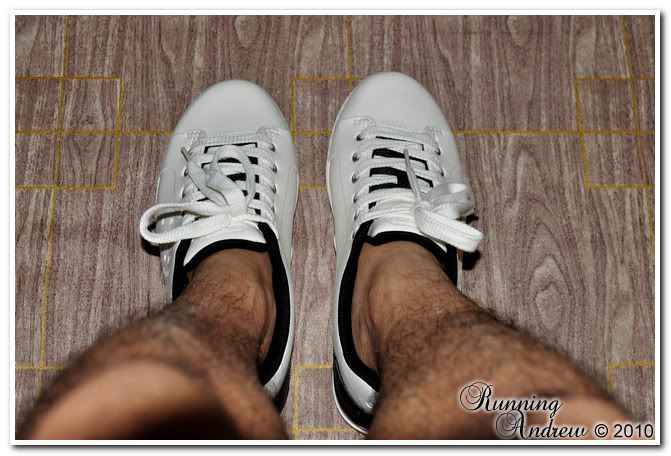 It's black, its white. *Ignore the leg hair please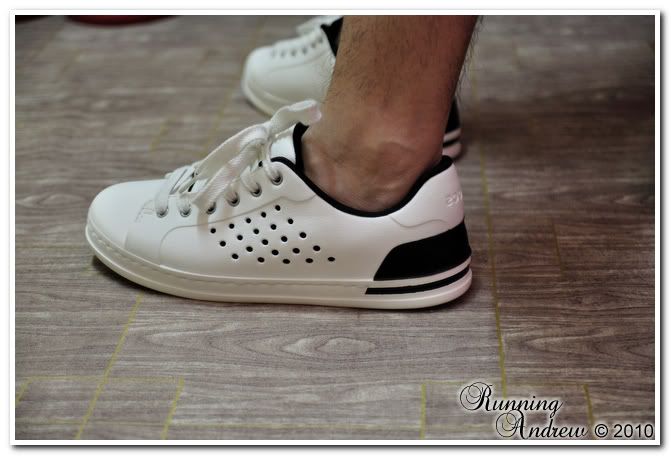 Sleek no?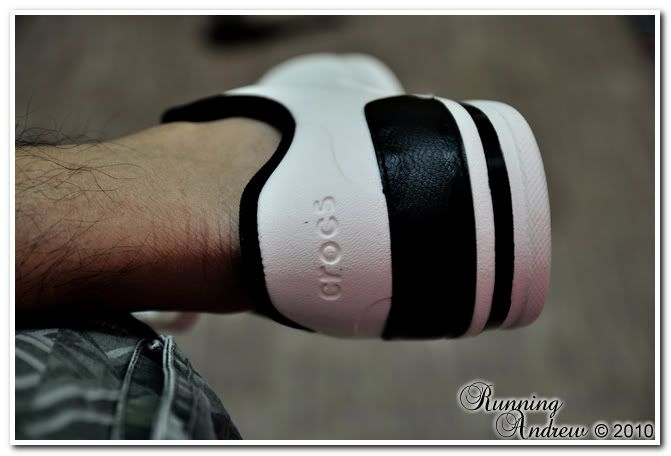 CROCS rocks my socks off, so no socks required!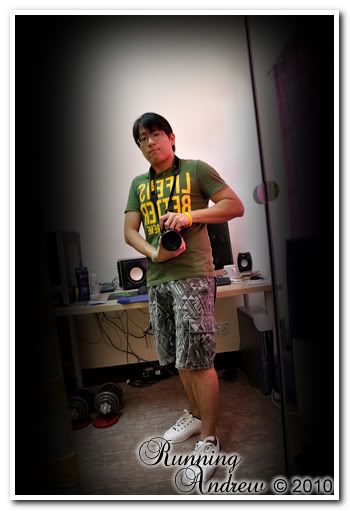 Last but not least, I'm its cool
I haven't used any fake CROCS prior to this but I do know some who uses them. Let's keep them anonymous shall we? What do you get when you purchase FAKE CROCS products? A picture speaks a thousand words rights? So hear it speak.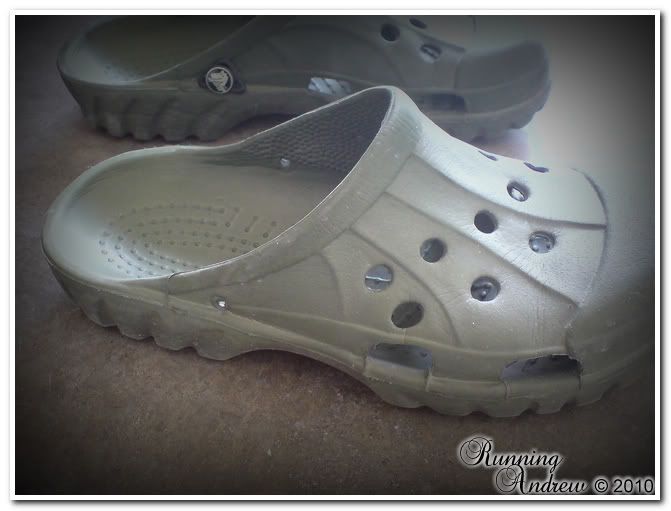 Noticed what is missing?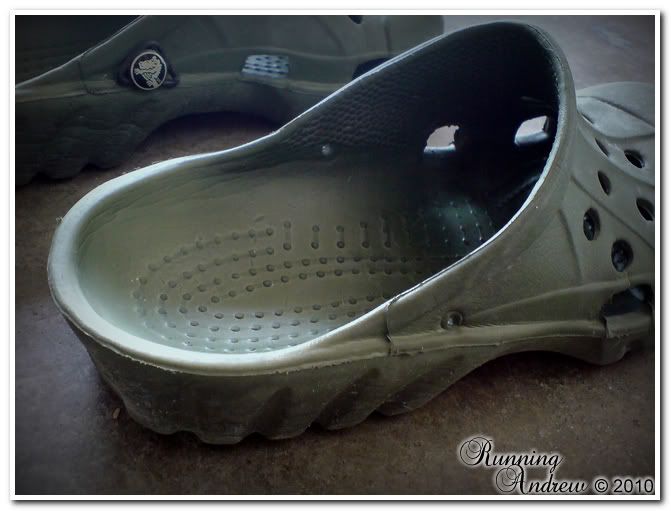 It's suppose to fit your feet as time goes by, not SINK it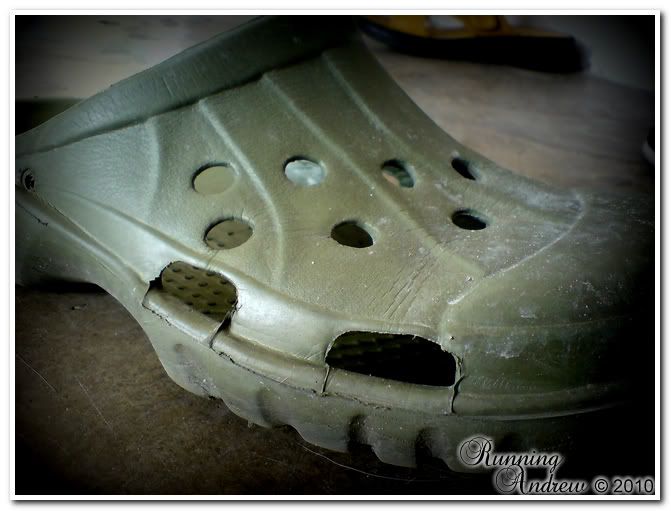 For me, the C in CROCS is for Comfy and not Cracky
Many do not know what benefits an original pair of CROCS can give. First of all, its not just a "rubber" flip-flop! Its a patented closed-cell resin called Croslite. Its anti-bacterial, anti-slip, durable, lightweight but yet solid.
I have been using my CROCS Axis for nearly a month and I gotta admit, having a white color shoe is extremely hard as it gets dirty very easily. Here are some shots to show you how dirty it is.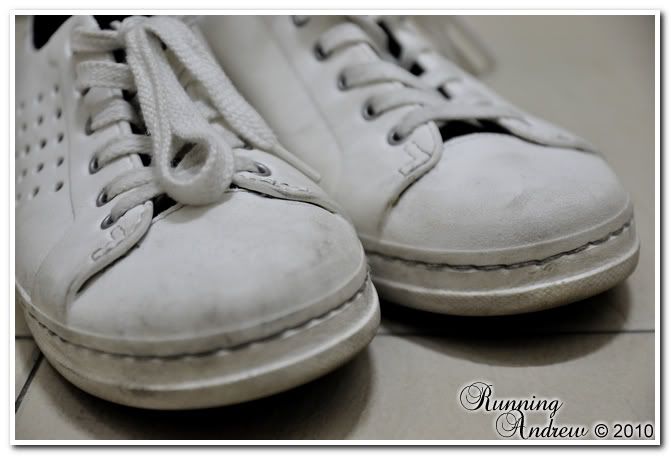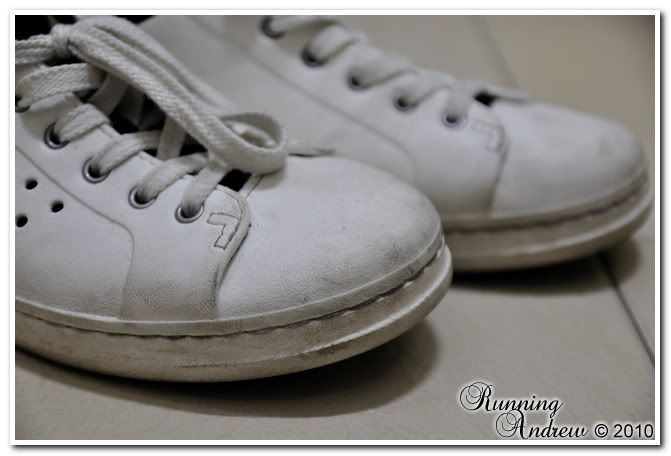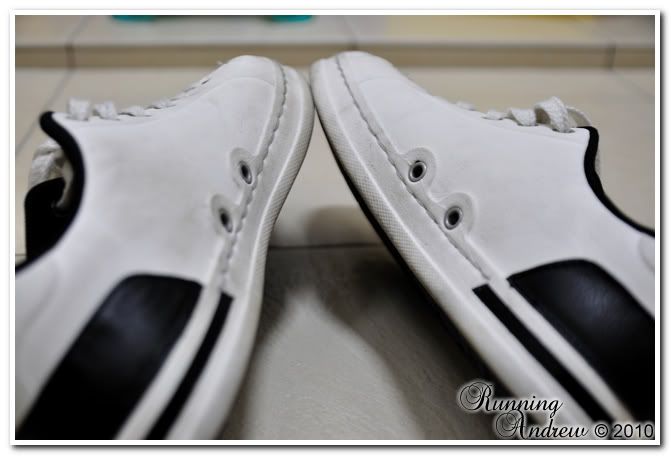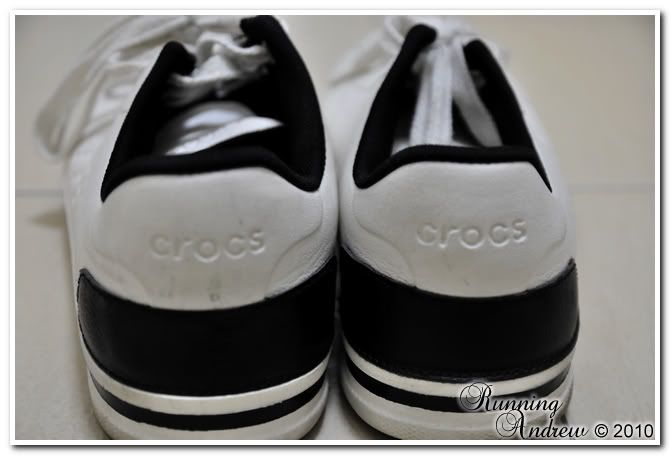 Honestly, I have nothing to worry about as I can give it a rub-a-dub-dub. Water is no biggie ;) Trying washing a fake pair of CROCS and see how long they'll last. Here is my shoe after some washing.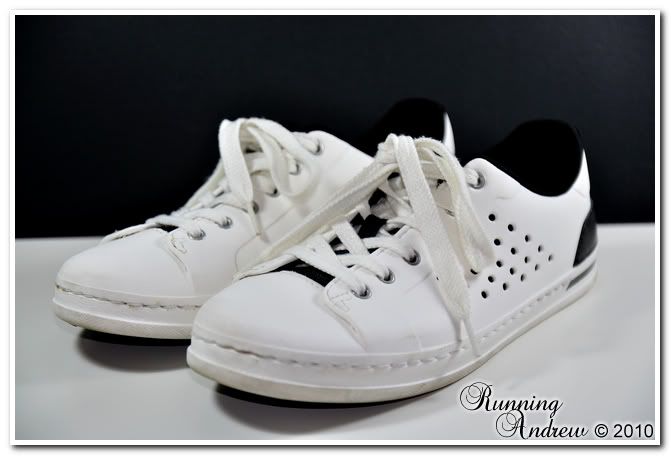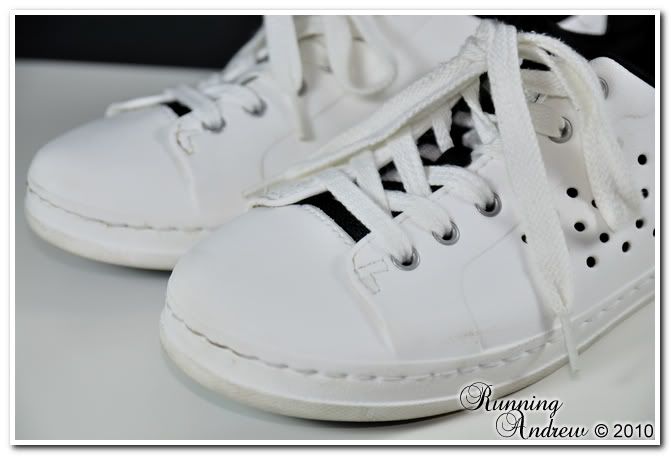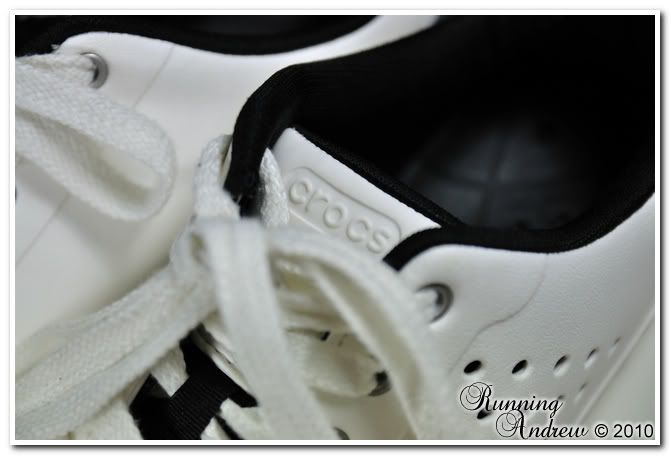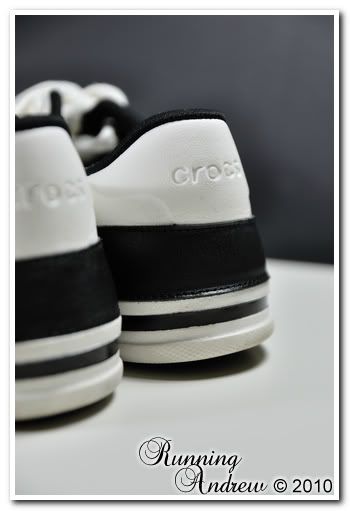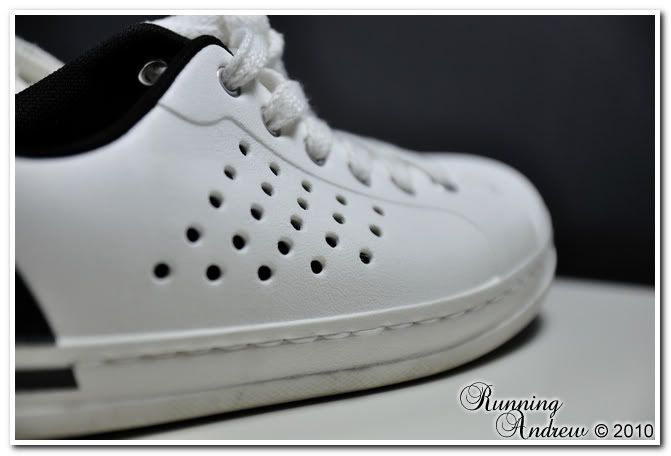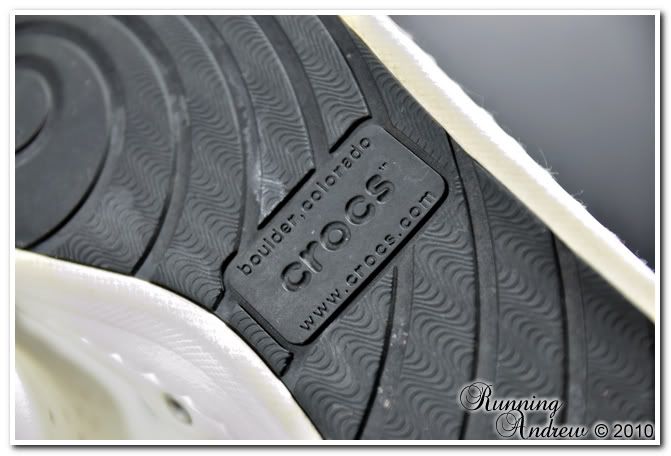 So before you purchase a fake pair of CROCS, think about it:
Fake:
Unknown material used which may lead to skin allergies
Spoils easily
Risk of getting injured
Original:
Patented closed-cell Resin called Croslite
Anti Slip
Anti Bacterial
Lightweight
Comfortable
You can also buy accessories to decorate your CROCS shoe :P
So there you have it. My personal experience and advice of buying ORIGINAL CROCS products.
Oh and my answer?
D
- For
D
o not buy fake CROCS .
For your reading pleasure, do check out my other CROCS experience
here
and
here
.