Toast and roast bread?
Huh?
Jejejeng! Kena con! Its actually toasted
char siew
and roasted chicken! It was close to 2.15pm and
Marcus
and I were thinking what the hell to eat at this time. Douwan chicken, douwan duck. CHAR SIEW! Marcus happily suggested this place but upon arriving, he was worried that the char siew at the shop might have been sold out. WTF right? Now baru you cakap. But anywayz, with the power of
Marcky
and
RunningAndrew
, luck was on our side: we spotted some char siew left while passing by the shop!!!
As usual, location and address is at the end of the post.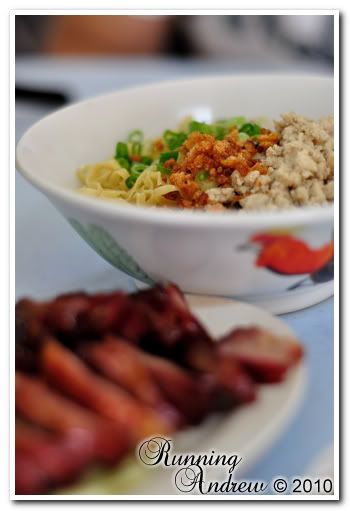 Behold, Hakka Noodles with the famous toasted Char Siew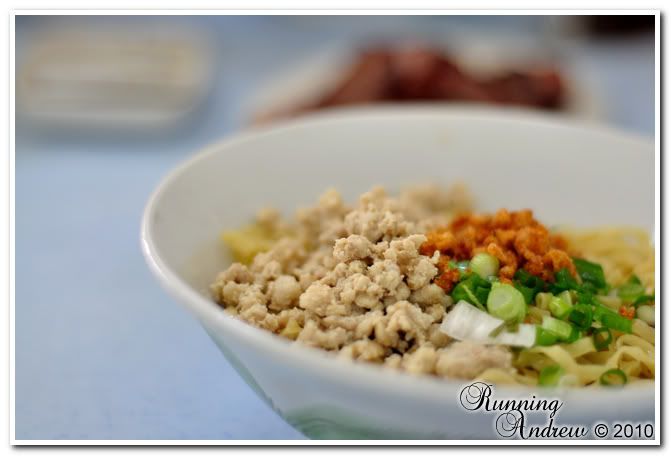 Hakka Noodles
There are 2 versions of the hakka noodles but I don't recall the name of it: I followed whatever Marcus ordered as he has been there before. Anyway, this hakka noodle is topped with minced pork and the golden stuff you see here are actually fried fish flakes. The combination of these two with spring onions was just awesome. The noodles were quite "QQ"! Gosh I sound so TVB-Wah Lai Toi-ish! Anyway, the portions available are only small or large and nothing in between.
Generous toppings :)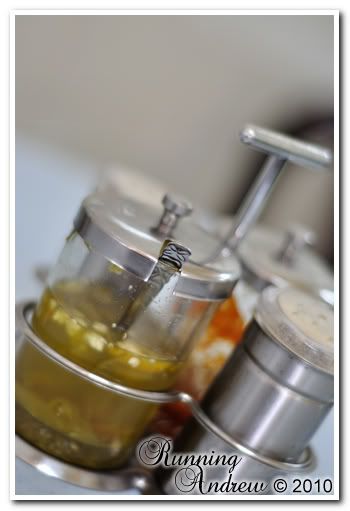 Chili aje, move on please.
Meet the meat
While ordering, we were asked whether we would like to have lean or fatty cuts for the char siew. We chose lean cuts but we also wanted some with fats. The guy said that there might be no char siew with fats left :(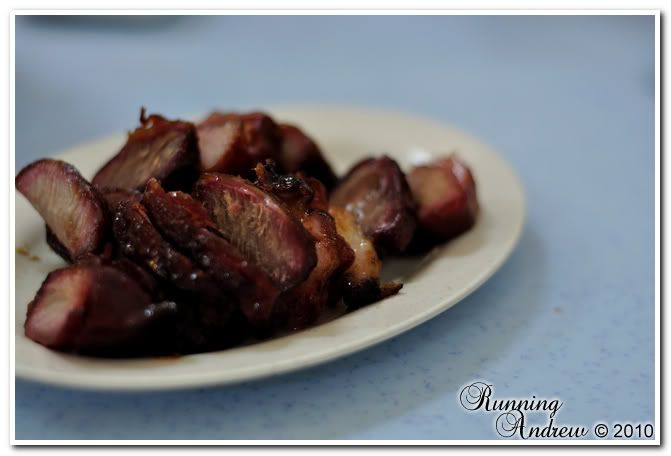 But suddenly, I spotted TWO slices of char siew with some fats: each of us a piece. OMG the taste was heavenly: the taste of charred char siew and fats that melts-in-your-mouth! I kinda regretted for not taking the time to go through the menu to check out what else was available but I guess this gives me a reason to revisit the place for a round 2!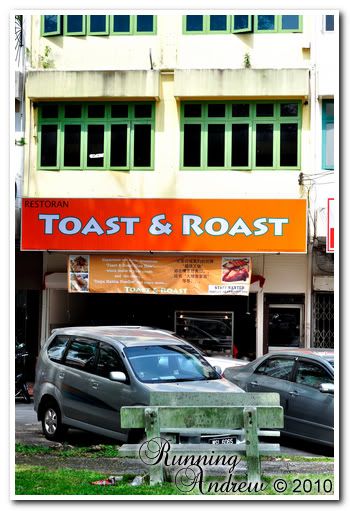 Toast and Roast
FaceBook:
Search for ToastandRoast Supercharsiew

Address:
No.20, Jalan SS2/72,
47300 Petaling Jaya,
Selangor

Contact:
Angie : 016 - 682 2249

Email:
toastnroast@gmail.com