Tao Yuan

No idea what it means, but the food is gooooooooooooooooooooooooooood.

Okay, I'll be honest here. This Cantonese style restaurant is a joint venture of a couple of businessmen. 1 of those guys is my distant cousin. This is not really to promo their restaurant since this was a family gathering during chinese new year but I feel that the food here really stands out and this place is nice for family gatherings ( Say goodbye to Tai Thong no? )
You'll be greeted by an eagle upon entering, making sure that you're seen clearly.
The place is not overly decorated. Simple and earthly colors.
Table for 10, no problem
Will that be wine, champagne or whisky for you, sir?
There is also a 2nd floor
Take the stairs and it will lead you to the 2nd floor. There you will notice that the place ain't exactly huge in terms of table numbers but the place is cosy. There are 5 VIP rooms on the 2nd floor for you, if you were to have a private function or family dinner. But just like any other restaurant, it is best to make reservation before heading to the place. You don't want to be disappointed by a wasted trip right?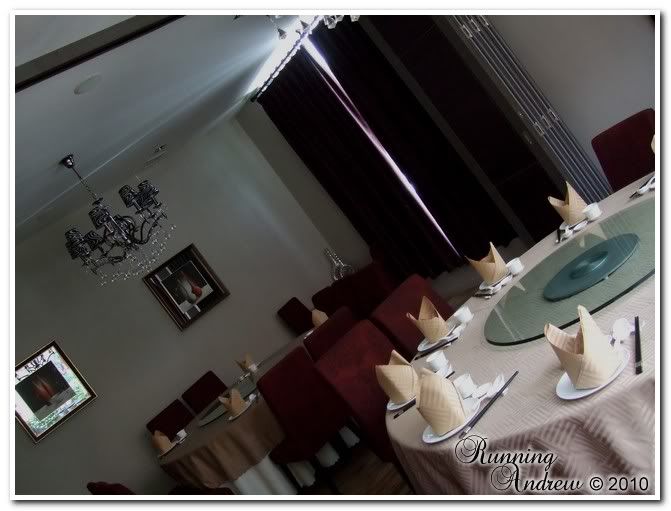 The walls are flexible so you can choose the size dining room for 1 or 2 tables.
The place is every ready for a business function or a casual dinner.
Now comes the food galore. Once again, this was a Chinese New Year family luncheon so portions and preparation style might be a little different from what others might be getting. Anyway, hopefully my review will give you some idea on the food.
One thing to note here. Everything here on this
yee sang
dish was prepared by the chef. Meaning, the green and orange stuff that you see are all made by the chef except for the crackers(which I saw the packaging). Normally,
yee sang
found elsewhere will be bought in and its full of artificial flavors and colorings.
Vietnamese Style popiah
This is a must try. I'm not too sure about the name of the dish is but I heard it was some vietnamese style popiah. Its a little spicy like wasabi BUT it is NOT wasabi. It's some special sauce prepared by the chef. The vegetables used are fresh, which makes it crunchy on every bite.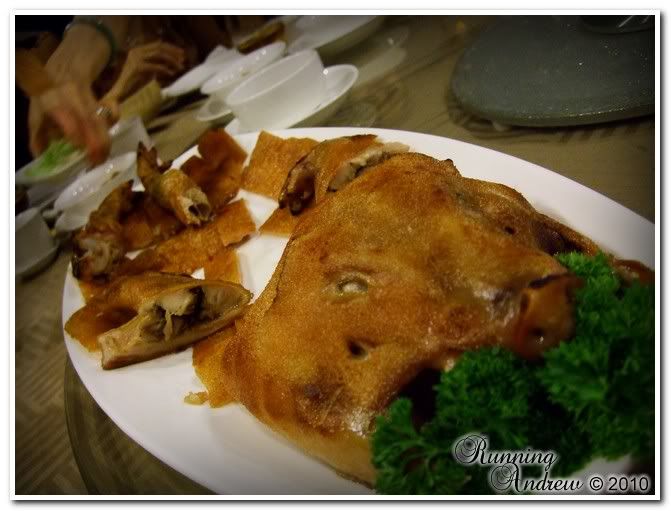 Roasted Pig
DELICIOUS. I know its a common dish in most chinese restaurant but this is one of the nicer ones. Some places over roast the pig and some have too much fats under the skin. This is just PERFECT. Don't believe me?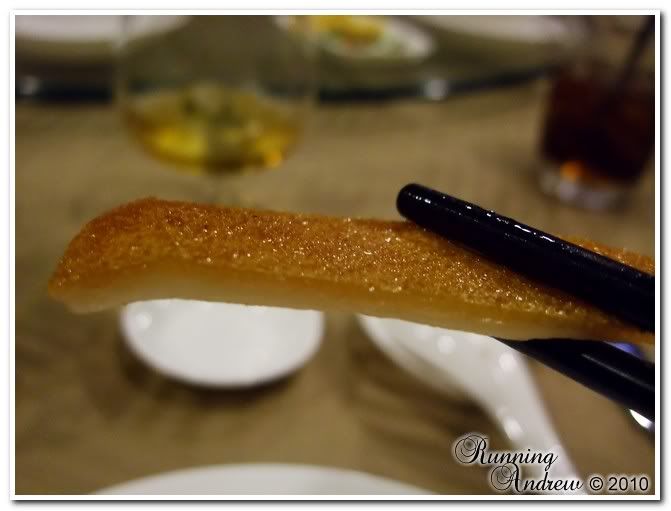 Look at the golden color. This pig has been working out!
In between meals, we were served with some sparkling juice. Nothing fancy, move on.
Some herbal chicken soup with all the goodness
Its kinda shitty when I don't know the name of the dish. This soup tasted, well, er...herbally? It wasn't entirely bitter and stuff but since everyone was saying that it was good for health, I drank it for the sake of it.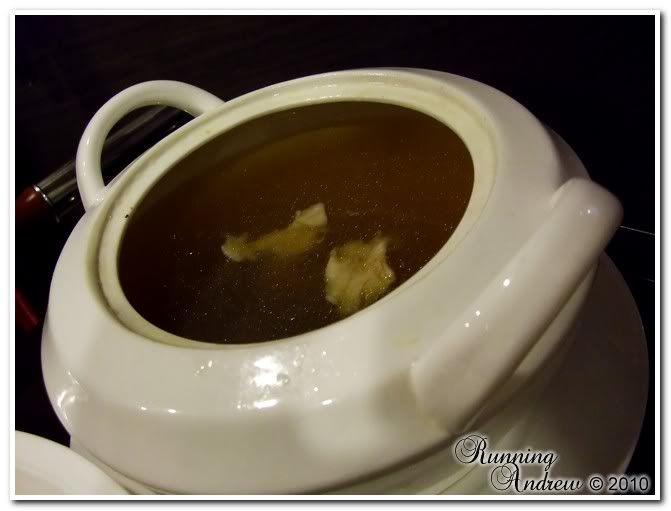 Not too oily
Sri Lankan Crabs. Trust me, they are HUGE and lots of flesh.
The Deep Fried Spare Ribs with Garlic Black Pepper Sauce
3 Layers. Simply delicious. Goes very well with plain rice if you find it too salty.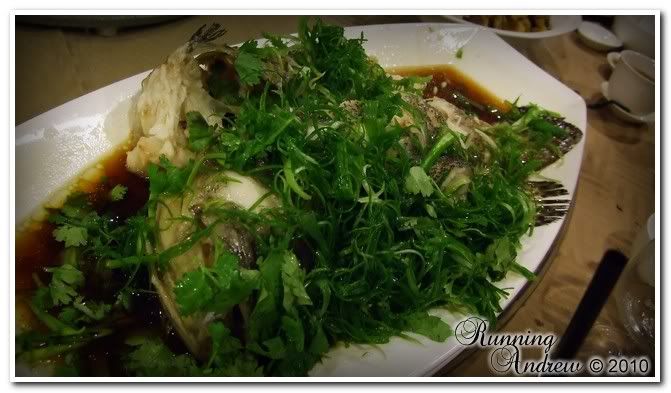 Next up, steamed fish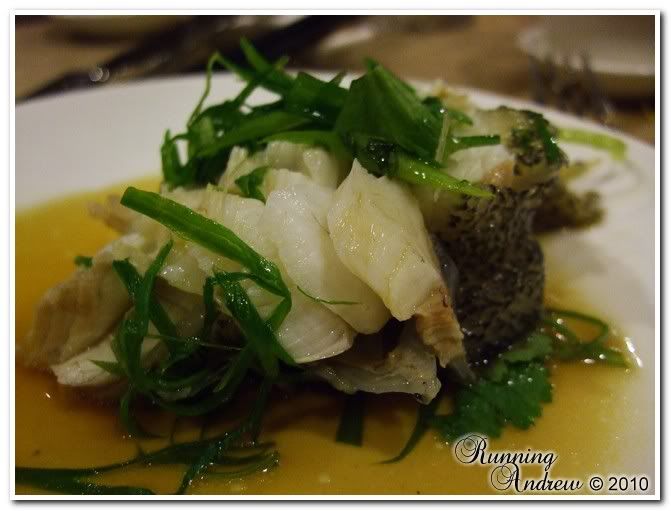 It was just perfect and not over cooked
Sang Har Min
Some lemongrass and jelly like dessert. Honestly, I didn't like it. While my parents and other relatives were downing it, I just couldn't. It tasted like a mixture of lemongrass alongside with some other herbs and spices.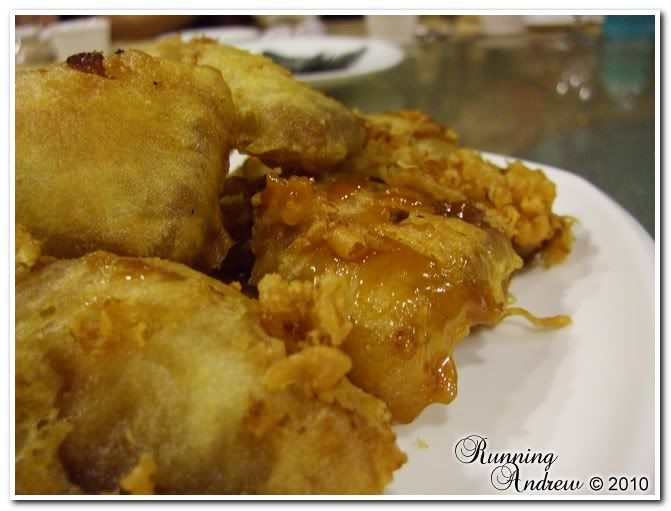 Nien Kau or Ti Kuih.
Crispy on the outside
Soft on the inside
Jin Tui
( Golden glutinous rice ball with sesame seed)
Generously filled with <_______> *fill in the blanks. Is it red bean paste or
Har Chi Ma(wtf is this?)?
Sorry for not giving proper names for the food ( I phail as a food blogger). Like I said earlier, it was a family gathering over lunch. Meals were picked by my uncle and other relatives. They didn't hand out any menu (doh, it was their own restaurant) so I can't give you guys details such as name of the dishes or their prices.
As for the dining experience, definitely recommended; be it for family makan session or something formal. It MIGHT be slightly dearer than your average chinese restaurant but I believe the time spent with family accompanied by good food will make up for the pain in the pocket :D
Here is the address of the place:
One Bangsar
63E Jalan Ara,
Bangsar Baru 59100 Kuala Lumpur
Tel: 03-2283.3116
Email: regalhouse@live.com.my
Note: Photos taken with FujiFilm F40fd