What do you call a dish when you mix pork, baked beans, egg whites with spaghetti?

I wanted a quick meal after my run so decided to cook this rojak meal.
Ingredients:
Baked Beans of your choice.
Pasta of your choice
Garlic
Onion
Eggs. I used egg whites only.
Cheese
As usual, dice them up
I only used egg whites
EVO Oil, fully synthetic
Goreng goreng
Add in the pork (as usual, this was prepared by my mum)
Ayam brand FTW
Added roughly half of the can
Add the egg whites
Mix and stir.

-Mistake :( It was kinda thick, so I decided NOT to add the cheese -

Add black pepper and
.
.
.
.
.
.
.
.
.
.
.
.
.
.
.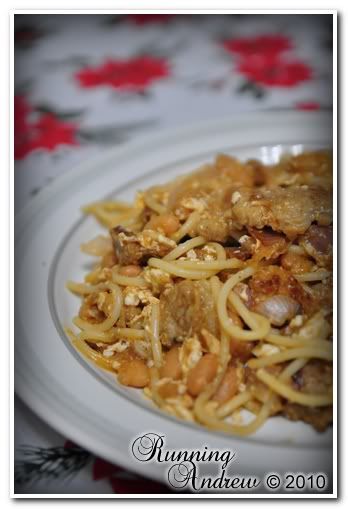 Chow Time
Anyone got any idea what to call this? Feel free give your answer in the comment box. Selected answer(s) will be posted!