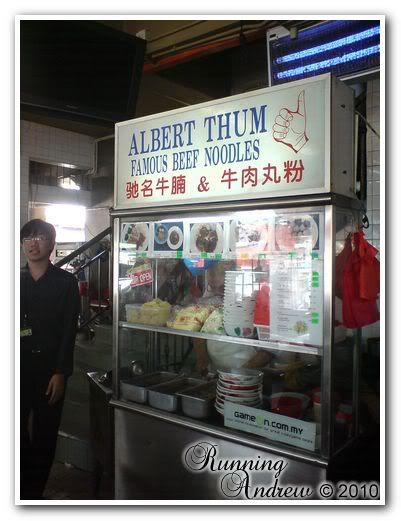 I have actually tried this beef noodle a couple of times and I must say its one of my favourite so far after all these years in KL. Note: I said ONE of my favourite. Also, remember my digital camera incident in my previous post? Bear with me as these shots were taken using my trusty K800i.
Where is this located? Restaurant New Lucky @ Sri Petaling. It isn't difficult to find this place as the restaurant is an end lot of the shophouses and the nearest easy landmark for you is The Store(supermarket?).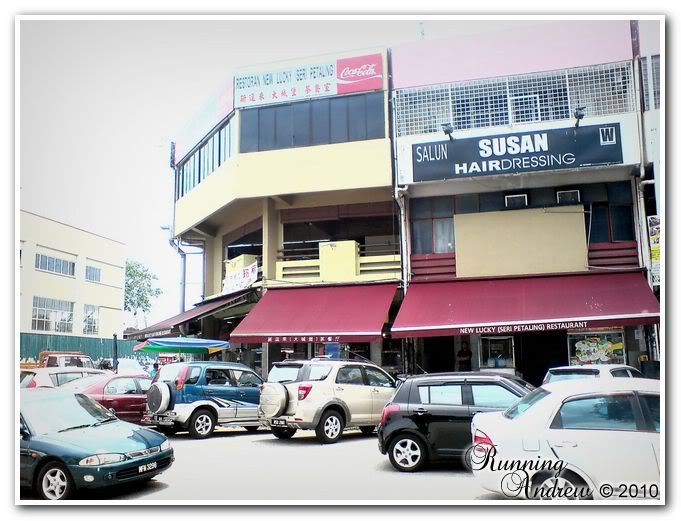 Restaurant New Lucky
Finding a parking spot during lunch time might be difficult but still, its never really an obstacle when it comes to good food. I'm not sure when the renovation was done but they have a new section below Susan Hair Dressing which is air conditioned. Tables are also numbered for easier food delivery so make sure you take note of which table you're seating.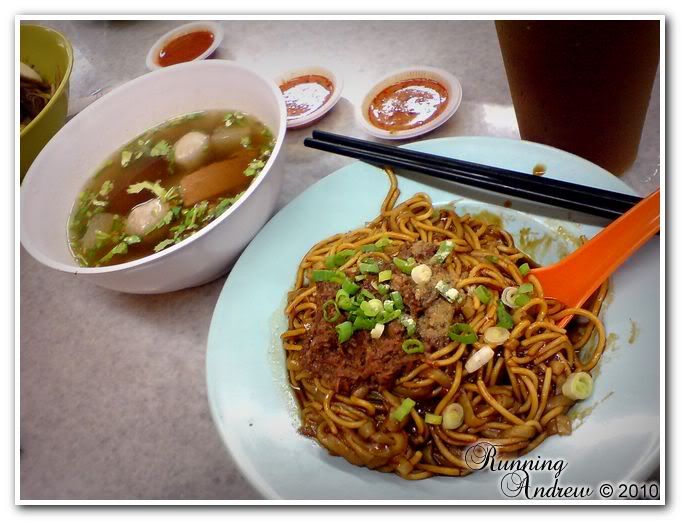 I ordered kon lou(Dry) and large portion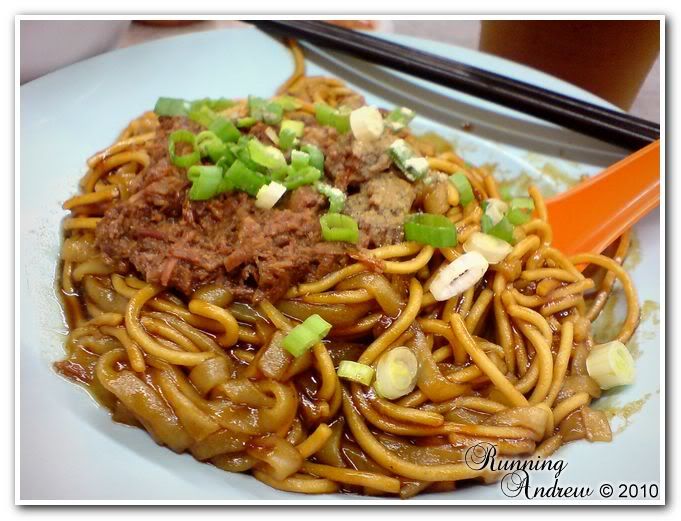 Mince beef topped with diced spring onions
Don't be fooled by the shininess of the noodles. It actually tastes pretty good without being too salty. The kuey teow and mee, coupled with beef and spring onions brings the entire flavor all together.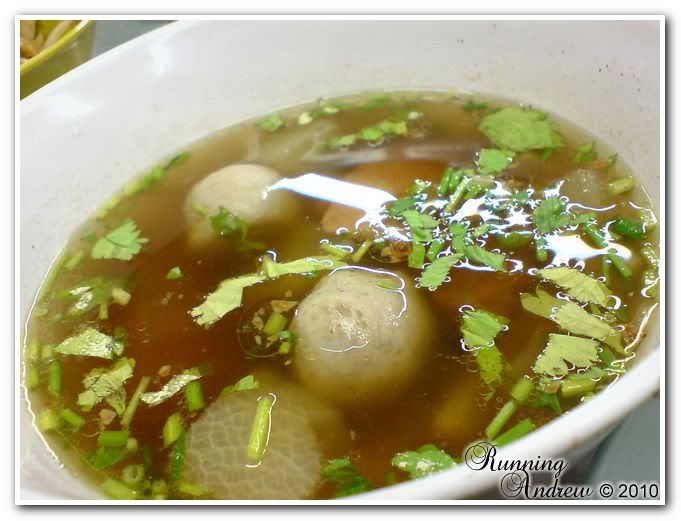 The soup and beef(mixed parts)
Next up, the soup with all the beef in it. For me, its kinda salty but the beef and stuff are cooked nicely. It's not dry and the beef almost melts in your mouth. In my honest opinion, take the beef but do not drink the soup. This meal costs me RM7.50 but if you ask me, it was worth it. However, it will never beat the taste of the beef noodle shop at JB called
Ang Kim Chwee Coffee Shop
.
Another nice dish I would recommend while being at New Lucky would be Claypot Lou Shu Fun.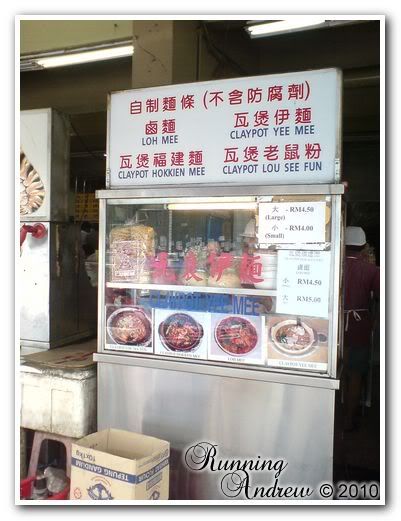 Never judge a book by it's cover no?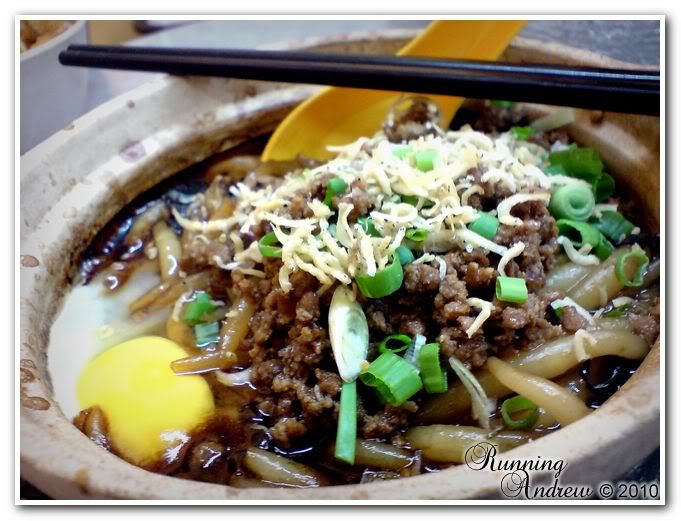 Egg is added upon request and it comes with a generous topping of anchovies, mince pork and spring onions. When served, the lid is already taken off and you don't have to worry about the heat coming from the claypot because there is an external "bowl" to house that claypot for easier handling.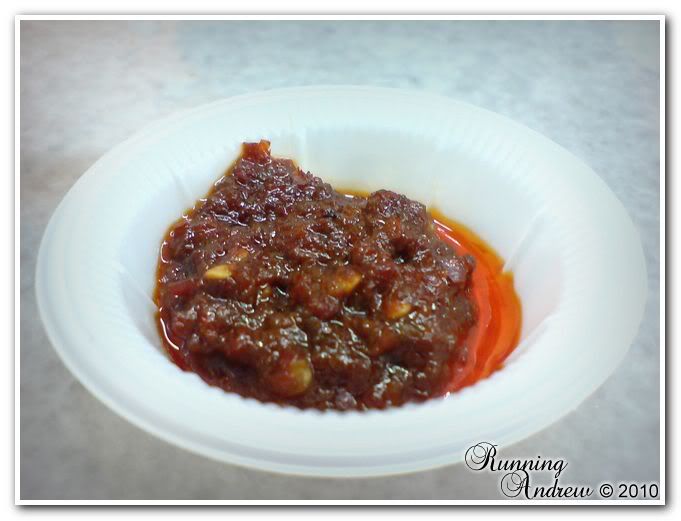 A must have with the lou shu fun.
Not sure if the chili is home made but its a must have to go with the lou shu fan. Not to say the dish itself is tasteless but the chili really adds some awesome spiciness to every mouthful.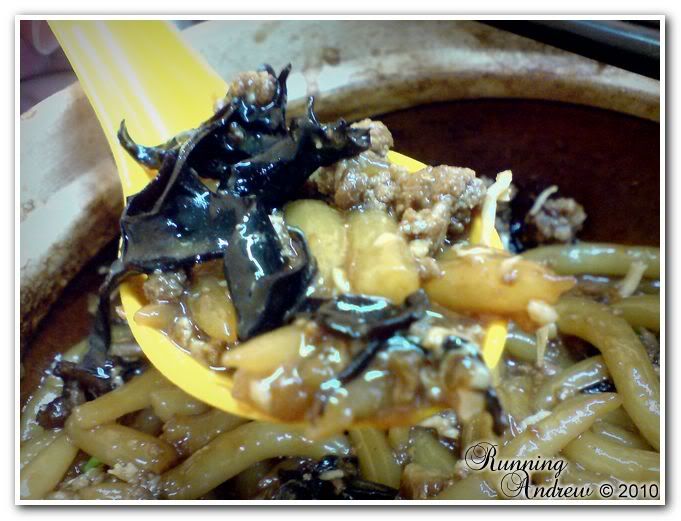 It ain't that oily. Just some gravy and gloss from the egg mixed all together.
Hidden from the picture earlier was some
black fungus
(
Cloud Ear Fungus
). It looks oily but actually it is not. The lou shu fan ain't exactly the typical lou shu fan where it is all dry and slightly burnt around the edges. But if you opt to have this when you're there, you KNOW what you're getting yourself into in the first place. So for health freaks who wants a
cleaner
meal, this place has NONE.
p/s: Do more cardio lor