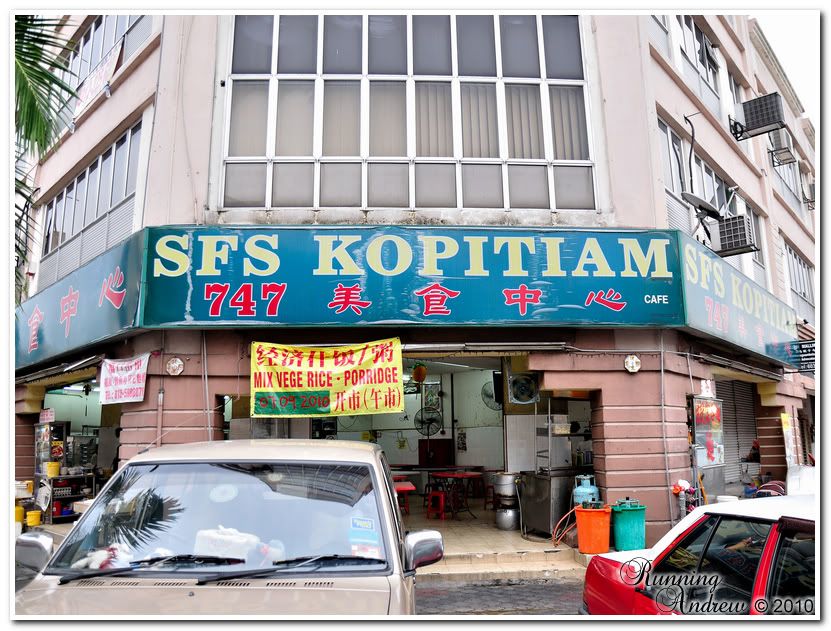 Kopitiam 747, No flight tickets required, just your MBPJ parking ticket.
I was introduced to this place by
Marcky
for breakfast one day(which was like months ago =.="). What is so special about this kopitiam? No, its not the 747, but its because of 1 particular stall which sells Wan Tan Mee/Curry Mee. Which stall? Ini dia!
For those who can read mandarin, dipersilakan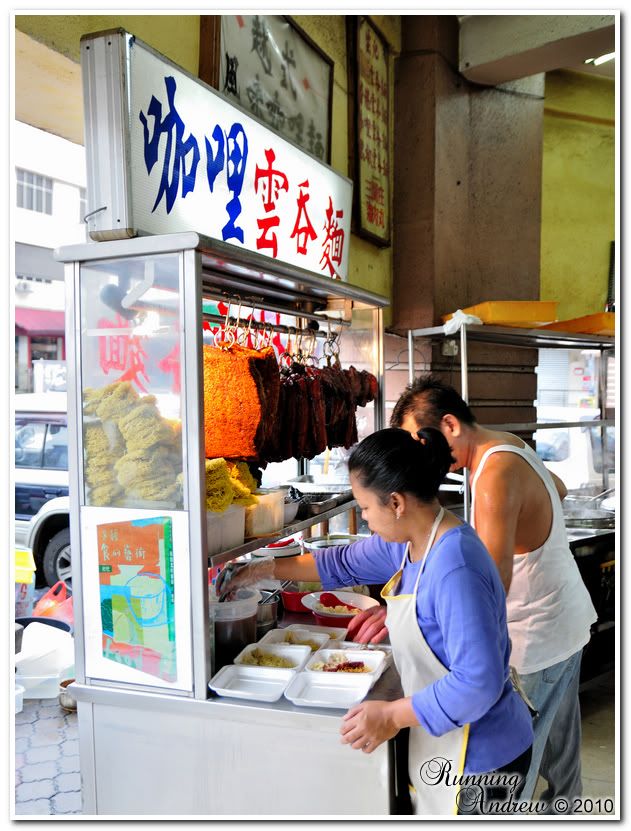 I wanted to take a picture of their char siew/siew yok that was hung at their stall but they were busy and I didn't want to interrupt their work. This picture doesn't do much justice but I believe I will make it up with my wan tan mee shots! We were there pretty early, around 8.00am so the crowd hasn't showed up yet. Marcky being the regular there, told me that it normally takes awhile for you food to arrive. So people, be warned!
Piping hot curry! Nais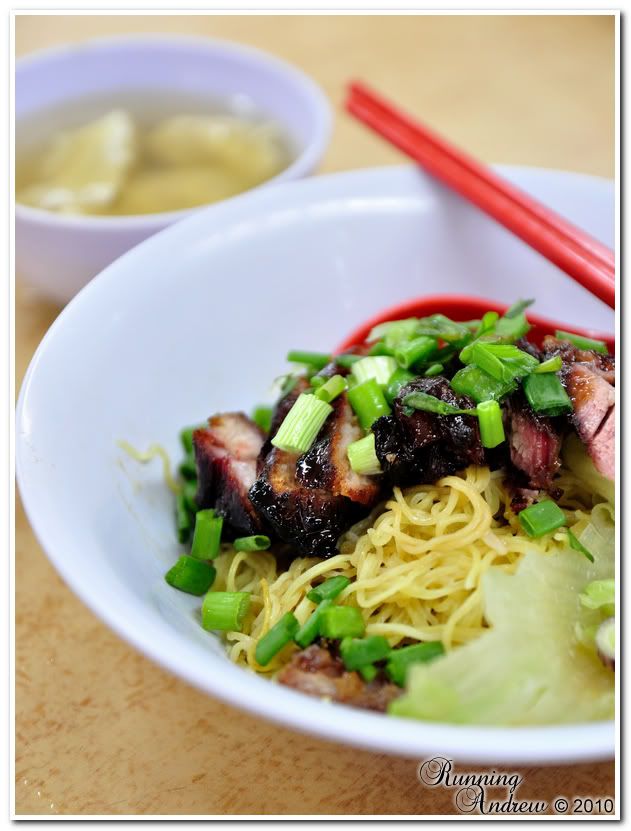 This is the definitely the bomb! Apart from just presentation, the noodles are awesome! Soft but yet it still has that springy texture. Not sure if its hand made noodles but this is seriously good texture. Another plus side for me about this stall is that they give a lot of spring onions which I simple love! This is the dry version of the wan tan mee. They also serve wan tan mee in soup.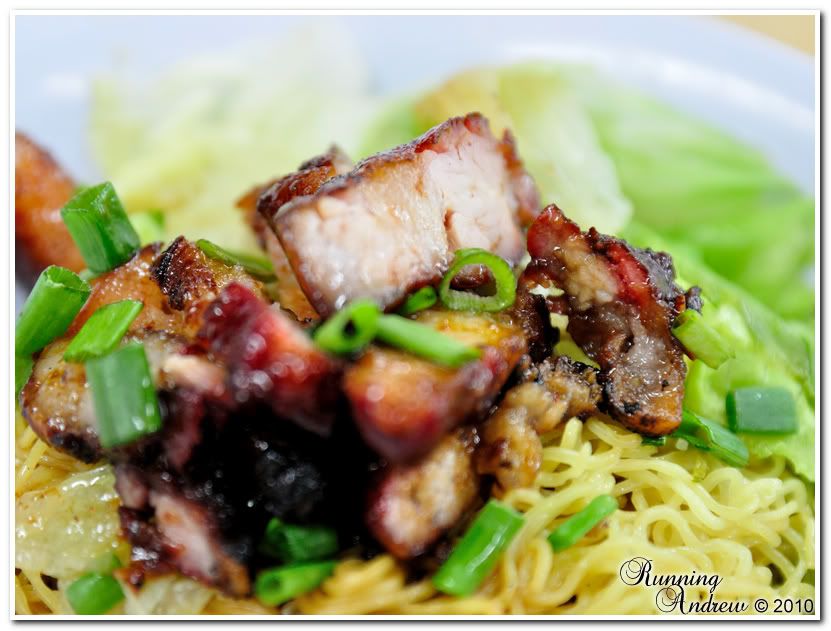 Perfectly charred crispy edges, some tiny bits of fatty part just to give you that soft and sweet taste of char siew sweetness. Looks all oily and glossy but its all from the seasoning and roasting. It was definitely worth the wait in my humble opinion. Although it may be charred on the outside, the meat was not dry and it still has all their flavors intact! Well, you gotta try it to experience it yourself.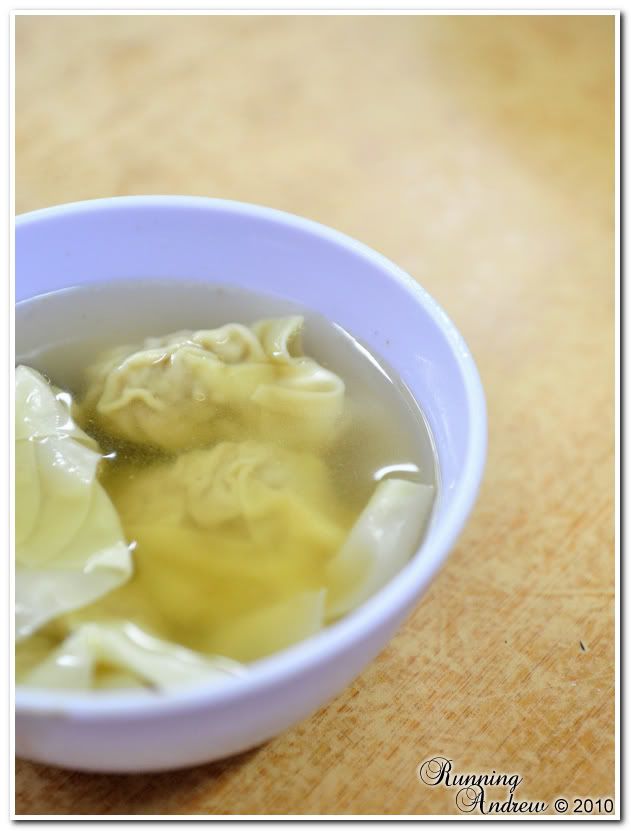 Not to be left out
The wan tan is also decent in size unlike other places where you don't even feel the meat. Nothing extraordinary with the wan tan. I guess the goodness of the wan tan mee and siew yok/char siew overshadowed the poor fella here. Awwww.
That was my first time eating there.
I had a 2nd visit with my fiancee's parents but this time, I ordered their curry mee. I took these pictures with my Samsung Galaxy S so pardon the picture quality.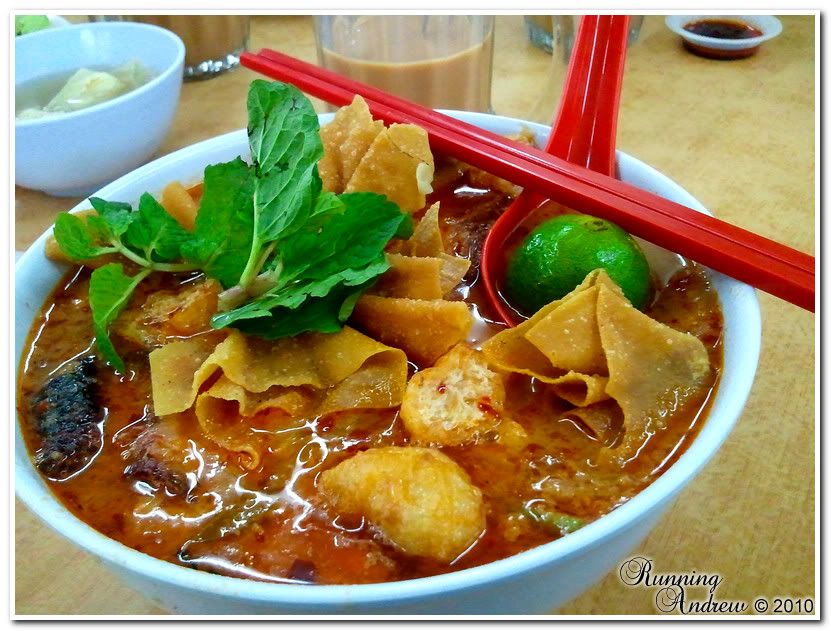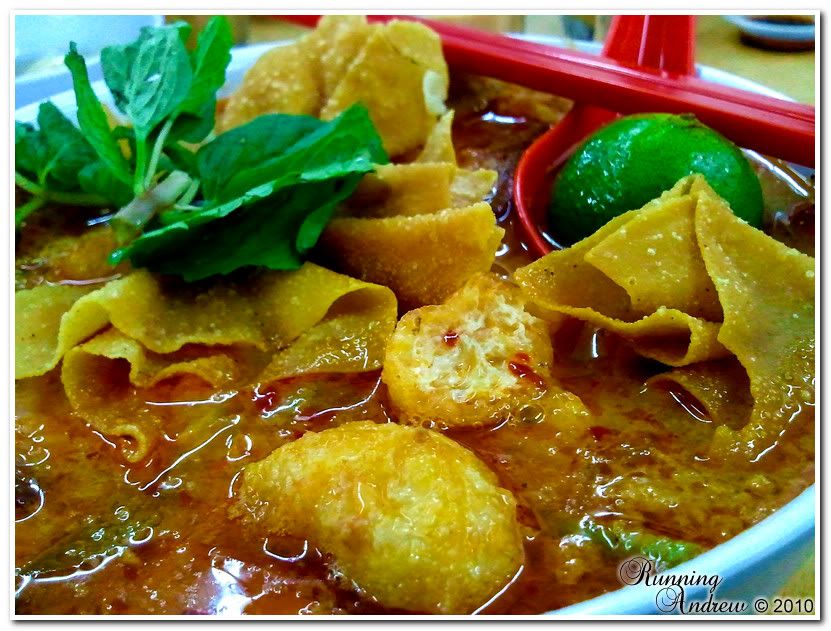 The curry mee here is different from other places. According to some of the displayed banners and newspaper article near the stall, it is said that the curry mee style is Vietnamese; topped with mint leaves and a half slice of lime, you're in for a treat. The noodles used here is the same as the wan tan mee. Before you start, squeeze the lime and give it stir to get it evenly mixed all over the curry and you'll be in for a bowl of pure awesomeness. The sourness of the lime juice enhances the flavors offered by the curry. The curry is not too spicy and its not those creamy type of curry where all the
santan
will be floating on the top. I ordered a large bowl for this and trust me, you won't be disappointed. The amount of char siew, fried wan tans and noodles are satisfying.
This is my own review but seriously, do give this place a try. You won't be disappointed BUT be prepared to wait for you meal.
Here is a tip for you guys; I would suggest that you order your drinks AFTER your meals arrive because the last time I was there, my drink was already halfway through when my orders arrived and our drinks were already cold by then.
The Address:
Jalan PJU 1/3C,
Sunway Mas Commercial Centre,