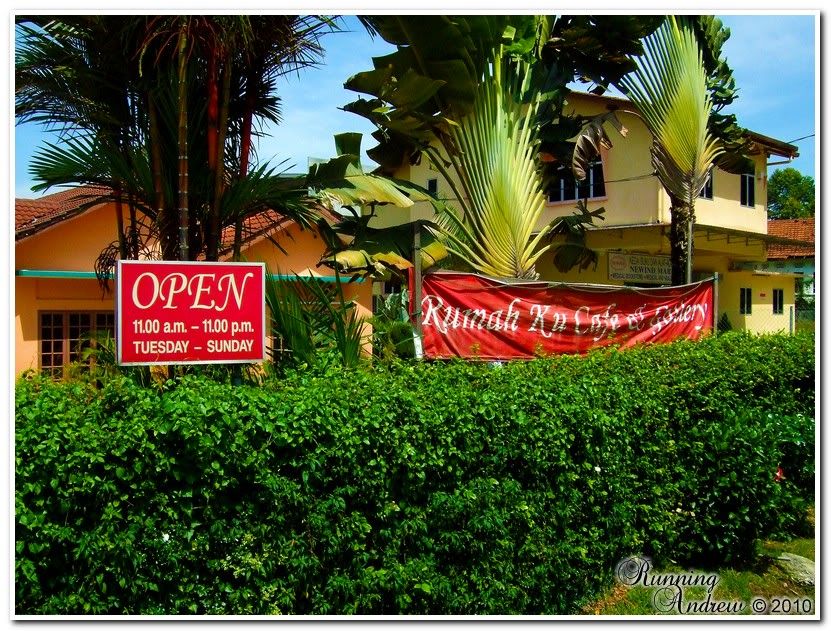 Rumah Ku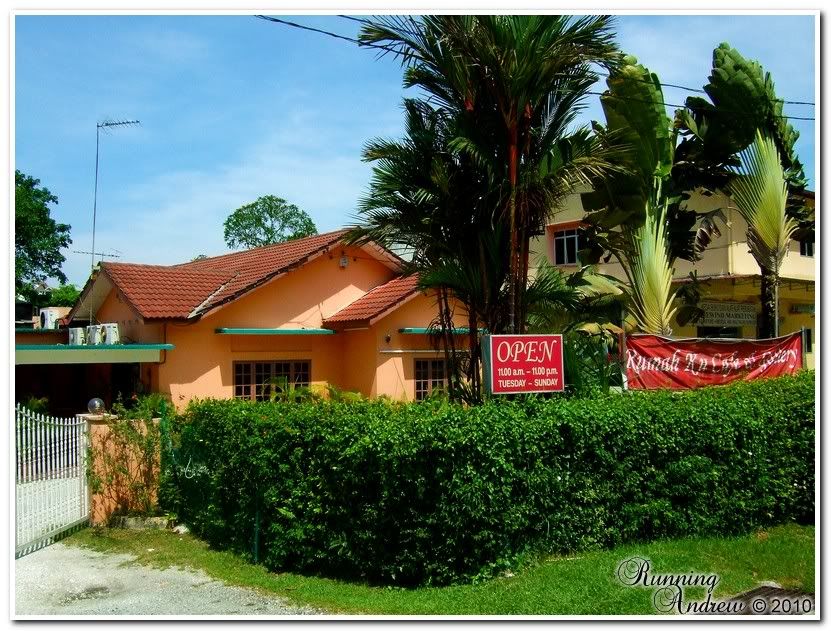 Okay I went to this place way back in March. My new blog(which you are reading now) was about 3 months old back then and I was still using my faithful Fujifilm compact camera. Little did I know that this cosy little place called
Rumah Ku Gallery and Cafe
actually serves some really good food. If translated from Bahasa Melayu to English,
Rumah Ku
means My Home. I have been missing out on the countless opportunities to try this place out because of ignorance. If only I could turn back time but then again, I'll probably drop by this place some time soon with my DSLR.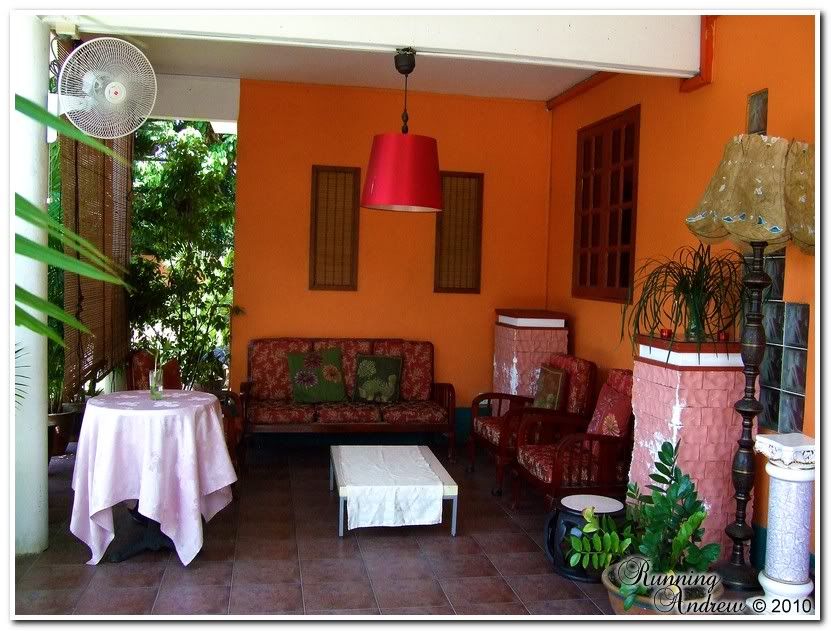 At first glance, you'll probably be wondering....What kind of food do they have? Trust me, I was as skeptical as you guys. It was after Sunday church service, my sister and family decided to have lunch over at Rumah Ku, which was just further down from St. Francis Xavier Church(going towards Jaya One's direction).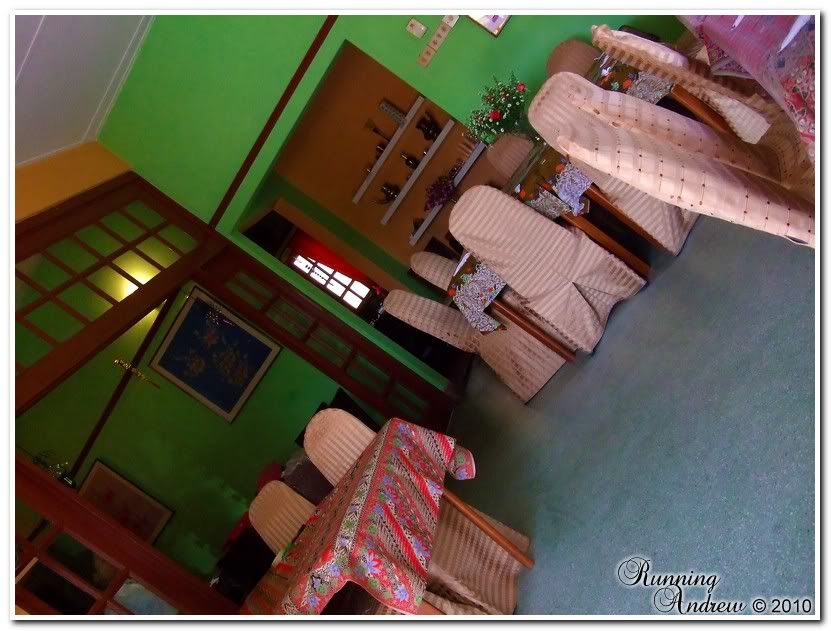 Spacious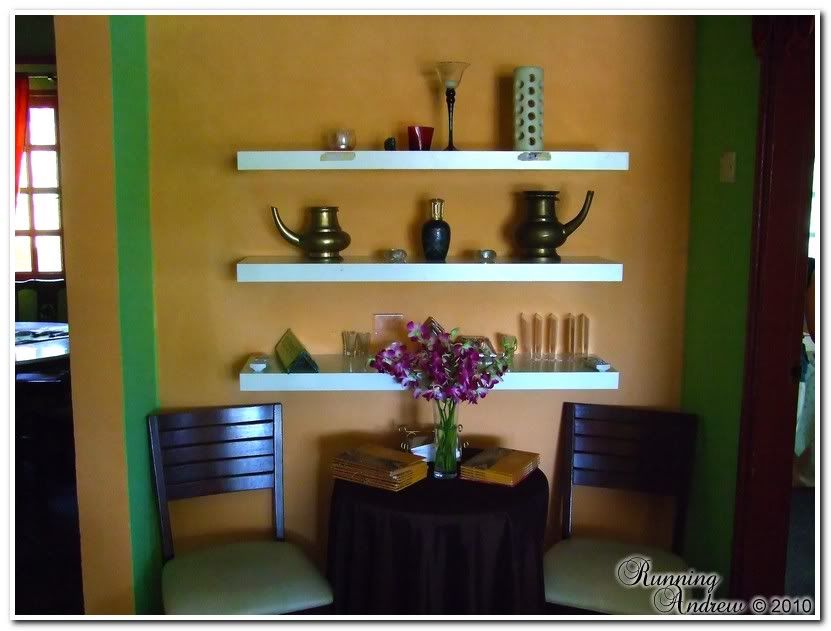 Simple decor
Beautiful Batik style menu
From the menu, I was drawn by its uniqueness. Browsing through it, I was surprised with all the different style of food ranging from Indian, Chinese and western dishes. Took quite awhile to decide because everything sounded good!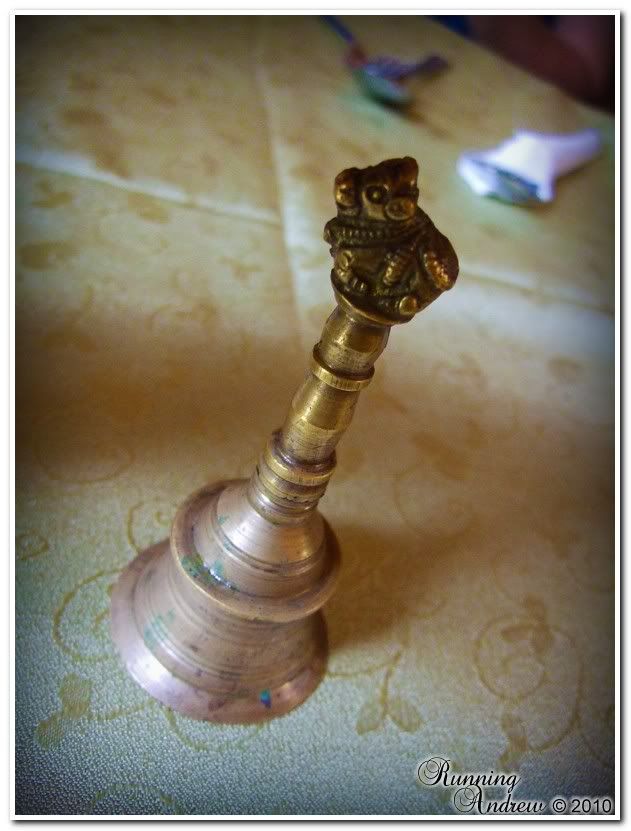 What is this?
Its a bell! You ring it whenever you need to be attended to. Cool huh? I accidentally rang it while picking it up and 1 of the waiters came LOL! My bad.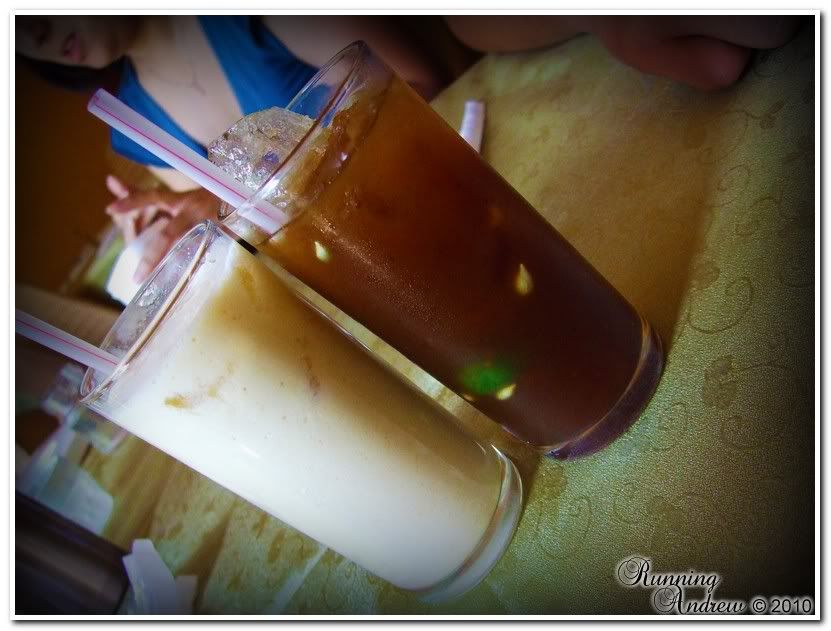 We only ordered 2 drinks; 1 being Mango Lassi and the other was K-Lime. Could the 'K' be Kasturi Lime? I'm not too sure. If I recalled correctly, my sister said that the Mango lassi was abit tasteless; not enough mango used. We told the waitress about it and she kindly took it back to the kitchen to inform the chef or whoever that prepared the drink. When she came out with the drink, it tasted so much better; a balance between the amount of mango used with the yogurt side of the Lassi.

The K-Lime was not too bad. Tasted like Kat Chai Shuin Mui (fresh lime juice with sour plums). Although it was really refreshing, it also made me really hungry because anything sour helps with revving up your appetite!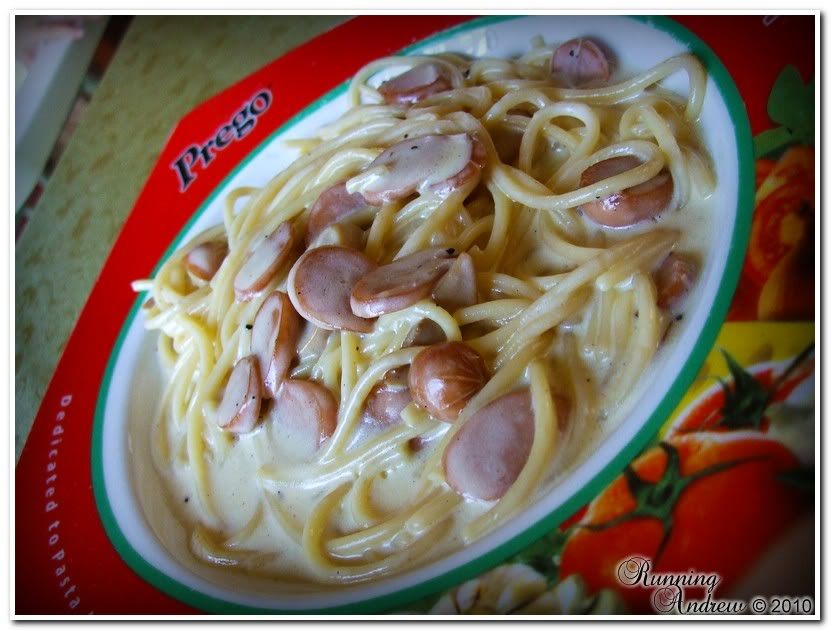 Spaghetti Carbonara with sausages
I know, why order this right at a place like this? Well, sometimes you just have that urge to eat stuff like this at other places than say...Italiannies right? Overall, the pasta was OKAY. I mean the pasta was done properly, good amount of carbonara sauce and they really made sure the sausage looked evenly spread out. Pretty standard for spaghetti carbonara.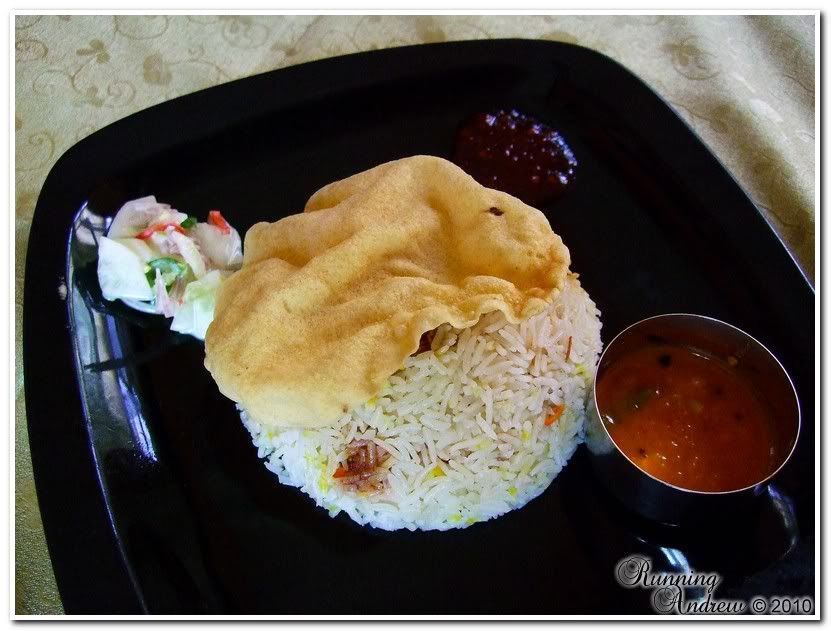 Mutton Briyani
Mana mutton?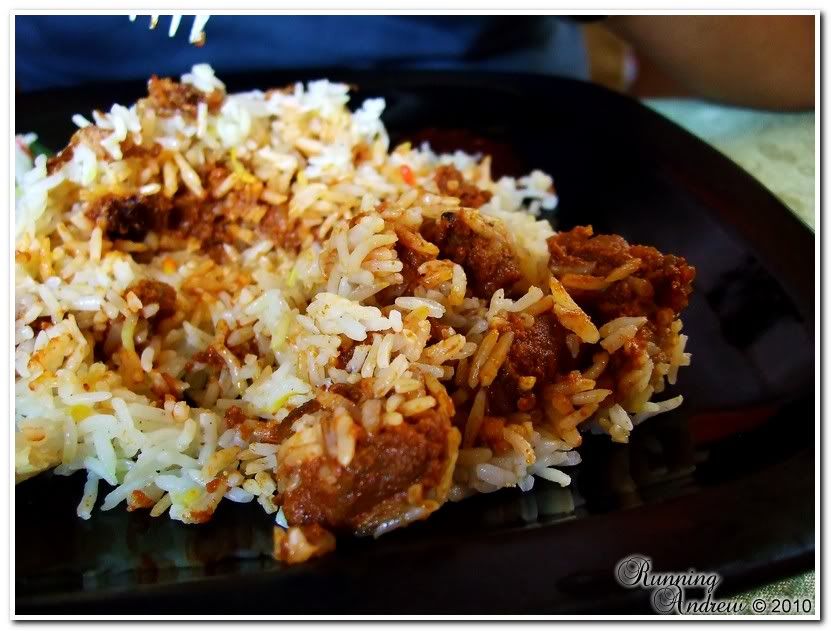 Upon scavenging through the rice, I finally found the mutton. Trust me, this was way beyond my expectation. It was very very delicious! The herbs and spices used were very aromatic and the mutton was tender to taste. Don't count out the rice too, although it doesn't look like any typical briyani with strong yellow and orange in the mix.
Oh and by the way, the red sauce that you see is not sambal. Its something called Raisin Chutney. Nothing spicy but infact, sweet! It goes very well with mutton despite its sweetness. Kinda hard to explain but all I can say is, you gotta try it to know it. As for the
dhal
, I enjoyed it because its not those thick curry based
dhal
and yet it packs a whole bunch of flavors.
I really enjoyed the briyani here because not only are the flavors unique and well balanced, it was the first time trying the raisin chutney!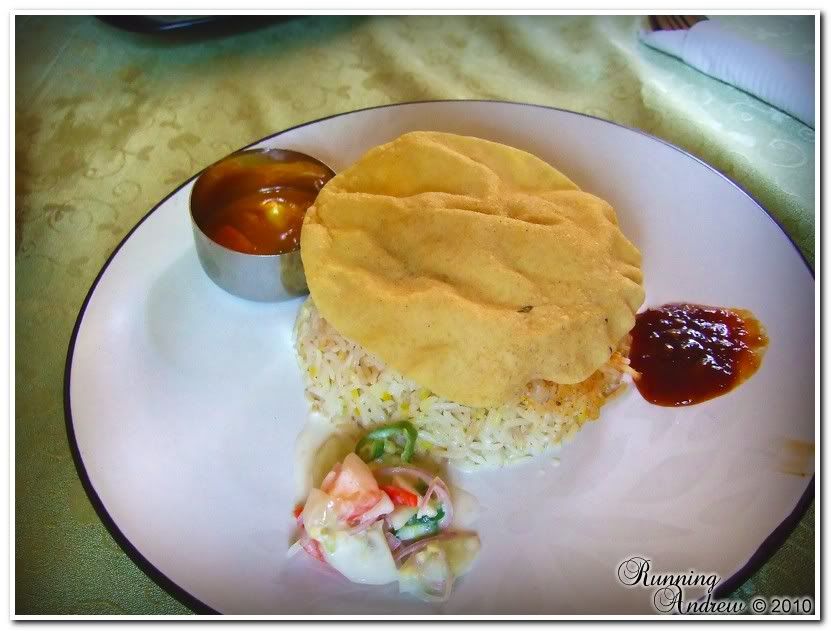 Chicken Briyani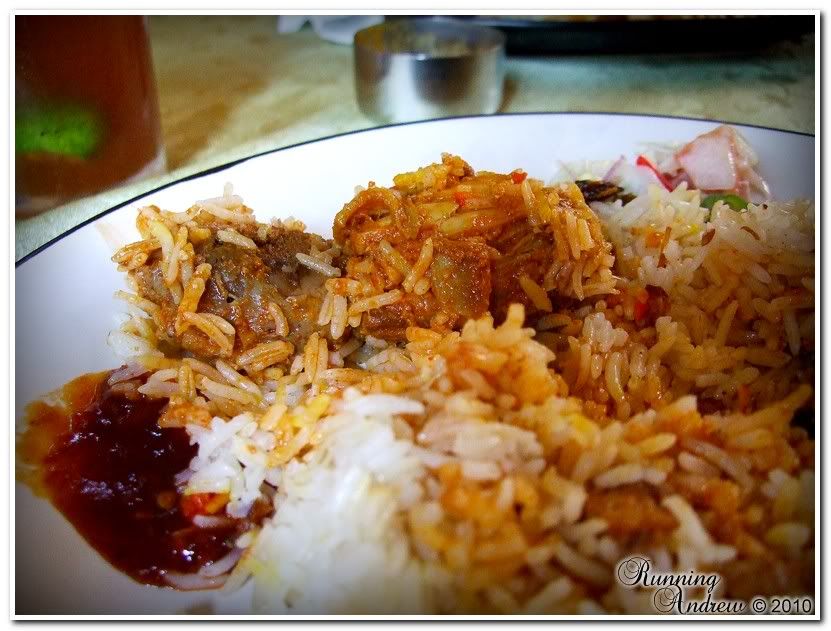 Same style as the mutton briyani, you gotta "dig in" to your meal. This was actually my brother-in-law's order but I tried some of the chicken. After trying this, you can tell that a lot of stuff has gone into this. Herbs, spices and probably even the type of curry that they used. Noticed the raisin chutney? Yeap, it goes well even with chicken!
I will definitely drop by this place again because these pictures doesn't do justice to the food. It was really delicious! I can't compare this to
Kashmir
because its a different style and preparation.
The
ONLY COMPLAINT
I have is.....the mutton and briyani portion was too
small
for me. I would probably need to have 2 orders before I'm satisfied :) Or perhaps additional side dishes. Ah well, more reasons for me to revisit the place right?
For those who are interested to try it out, here are the details and map to their place
Address:
Rumah Ku Gallery and Cafe
(PJ)6A, Jalan Universiti,
46100 Petaling Jaya,
Selangor
Contact No:
03 - 79571073
Map can be found
HERE