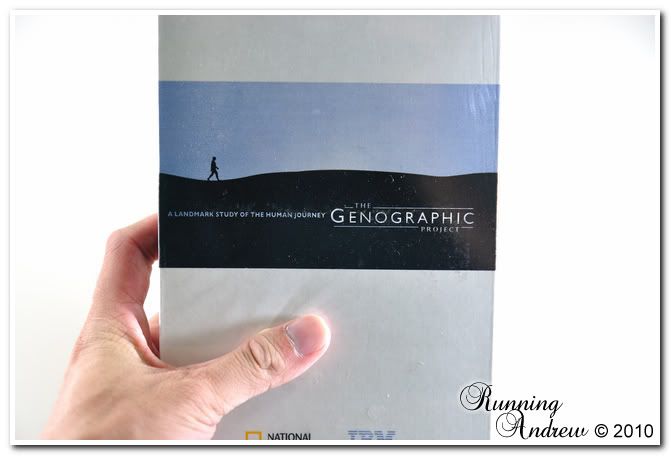 Remember this?
I submitted my
Genographic DNA sample
about 2 months ago and the results are in. According to the results, I belong to the Y-Chromosome which is a member of haplogroup O (M175); Agent M175 - Step asisde James Bond.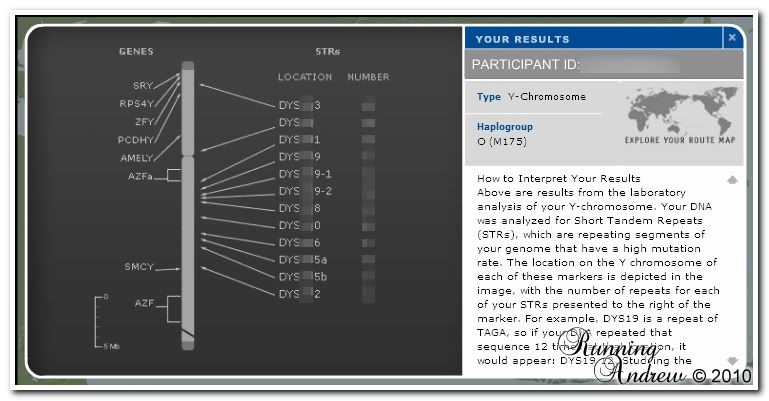 My DNA - Censored incase some crazy scientist wants to clone me; OMG multiple running Andrews running around.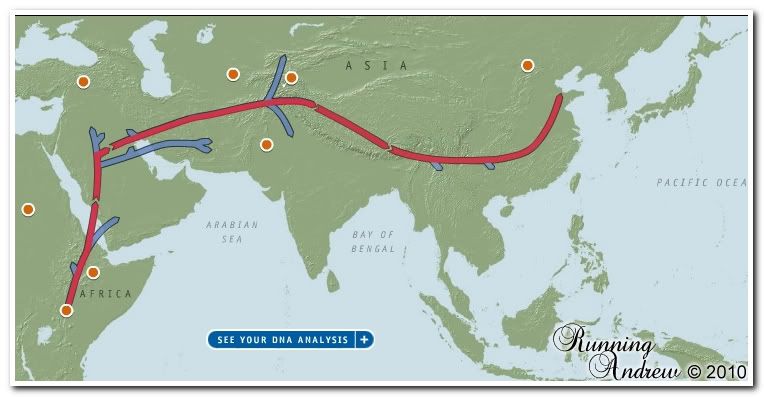 My ancestors' route started in Africa!
Waka Waka Eh Eh! From the map, it shows that my ancestory's route started off from Africa! Okay I'm not going to talk about the details of my results because there are just too much text. Worse part of all, I can't copy and paste it because the website is using FLASH and it doesn't allow that.
For us who previously attended the
launching
of National Geographic Store and cafe, we were invited for a follow up event entitled "Finding the Origins of Malaysians". This was held at National Geographic store iteslf at Lot10 on Tuesday, 21st of September 2010.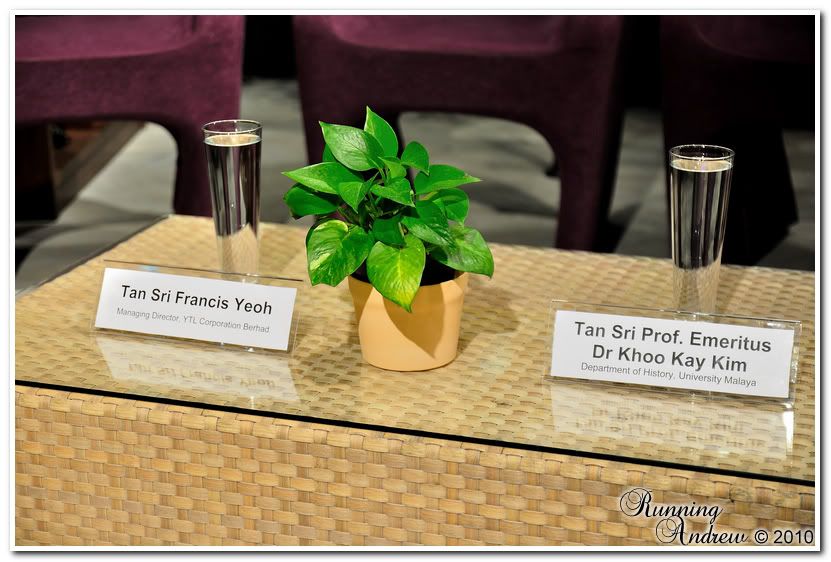 VIPs for the night
Present for the night was Managing Director of YTL Corp, Tan Sri Dr Francis Yeoh, and renowned Malaysian historian and antropologist, Tan Sri Professor Emeritus Dr Khoo Kay Kim. But wait, there was another special guest!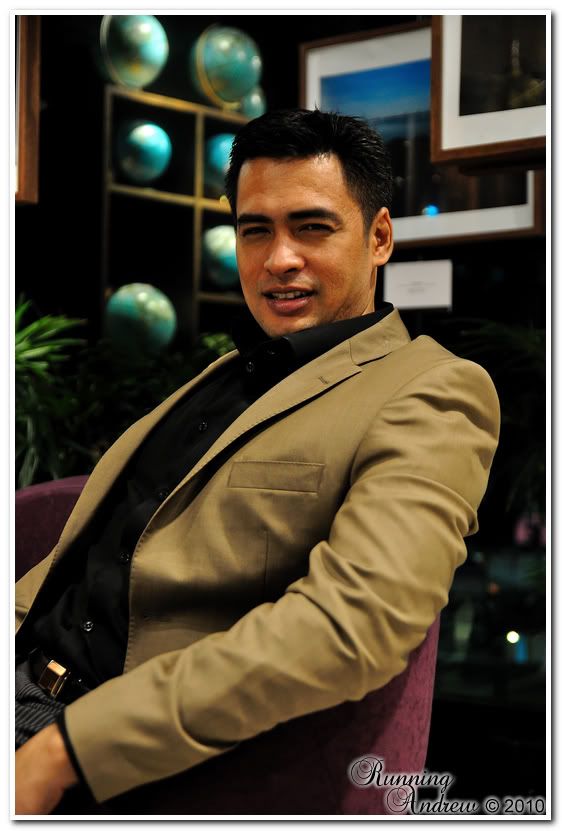 Datuk Dr Sheikh Muszaphar Shukor, the first Malaysian to go into space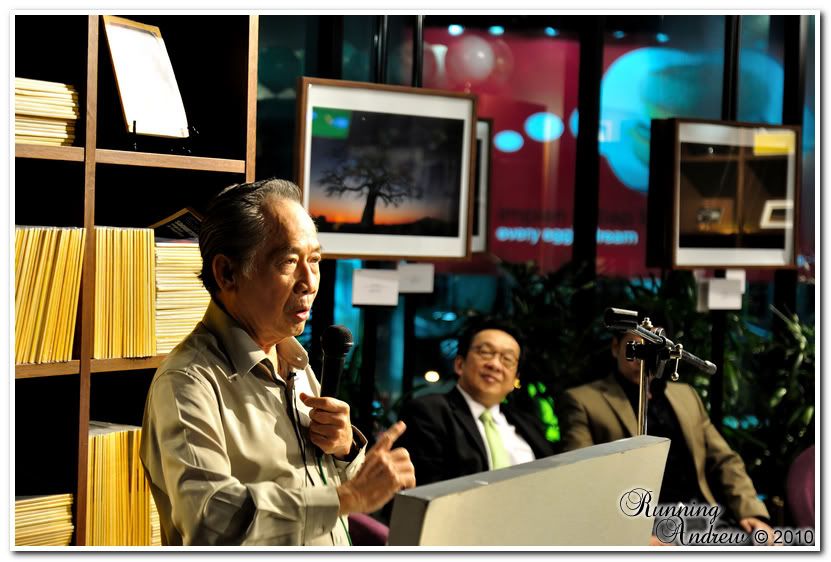 Dr. Khoo was going through some history about Malaysia and no, he did not start with "Long before your time..."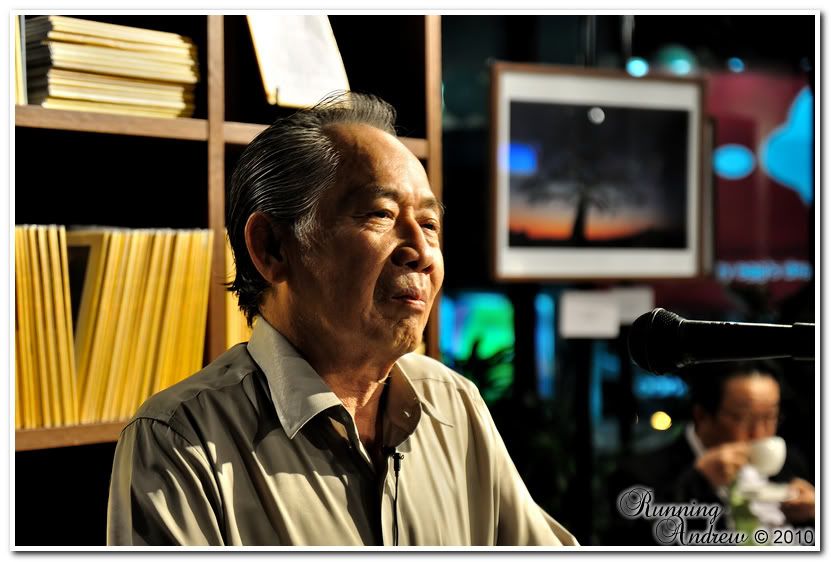 Dr. Khoo explained about the country's multi-cultural society in conjunction with the recent Malaysia Day celebrations. It may sound boring but trust me, this man knows his stuff. It was intriguing. Period.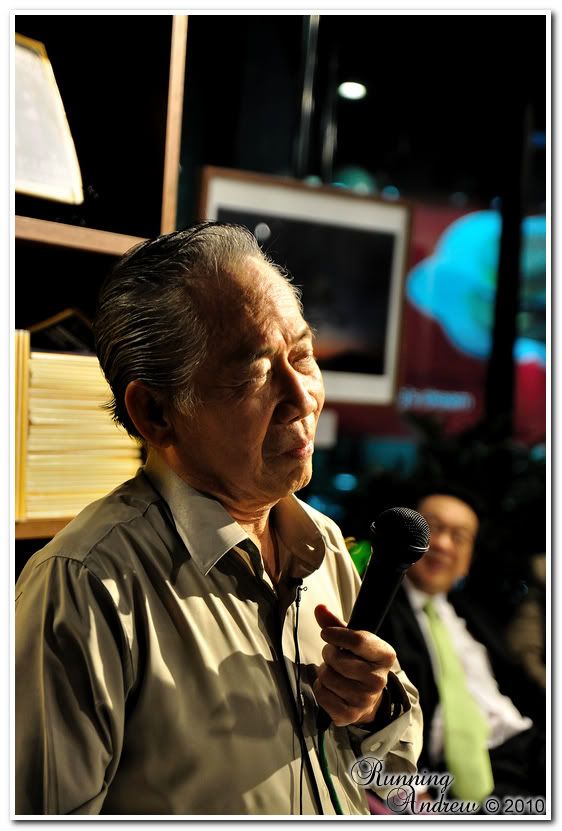 Another interesting fact shared by Dr Khoo was about the people in Perak and Kelantan. Many people from Perak and Kelantan carry the name 'Khan'. This is because many came from Central Asia, from countries like Afghanistan, Pakistan and Uzbekistan(WOW I spelt that correctly) and even from North India.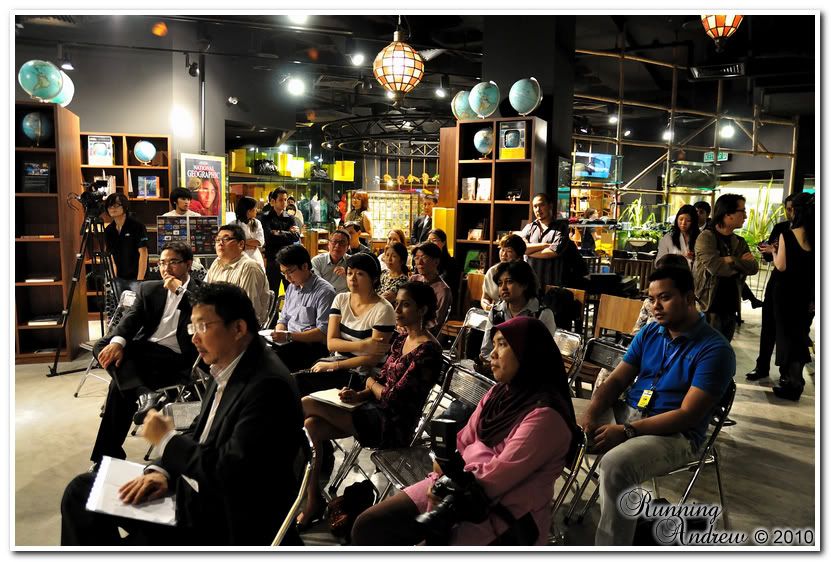 During the Q & A session, I asked him about his views regarding my results. My question was:
"My results shows that my ancestors' route originated from Africa. What are your opinions or views on this?"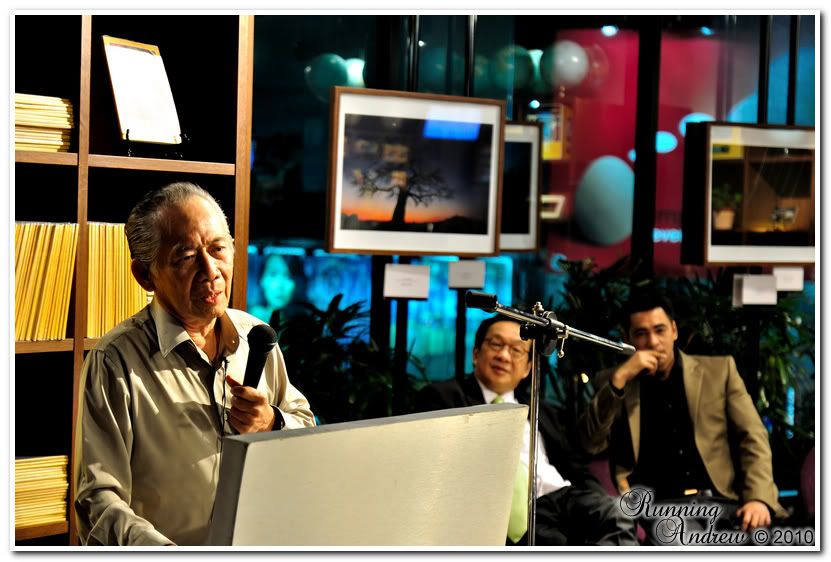 Kinda opened ended but really, I just wanted to know how he felt. "Embrace your result", he said. It doesn't matter if its Africa, US or China; Basically, don't be prejudice towards any race, country or religion. Interesting isn't it?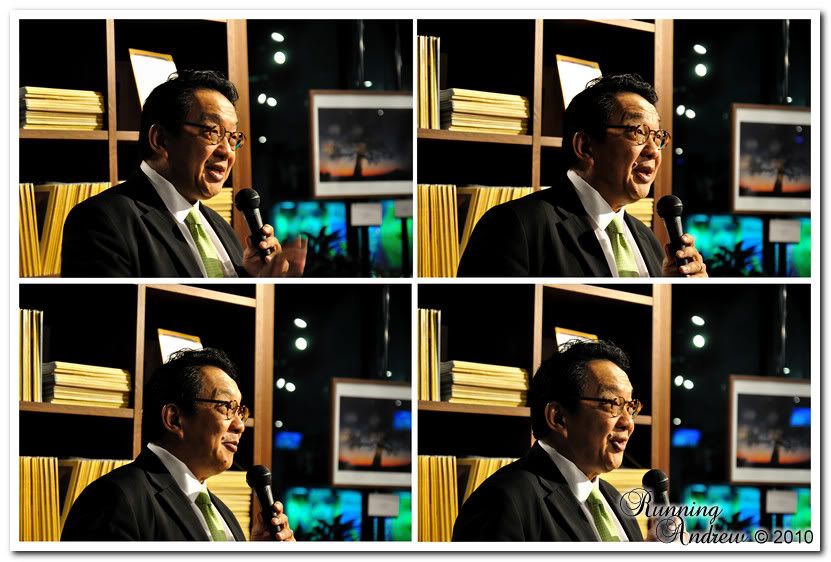 Next it was Tan Sri himself who gave a few words of wisdom. As mentioned before, Tan Sri Dr Francis Yeoh is very supportive towards National Geographic and he is proud to have Tan Sri Professor Emeritus Dr Khoo Kay Kim and Datuk Dr Sheikh Muszaphar Shukor present for the night.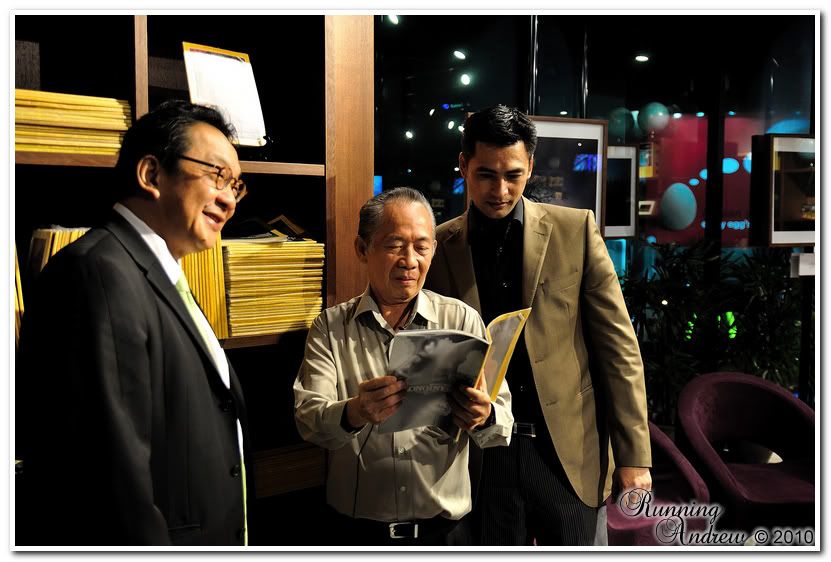 With all that is said and done, next up was none other than
.
.
.
.
.
.
.
.
.
.
.
.
.
.
.
.
.
.
.
FOOD!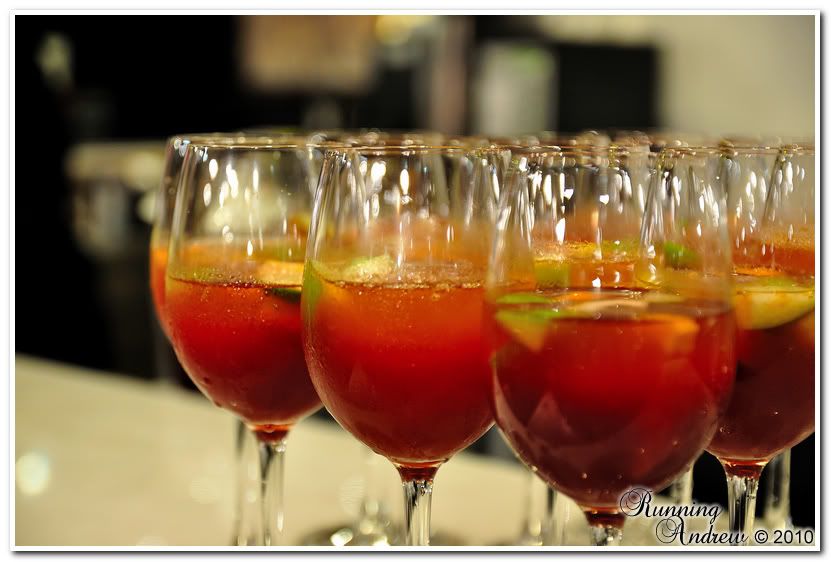 Dear Sangria, how I missed you.... *sip*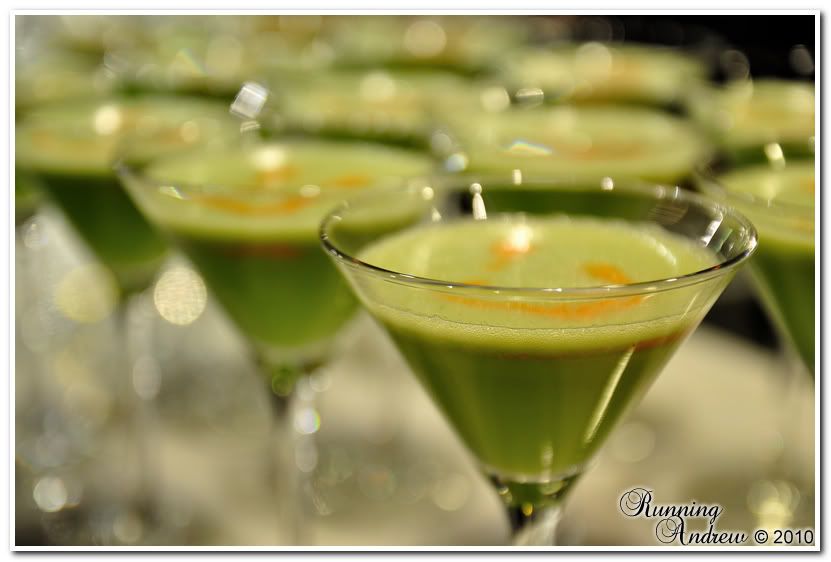 Also not in the picture was the Estrella Damm Beer because I got too carried away with eating and drinking. Now for the good stuff. National Geographic cafe serves food in a traditional Spanish way; Pinchos.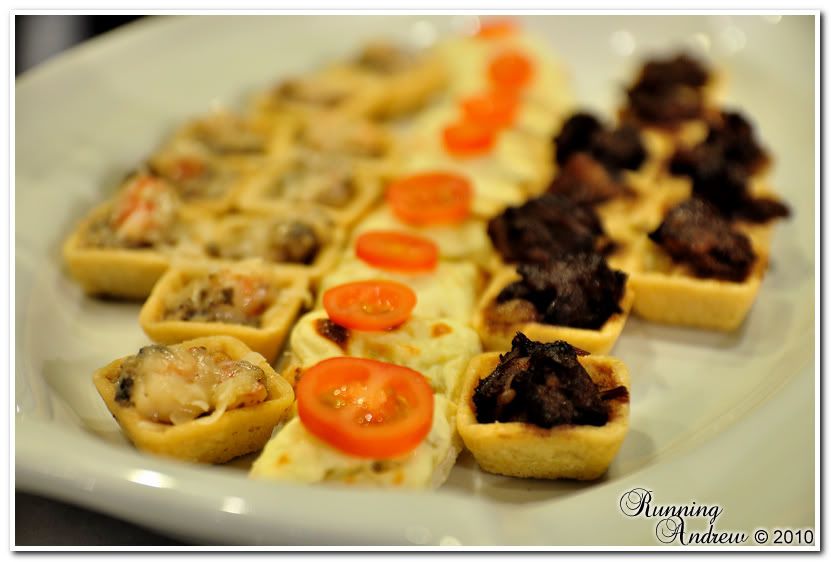 Three is better than one. The right most is some tarlets with oxtail toppings.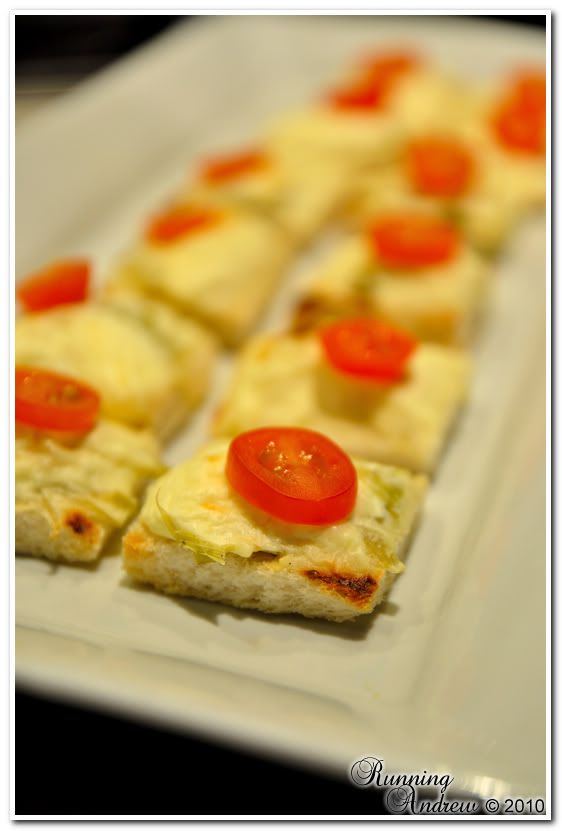 Puerros Con Crema De Questo (Cream Cheese and Leek Toasts)
This pincho dish was rather unique. Kinda hard to describe the taste for this. As the name suggests, its a little mushy with the cheese cream topping. And for those who are wondering what is leek; Click
here
. I won't say that I don't like it but it was just okay for me; no complains because it was still tasty - just no meat :P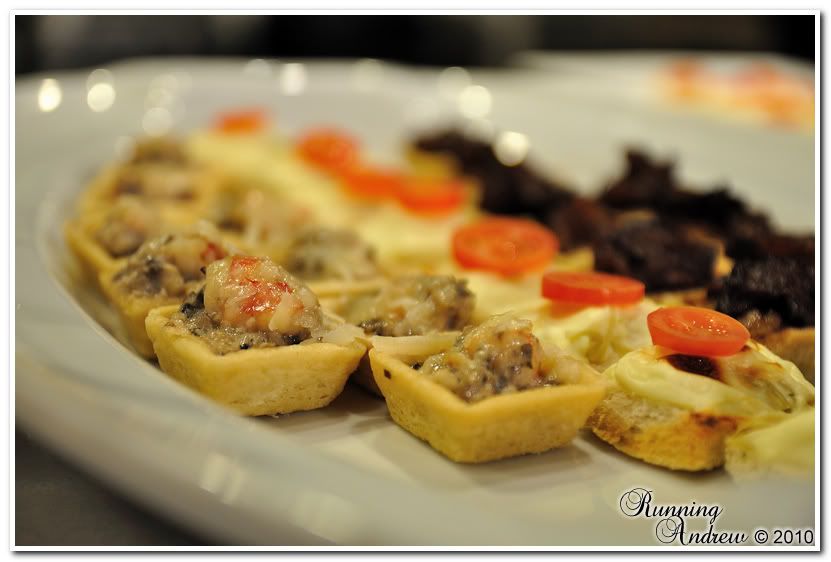 Txalupa (Mushroom Prawn and Cheese Tartlets)
This was my favorite dish of the night. Despite the prawn being visible(doh) you can't really taste anything "prawny" BUT the sweetness that you get with the other stuffings was just amazing. Even Marcky who has a problem with prawns gobbled down a few more after the first one :P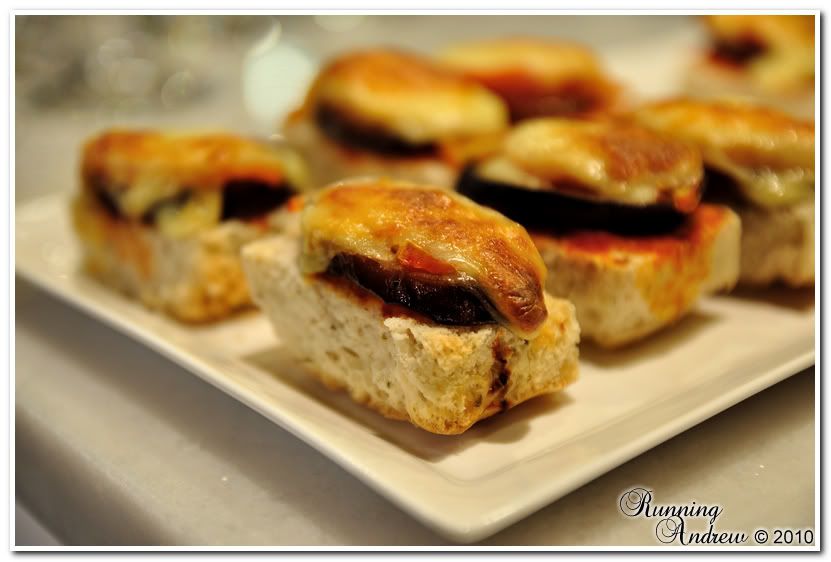 Grilled aubergine on Toasts
Crispy toasted bread topped with grilled aubergine and cheese. This was different from the cheesy leek pincho earlier. The aubergine gave this pincho dish a little more texture and flavor.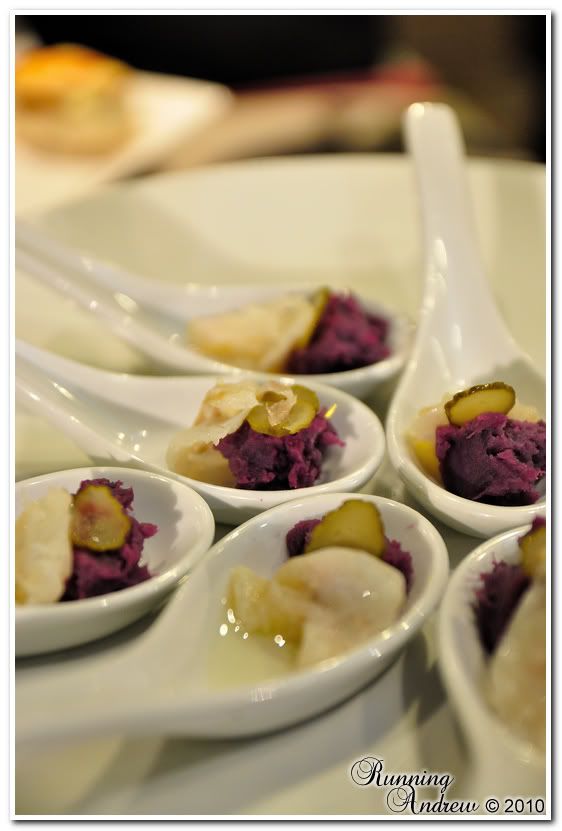 Bacalao Con Boniato Y (Grilled Salt Cod with Marinated Garlic and Pickles)
Don't let the colors fool you. The taste was so exquisite that you can't get enough of it. A mix of sweetness from the fish and a tad bit of sourness coming from the pickle was a perfect match for this pincho.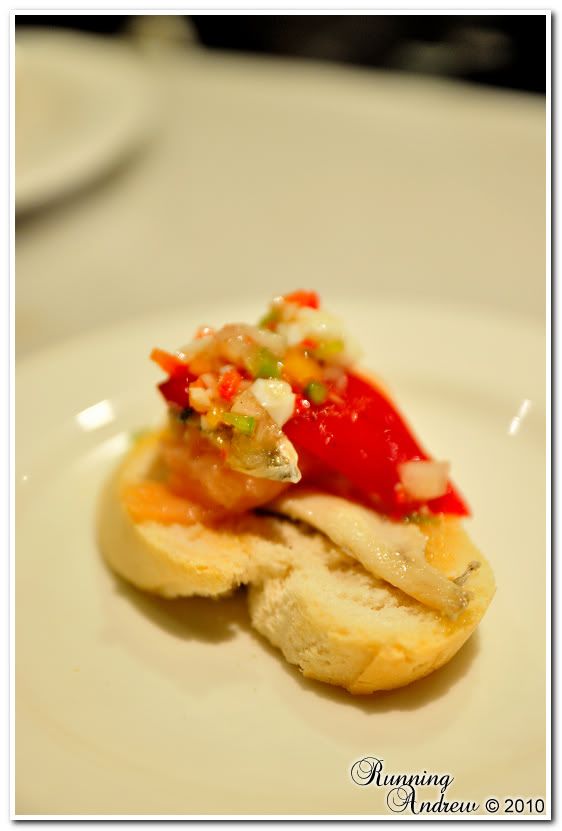 Pintxo De La Foto (Smoked Salmon, Anchovy and Red Pepper Toasts)
Evenly toasted bread topped with smoked salmon, anchovy and red pepper. The freshness of the salmon coupled with diced up vegetables mix and red pepper was simply delicious. The salmon gives this pincho a distinctive sweetness while the vegetable gives it that extra crunch and flavors.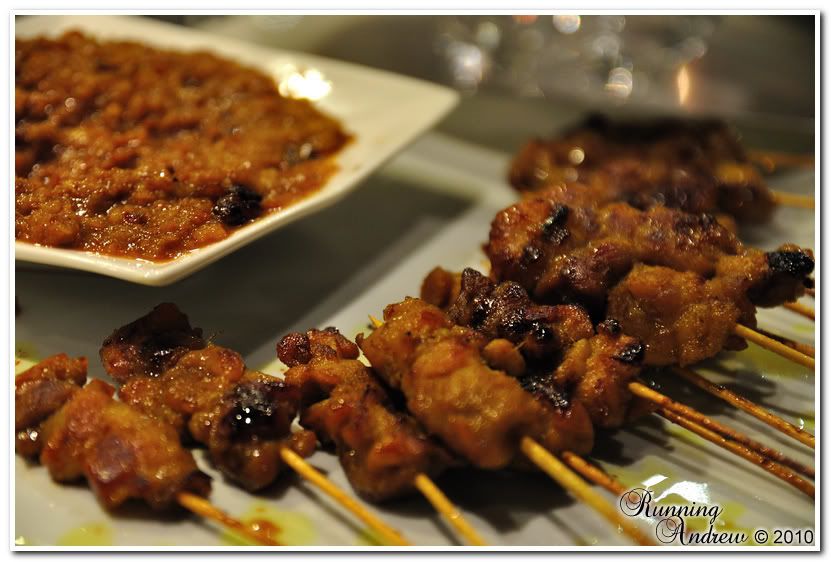 Satay with their in house gravy!
Satay; You can never get enough of them. With their in house blend of gravy, the satay was packed with rich flavors. I'm not exaggerating here, it was delicious compared to some other places. From the picture itself, you can tell that peanuts and
kunyit
was used because of the rough, chunky texture and yellowish oil. If you're wondering what the english word for
kunyit
is, it is called
Turmeric
.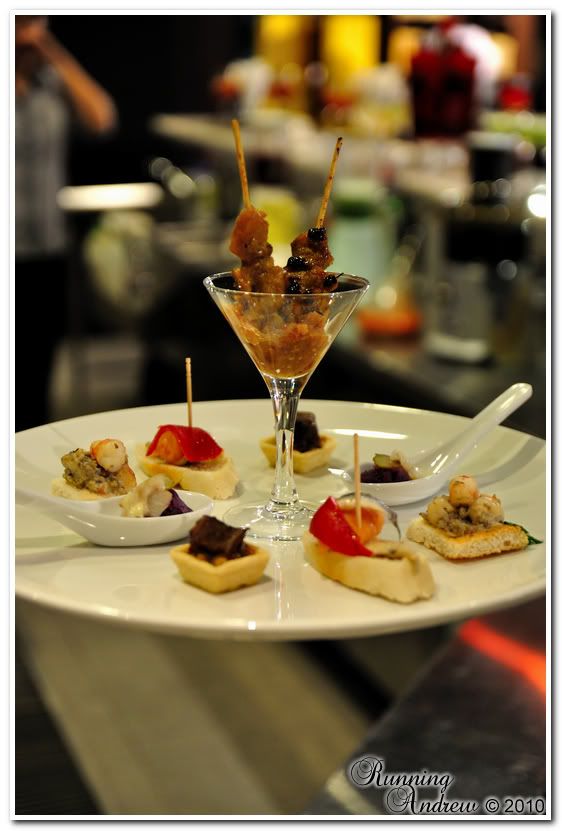 Look ma...no hands!
According to Angie(owner of the cafe), all of these good stuff are available on a platter so you get to try a bit of everything. You won't be disappointed!
National Geographic Store is located at Lot 10 at the third floor. Its really easy to find so don't worry, you won't miss it! :) Remember to check out their
website
too.