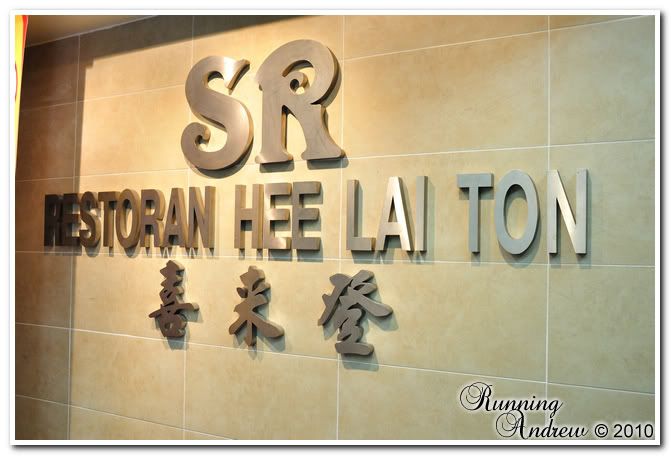 Yeah, Welcome to Sr Hilton Hee Lai Ton
Haven't heard of a restaurant name resembling to a hotel's name (Hilton?) but anyway, it was a family dinner gathering and I tried my best to take shots of the food before everyone started eating. Since they knew I love to take photographs, they waited for me until I was done with my shots for each dish which wasn't long anyway :) The place was like any typical Chinese restaurant but after tasting the food, all I can say is pure awesomeness. Tai Thong Restaurant(not that its popular but just for comparison sake) is by far no where near this. Oh and I must say, when we were there to dine, there was some other major dinner event happening; almost 75% of the place was booked for them. However, waiting time for our food(pre-ordered perhaps) wasn't long. Amazing service!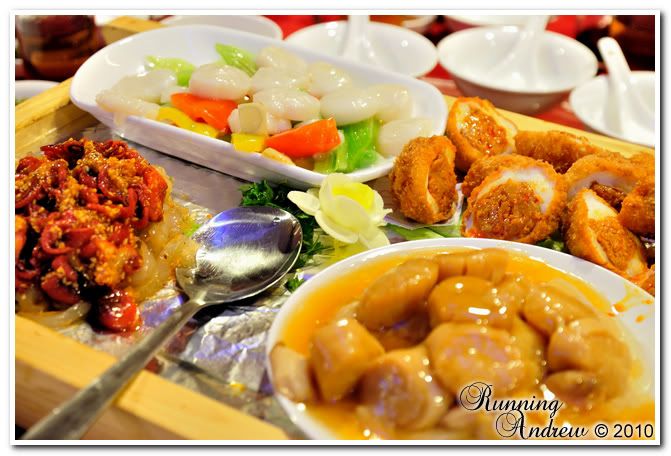 First dish of the night! Looks like any typical 4 seasons dish but the ingredients was very fresh! The half cut fish ball stuffed with otak-otak was simply delicious. Crispy on the outside, soft in the inside. Two different cooking styles of scallops; 1 stir fried with mix vegetables and the other with some thick gravy sauce. As you can see from the picture, these scallops are pretty decent in size unlike some other restaurants. The baby octopus was nicely seasoned but nothing spectacular except for its freshness and QQ-ness.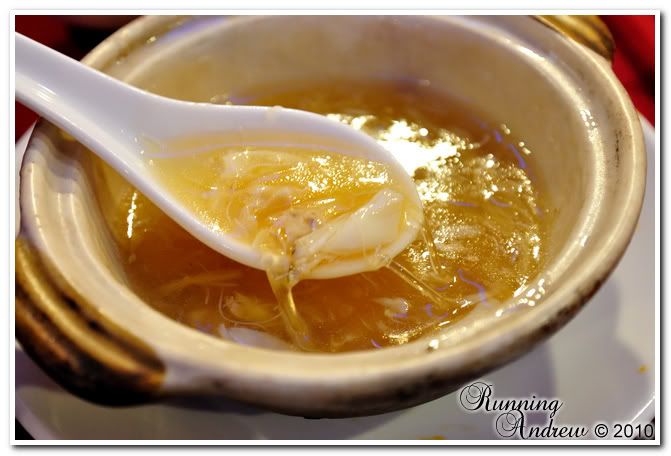 Claypot shark fin soup with crab meat
DE-LI-CIOUS. You don't even have to add vinegar to enhance the taste of the soup. Best of all, its full of ingredients with every mouthful; visible chunky crab meat and shredded shark fin scattered all around in the soup. For me, I'd always add some vinegar and alternately eat some pickled green chili along with the soup.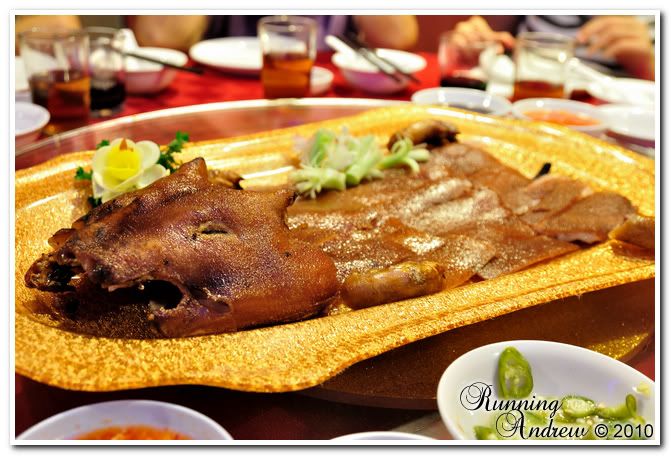 MOAR BOAR!
This was the 3rd dish for the night. Served with special mix of sweet sauce and freshly chopped spring onions. It was really crispy but sadly, most of the slices had quite a lot of fats. As the roast pork was cooked till perfection, removing the fats from the skin was easy. Perfect? How does one measure? Hhhm I don't know. Next please!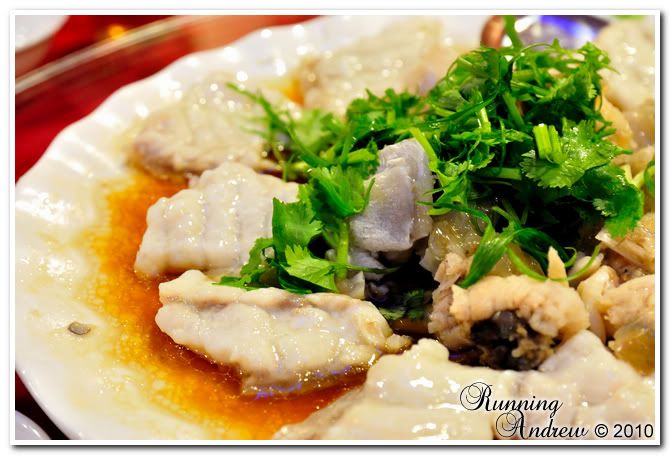 Steamed Fish
Fresh. Springy texture. Absolutely delicious. This fish is called "
Loong Tan
" which sounds like Dragon Egg. They even cut it up for you but I can't remember if they removed all of the bones. You can savor the taste of the fish and not being overshadowed by the sauce used. I wanted to order a small bowl of rice to go with the fish but I was told that more food was coming our way. Ah well....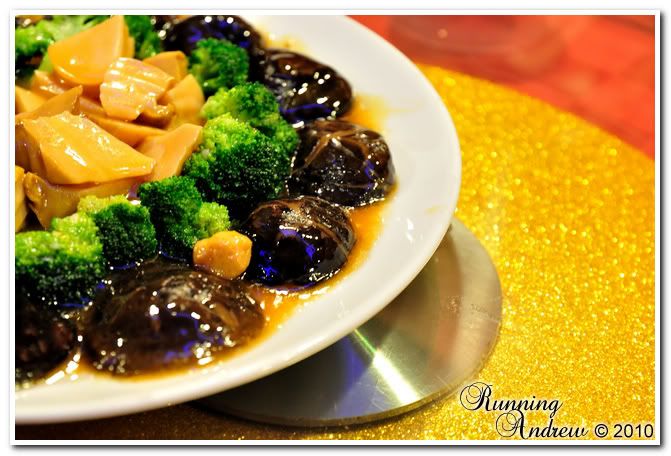 Abalone, Broccoli and mushroom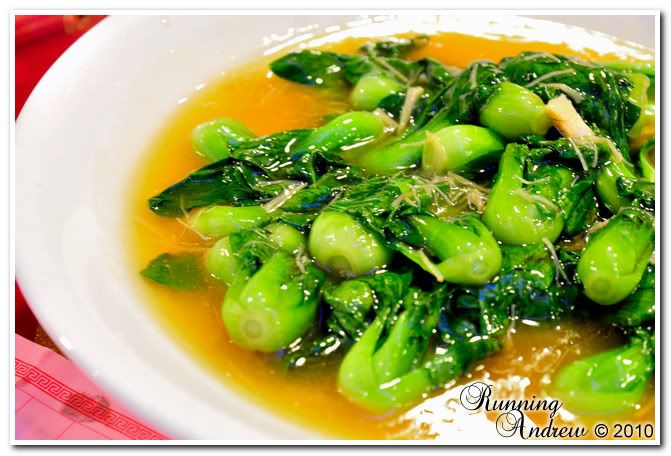 Baby Kailan with scallops
Normal vegetable dishes but as you can see, they are very fresh to begin with. Some scallops were added into the mix with the baby kailan which was nice.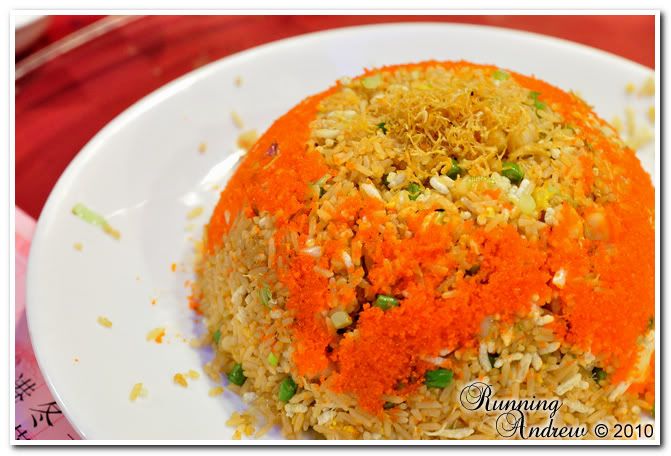 Chue Wong Heong Chau Fan
Chue Wong means Master Chef in cantonese. Heong means fragrant or a nice aroma. Chau Fan means fried rice. So I guess its Master Chef's Fragrant Fried Rice? Apparently this is one of the restaurant's signature dishes and I gotta admit, DAMN NICE. Garnished with a generous amount of fish roe and fried baby anchovies a.k.a ikan bilis. Can you spot something else?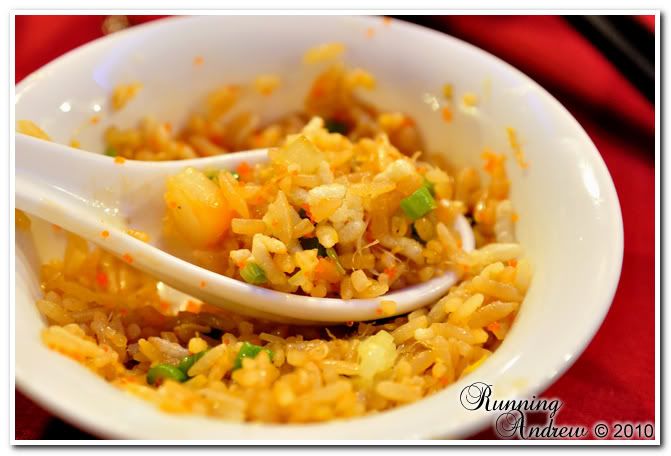 Closer view of good stuff
It was crispy with each mouthful and I couldn't quite tell why initially. It turns out that it wasn't because of the fried baby anchovies but it was because they added japanese rice crackers into the dish.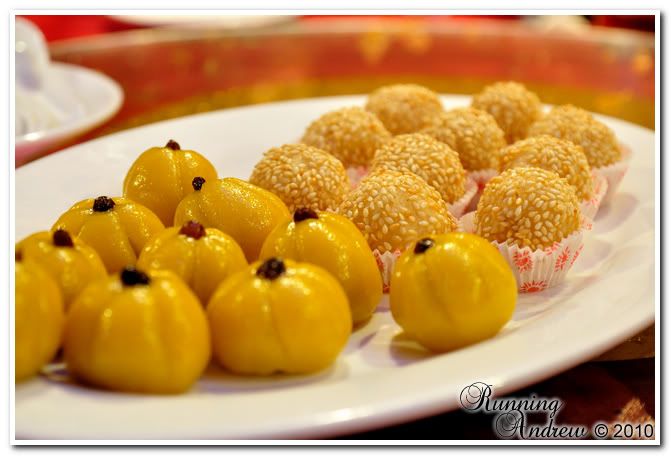 Any ideas what these are called?
Glutonous Rice Ball with loads of sesame seed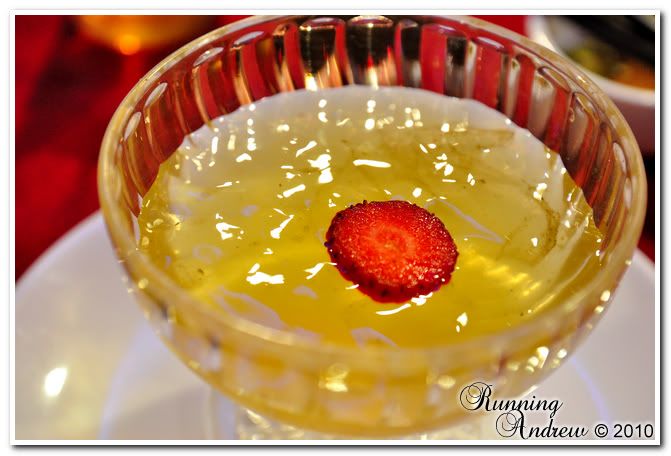 Chu Huar Ai Yu Bing
Okay I'm not gonna translate it but the flavor of the jelly is actually chrysanthemum. That small slice of strawberry adds a touch of sweet and sour sensation with the jelly. Nothing like a light dessert to end the awesome dinner.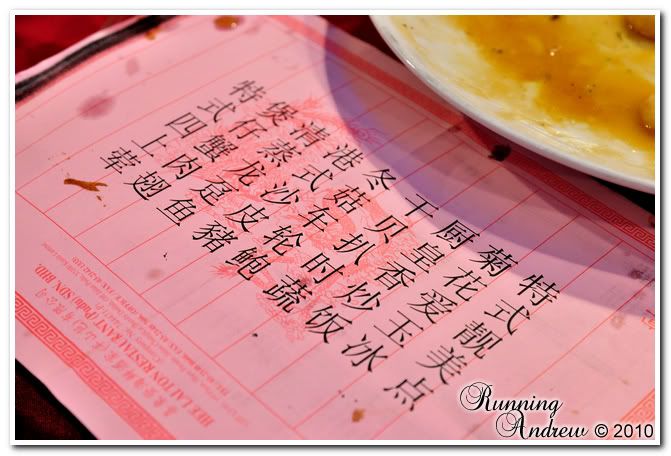 Menu, with gravy
For those who can read chinese characters, I hope you can match the name of the dishes with the pictures I've posted.
Contact details
I am a food blogger and I do not pay for my meals!
Actually my fiancee's aunty who belanja-ed makan so it was free lor :P
Address:
3rd Floor, Shaw Parade,
Jalan Changkat Thambi Dollah,
Off Jalan Pudu,
55100 Kuala Lumpur.
Business Hours: 10am - 10pm(daily)
Tel: 03 - 2148 8666
View
Hee Lai Ton (Pudu) Restaurant
in a larger map