It's been awhile since I last posted a food review so here is one fresh from the oven! I met up with my friend,
Darren
for dinner last night and he suggested this place which I am not quite familiar with. Yeah, its Taman Paramount but my knowledge on food whereabouts isn't wide.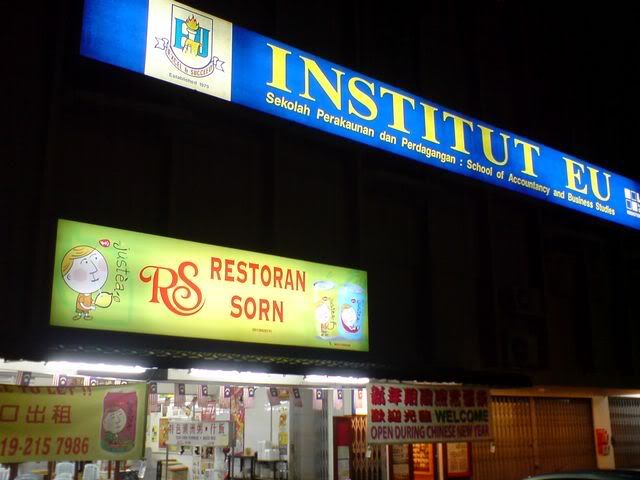 The place is called Restoran Sorn
I've tried getting the exact address but all I manage to find is
Corner of Jalan 20/14
Behind O&S Restaurant
Petaling Jaya
According to Darren, there is a stall which sells really good claypot chicken rice. I noticed there were 2 claypot chicken rice stalls but make sure you order from the stall which says "
Hometown Claypot Chicken Rice
". This stall is located towards the back(at the corner) so pay attention when you are there.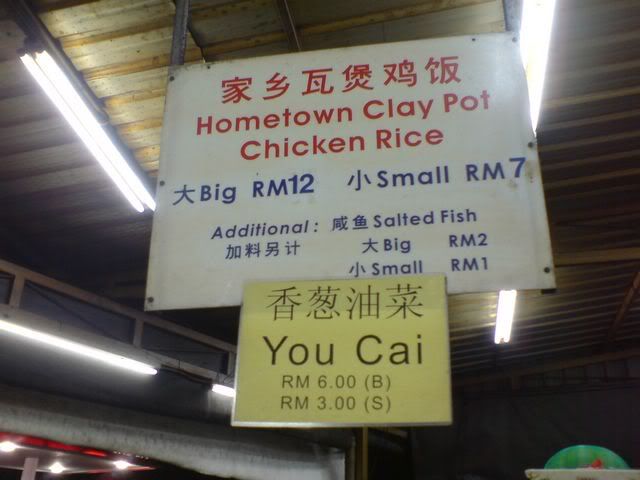 Prices are displayed clearly. Didnt even know that you can pick the size of the salted fish.
We were considered lucky because the stall was still open. Darren said that the stall usually sells out pretty fast. Despite being there around 7.30pm, there weren't many people around and not many stalls were open. It was practically just these 2 claypot chicken rice stalls.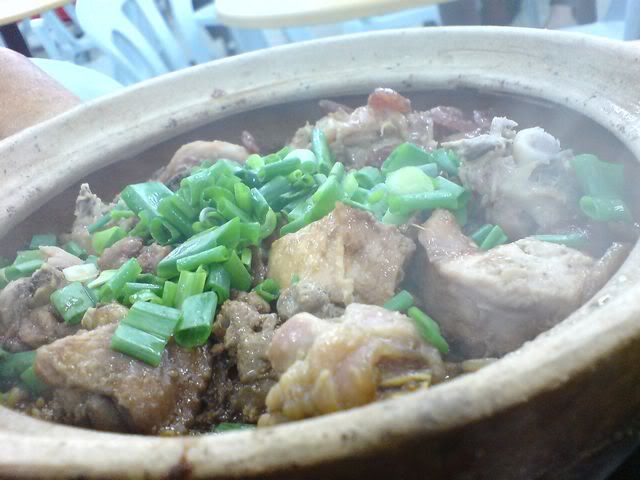 Smokin' hot!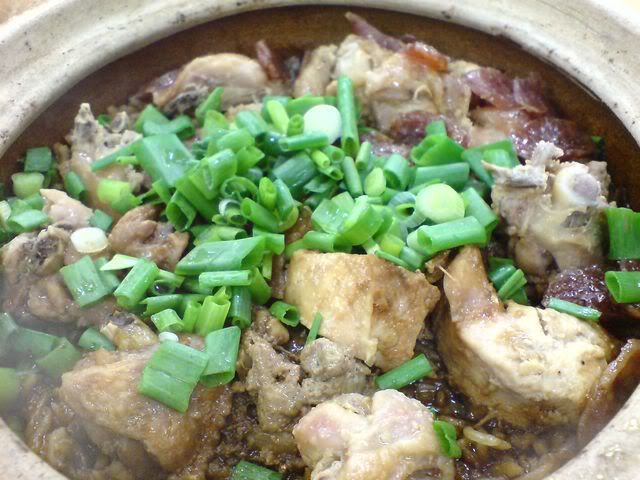 Our order was just claypot chicken rice, large - RM12
As soon as the waiter opened the claypot's cover, the fragrant smell of the rice and chicken was immediately noticeable. I ain't gonna exaggerate and use flowery language but what you see is what you get. A generous amount of chicken,
lap cheong
(chinese sausage) and
scallions
(spring onions). Normally, one would associate claypot chicken rice with overly cooked chicken with lots of burnt rice but you'll be surprised with this one. The seasoning of the chicken is not too salty and the rice is very fragrant as it is cooked alongside with the chicken! The slight taste and smell of burnt rice gives you that extra kick for such claypot dishes.
Its not stated on their stall but if there was anything additional that could be added, an egg would definitely make it even better! May be I'll ask them if we can add an egg in our order :D
Thanks for reading and once again, thanks
Darren
. Have a have a safe journey back to UK.