What's up everyone! Yes, I am around! This blog is begging for an update so here it is! Sorry for my absence as CNY was really a busy period for me with all the visiting and eating.
And of course, I added some extra weight on my body but fret not! I shall work hard to reduce them!
This is going to be a long entry due to the amount of pictures but I hope you guys will enjoy reading this.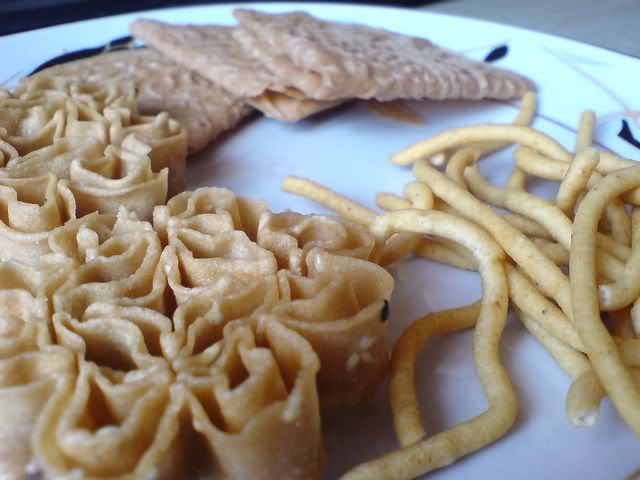 It's during CNY where you get to enjoy these goodies but I have to stop eating these now!
So what did I do? The usual,
tuan yuan fan
or family reunion dinner on the eve of CNY where every family member get together for this auspicious dinner. Those who are away from home would travel back to their hometown or parents place for this. Previously, I had to go back to my grandma's place in Malacca but now that she is staying with me, the reunion dinner is at KL :) I repeated the same mistake of not taking any pictures during my family reunion dinner again! I guess I was too preoccupied with helping my mum with some stuff before dinner. Nevertheless, we had the usual; my mum and grandma's signature dishes such as
lor bak
(Braised Pork Belly), chicken curry, steamed fish, loads of vegetables and soup! I feel so guilty now for not taking pictures!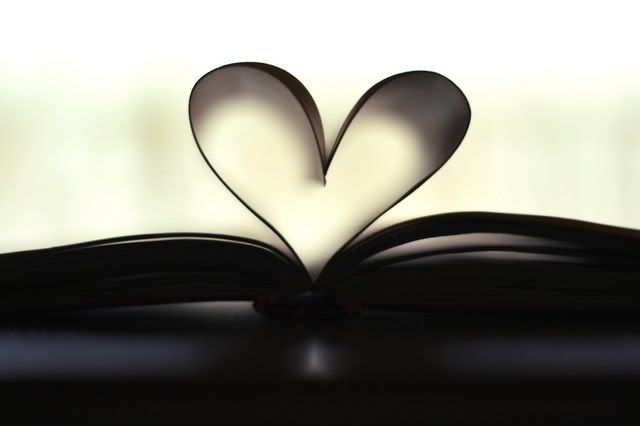 This year's CNY is a little different because it also falls on 14th of February, Valentine's Day. No, I did not get any flowers or present. Instead, we went to Taman Negara. When I say we, I meant an additional 22 person; her family and relatives :)
Monday, 15th February 2010
We went to Taman Negara on the second day of CNY, 15th February 2010 with a convoy of 4 cars. Our journey started around 8.00am and it took us about 2 hours before arriving at Kuala Tembeling Jetty. Basically, our journey was from KL > Jerantut > Kuala Tembeling Jetty.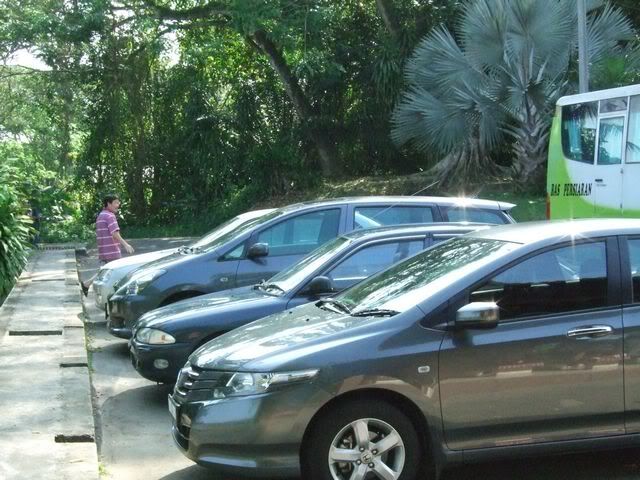 Da convoy! I drove my Honda City of course :)
No, we're not there yet. It is here where we will be traveling on a boat towards the Mutiara Taman Negara Resort. With our bags unloaded from our car, we proceeded with some registration for our cars and camera,yes, CAMERA. Apparently you need to get a permit before allowed taking any pictures. Payment for the car park is RM5 a day. Since we were on a holiday package, I'm not too sure if its included. Furthermore, it was my gf's aunt who handled the paper work.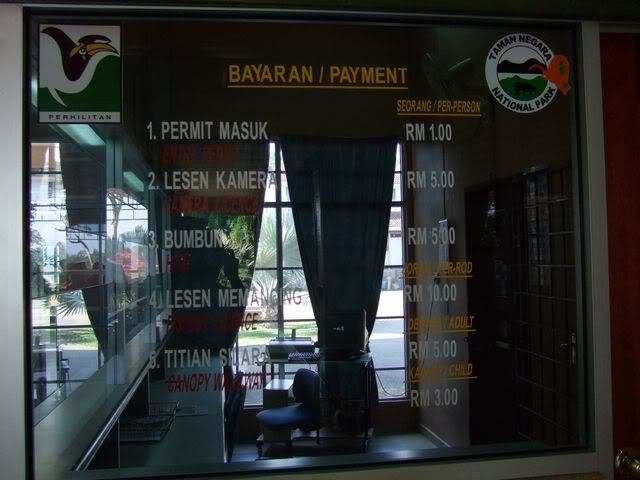 License to shoot!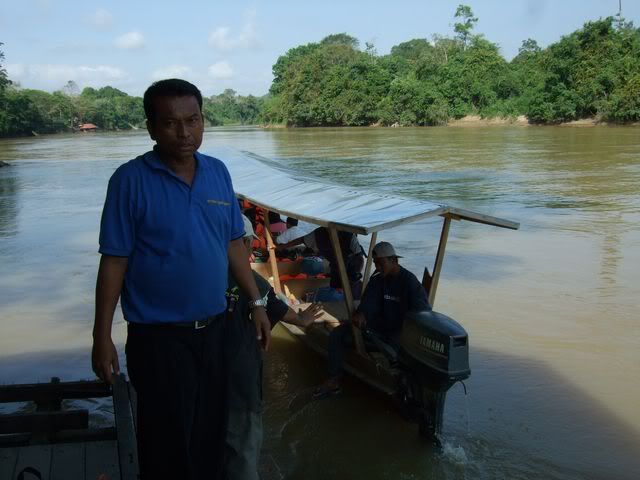 Some snacks along the way(Home fried
keropok(Prawn/fish cracker)
)
Despite being BBQ-ed under the scorching sun, the beautiful scenery was worth it. Seriously, if you think nature is some trees and plants behind your house, wait till you take this boat ride. But to view the same shit over and over again for 2 hours, we don't love nature THAT much.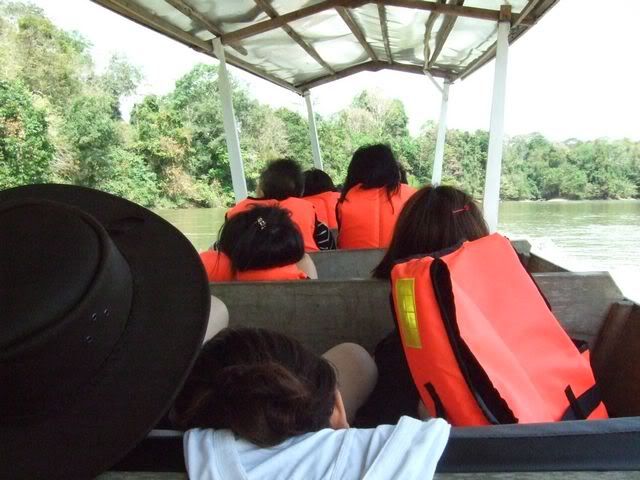 ZZZZZZZzzzzzzZZZZZZZZzzzzzz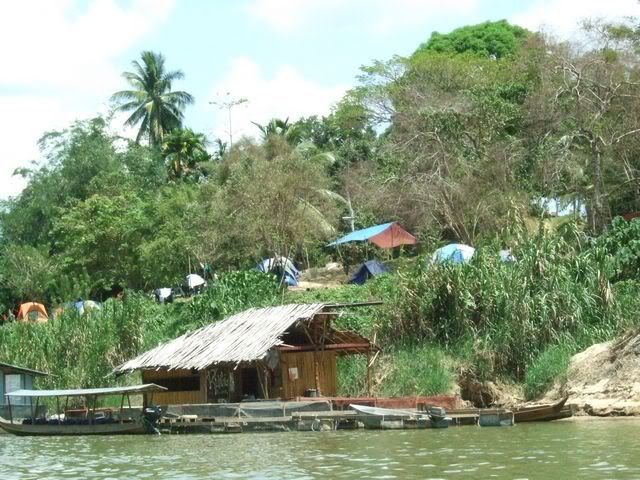 As we went deeper into the river, we got to see campers along the way. I guess they enjoy
shitting
sleeping by the river.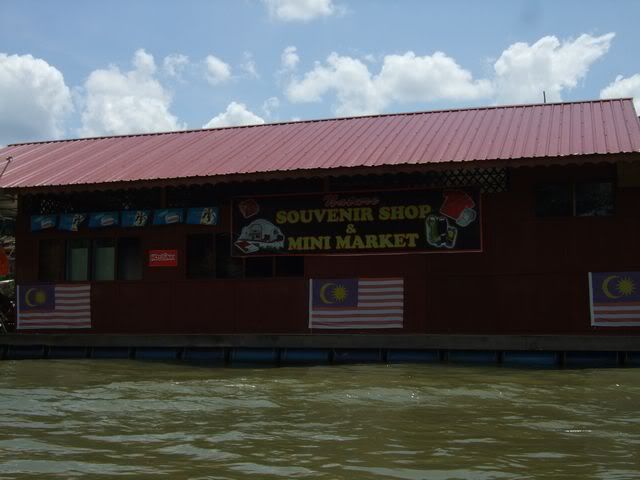 Floating mini market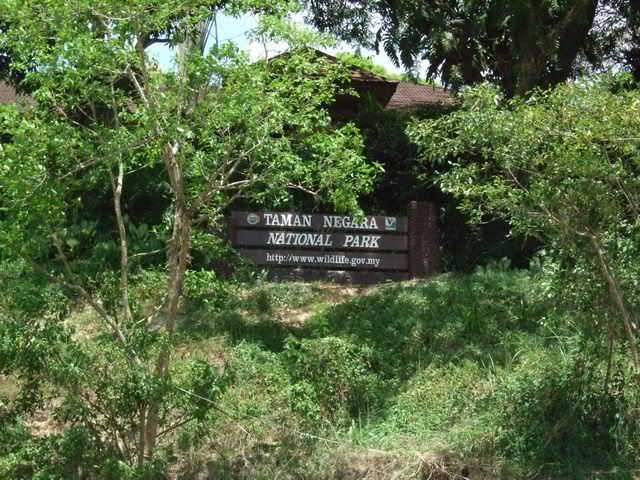 At long last, our destination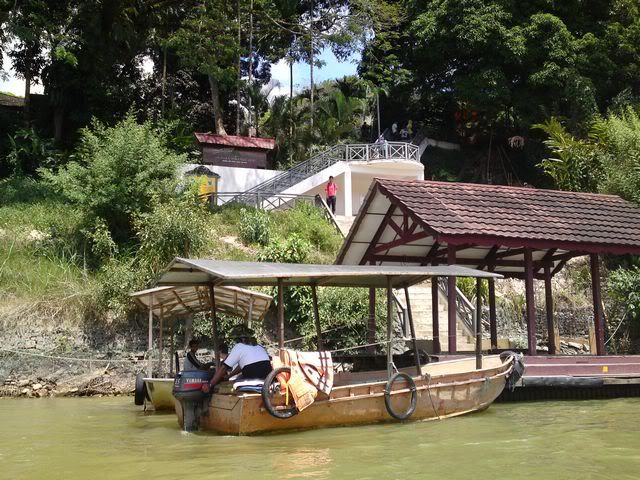 The mini floating er..jetty awaits us!
So we arrive like 12pm++, checked into our rooms and rested till about 3.30pm for our 1st activity; Cave Exploration. I wanted to wear my long track suit but the weather was really humid, so I decided to go with my usual running pants. We got back on to the boat and took another short ride before we started our jungle trekking.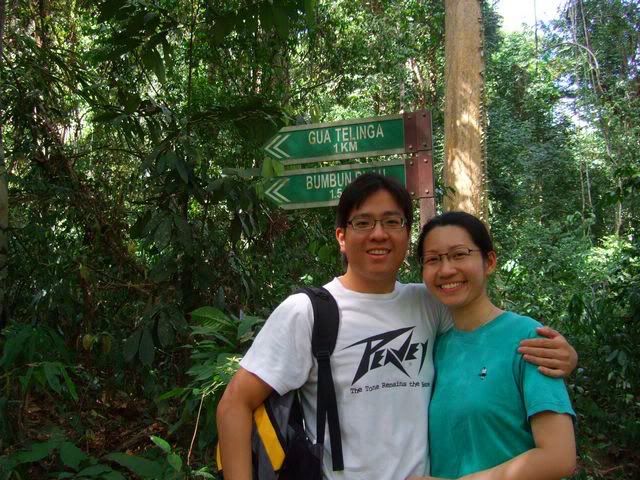 Me and my
sayang
Fiancée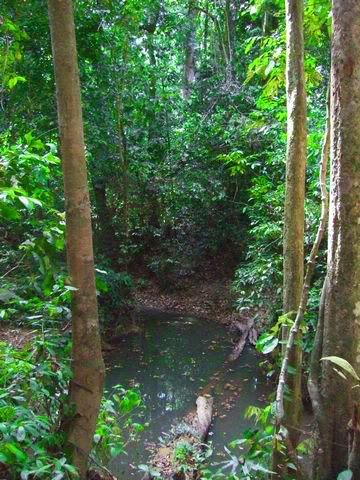 Took this random shot along the way. All I could say is WOW. The scenery is just simply amazing. The trees, the fallen leaves, and the sound of jungle were somewhat relaxing despite the heat. And if its comforting to know, the yellow man DID FOLLOW ME.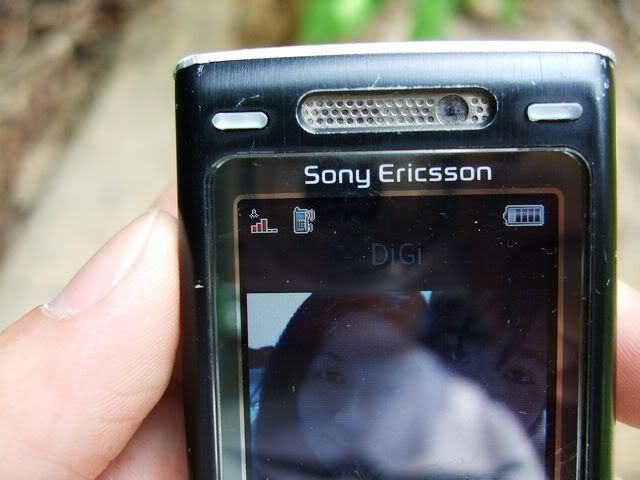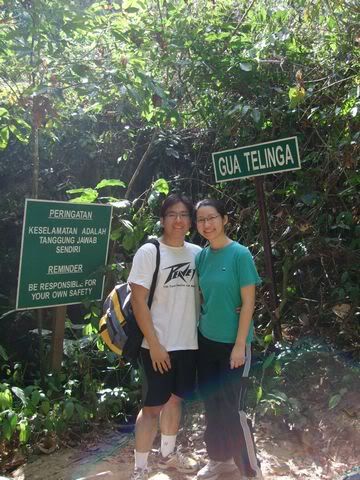 Finally arrived at the entrance of the cave, Gua Telinga( Direct translation to English would be Ear Cave, LOL)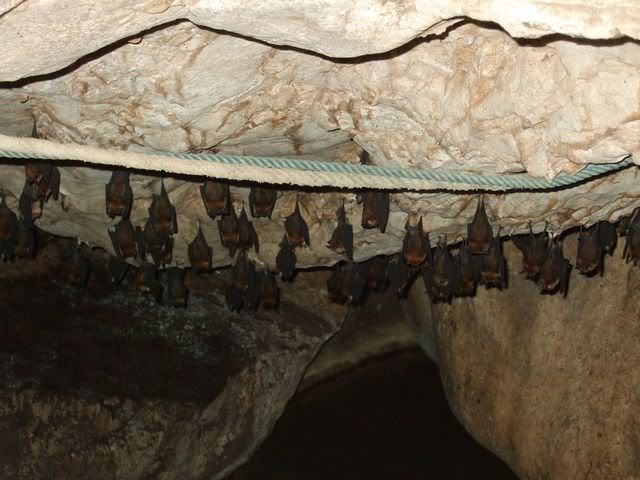 What we got to see along the way
The cave wasn't really a big/deep one. I'm not quite sure how to judge the cave but there was some "yoga poses" required in order to get through some hole/tight corners. Sounds erotic but you get the point. I would consider myself(ourselves) lucky because it hasn't been raining heavily over there for a few days/weeks and the cave was pretty dry. If its any other day, your body would have been soaked in bat's shit from waist down! Tough? Well, I will let the next picture speak for itself.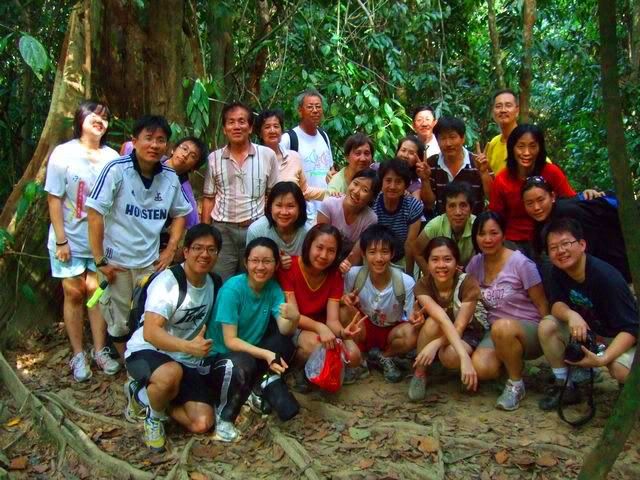 We all went "through" it :D
So I guess that pretty much sums it all up about the cave; people friendly. We proceeded back to the resort for a much needed shower and rest before dinner.
Tuesday, 16th February 2010
Didn't really sleep well due to all the noises coming from the bugs outside our chalet. I could hear them hitting against the glass and metal shield for the porch lamp like a gazillion times. One method of making them "less active" is to turn off the porch light as well as your room lights. Anyway, as I was leaving the chalet for breakfast in the morning, I spotted one of the culprit for those weird ass noises.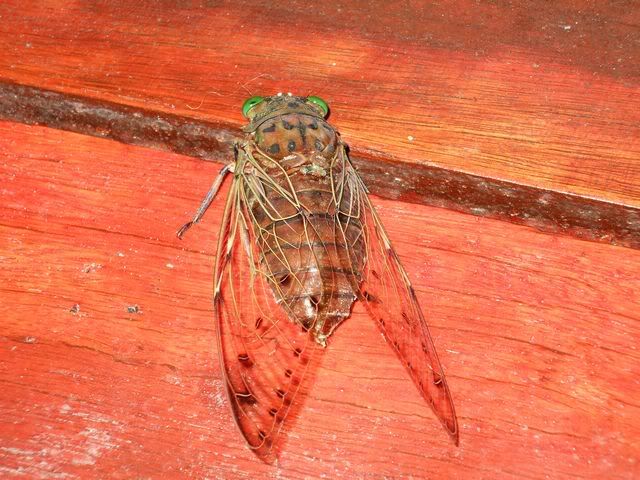 That thing is HUGE! This was taken up-close using macro shot. According to one of my gf's uncle, this bug is called
sien
. I have no fucking idea what that is in English so, sien it is!
The activities for the day was jungle trekking, Canopy Walkway, Rapid Shooting and visiting the
orang asli
. With breakfast done, we began our jungle trekking where the starting location was actually behind our chalets!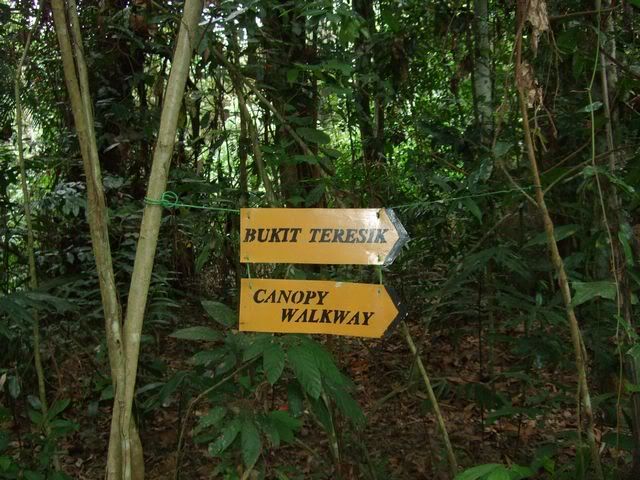 First up, Bukit Teresek!
Hiking up Bukit Teresek was tough! The hill/slopes were quite steep and requires quite a lot of drive from the legs. Although I'm a runner, this is no easy task. Here are some random shots I took as I was trekking.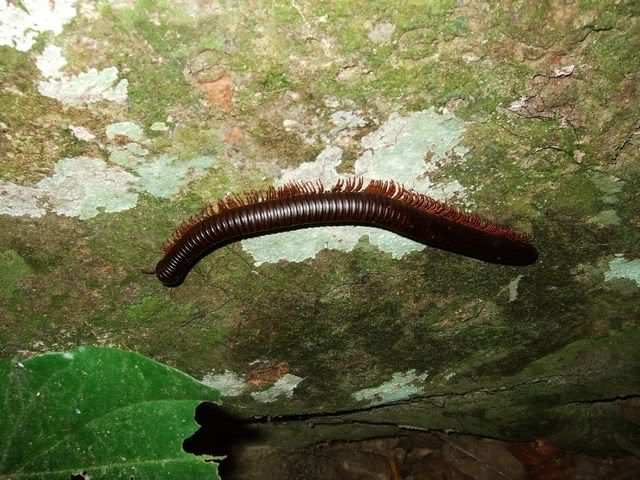 This is the first time, I'm seeing a centipede THIS BIG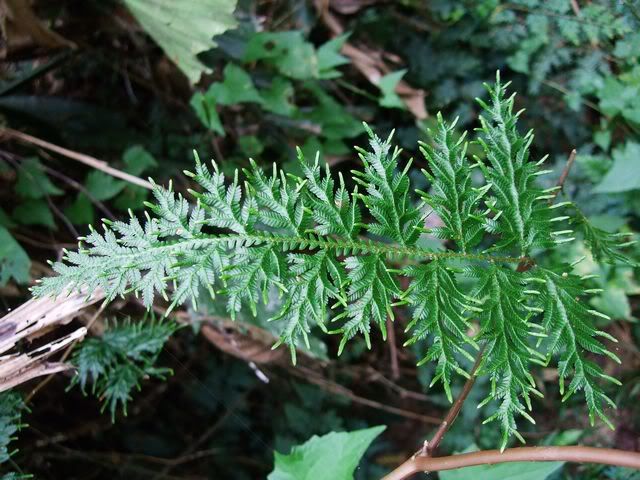 Mini Christmas Tree, Ok-lah, this is called Blue Peacock.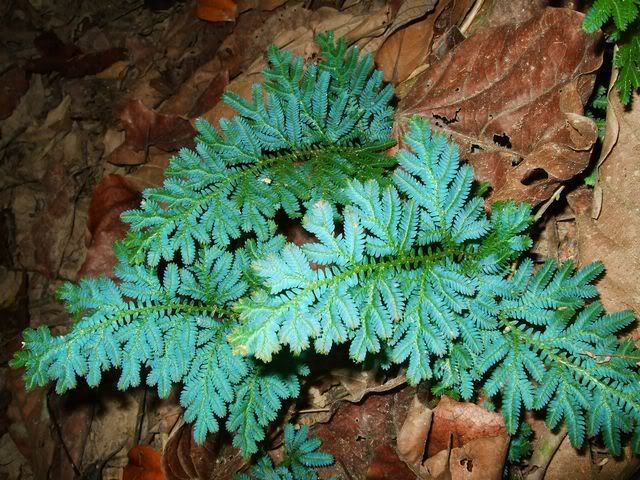 Because this cock changes to bluish-green at certain conditions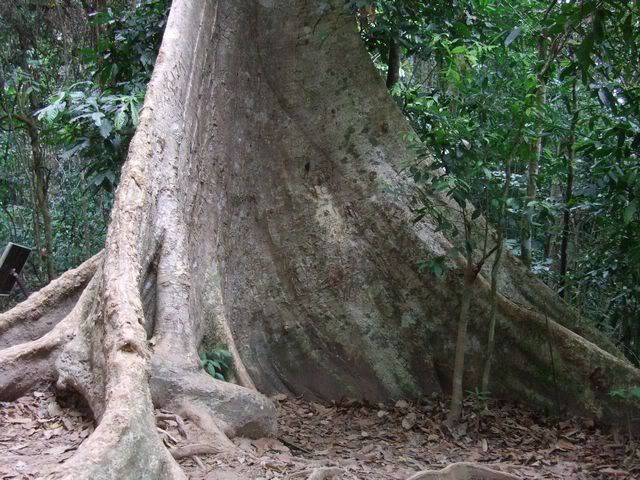 Bigger than my bathroom back at home.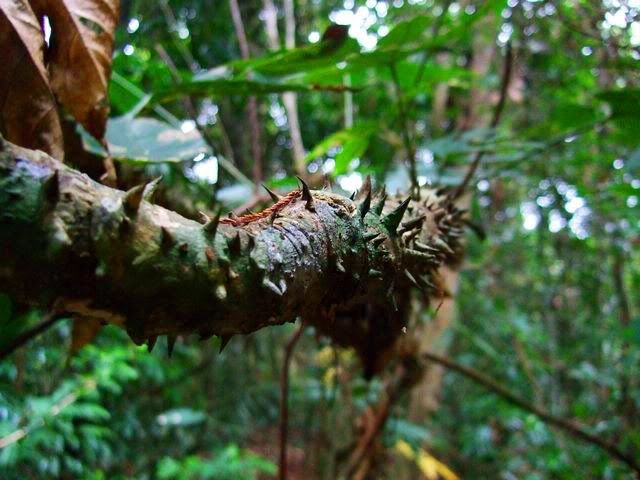 I love this shot :)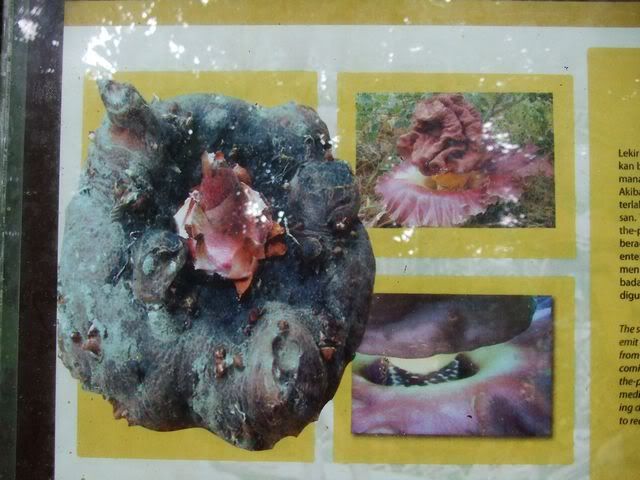 I tried searching for this plant but no where to be found. Why? Check out the description below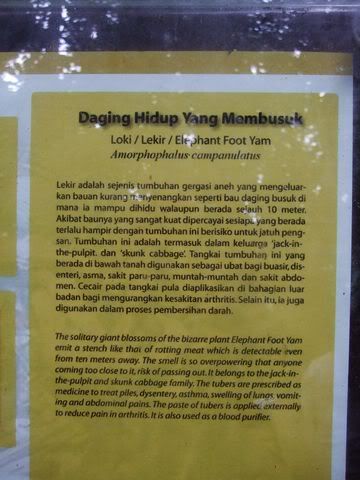 I love the English translation
Bahasa Malaysia: Daging Hidup Yang Membusuk
Direct Translation: Live Meat That Stinks!
Description in English: Elephant Foot Yam!
Another 1.5KM of hiking before we reach the first view station(means its not the peak yet!)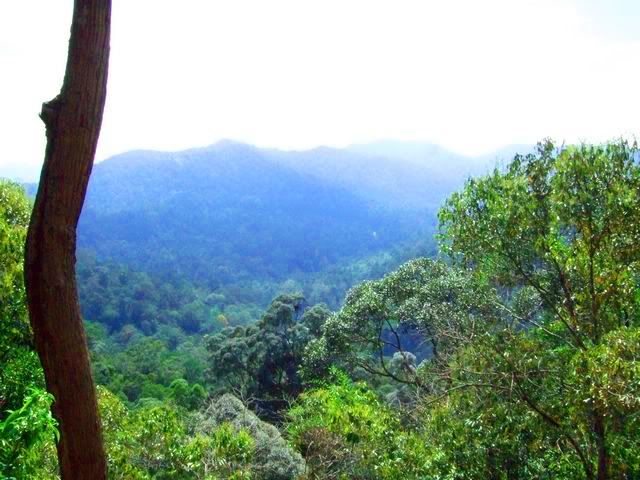 This shot was taken at the first view station
After hiking/trekking for another 400 meters, we arrived at the peak of Bukit Terisek (WTF, it was Teresek earlier- Scroll top!)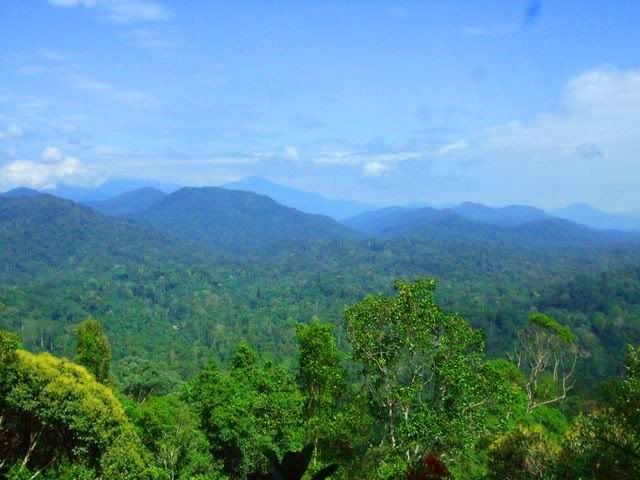 They said Gunung Tahan could be seen from here but feel free to pick your Gunung Tahan from this picture because I don't know which one is!
We lepaked a few minutes to enjoy the beautiful view before making our way back down for the Canopy Walk.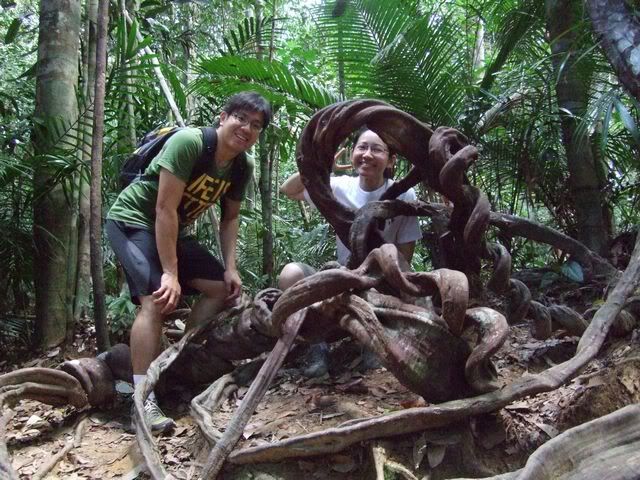 We just HAD to take a picture with this weird tree root. May be its good for Feng Sui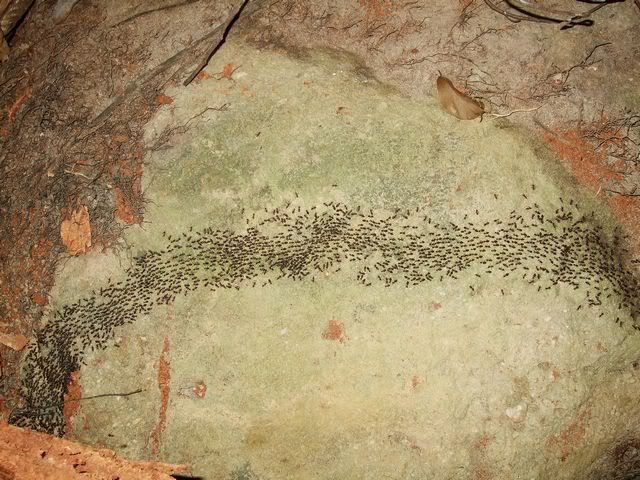 And no matter where you go, there will always be traffic jams; Malaysia mah!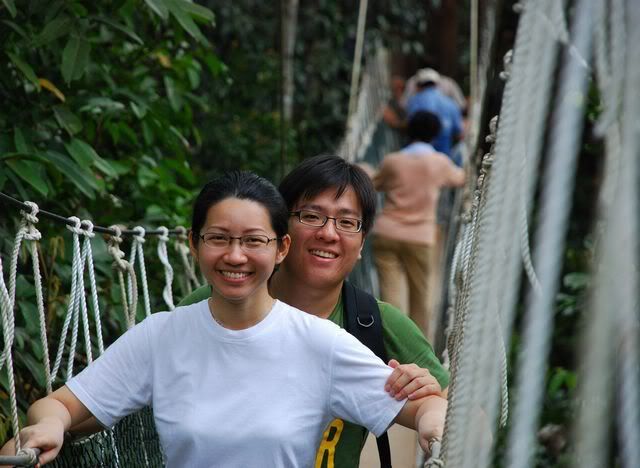 Photo taken by my Fiancée's brother's Nikon dslr :)
With Bukit Terisek/Teresek done, next up was the Canopy Walkway. We managed to start the canopy walk pretty early because it tends to be really crowded towards the day. After about 15 minutes of waiting, everyone started to make their way across the hanging bridge. I didnt snap any pictures along the way because the bridge was really shaky. So all we did was enjoying the view from high above the ground; you had to be there, really.

Later in the afternoon, we went visiting some orang asli nearby the resort. Basically, they would show us how they normally start a fire and how they make their darts for their blowpipe.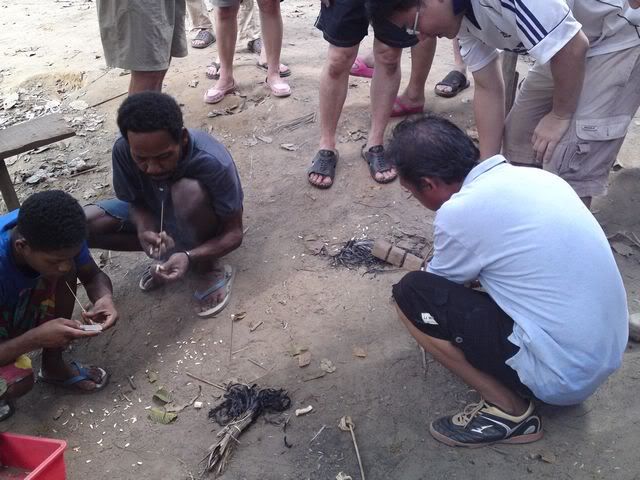 2 Orang Asli on the left, the tour guide checking out the fire log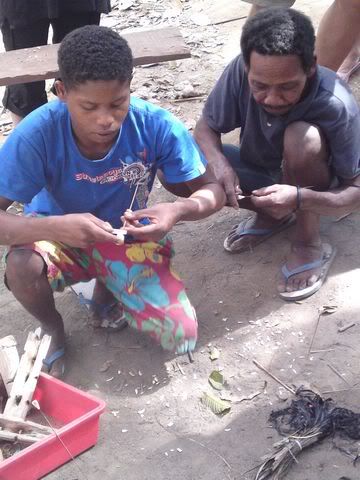 Shaping the end of the dart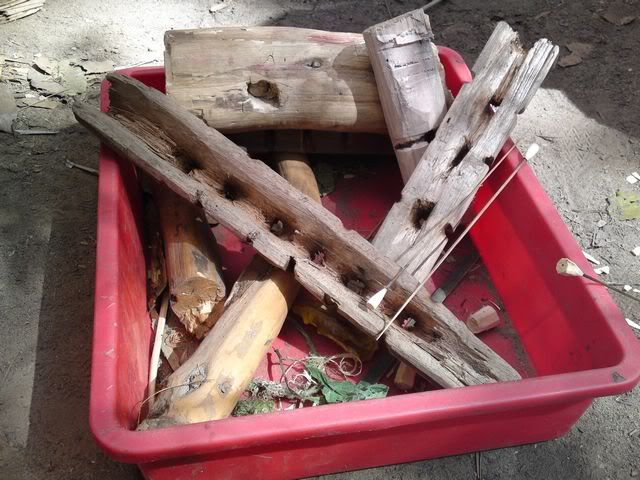 "Tools" which they use to start a fire/making dart
s
This chunk of wood is called Kayu Pulai! Its extremely light and soft enough for you do even squeeze it.
*ahem Bicep pose*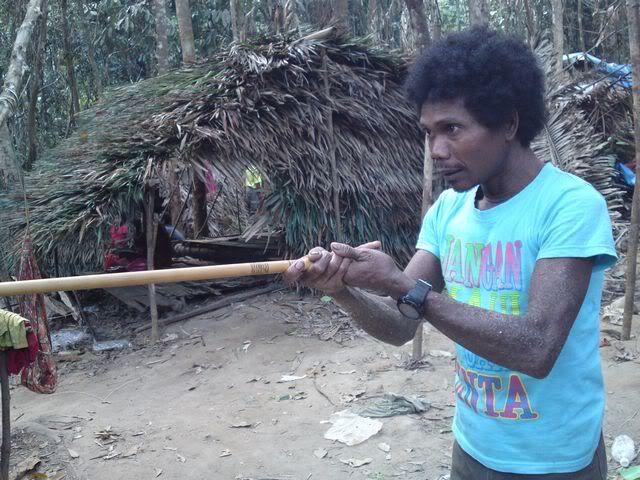 Demo-ing their sniping skill. They are freaking accurate. You had to be there to believe it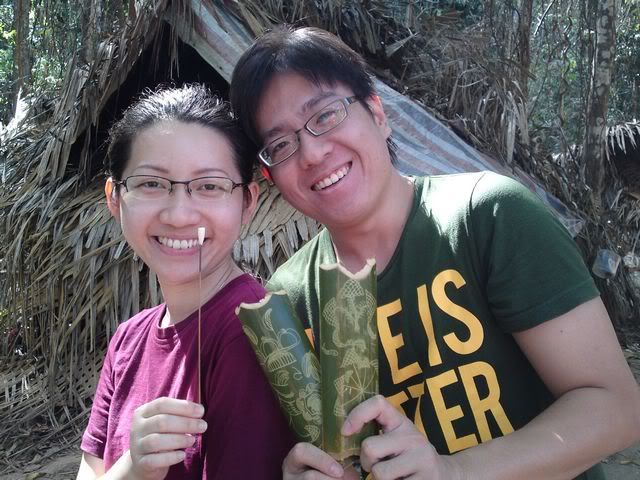 Some souvenirs from the orang asli...ok la...so I found it and took one of the newly made darts :P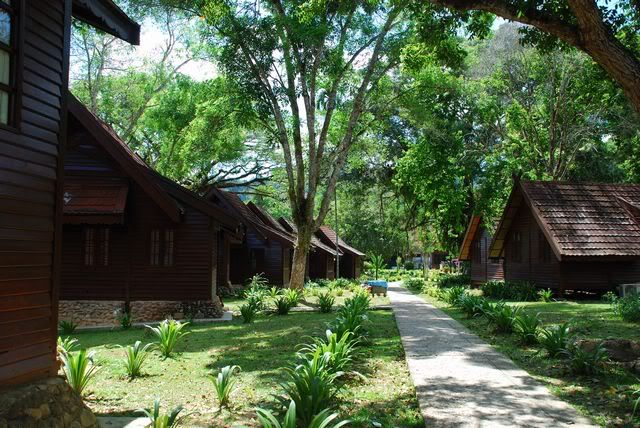 After a long day, we headed back to the resort for some rest before dinner.
WAIT A MINUTE! NO FOOD PICTURES YET? WTF!
Sadly, we had to work for our food
. Hunting time!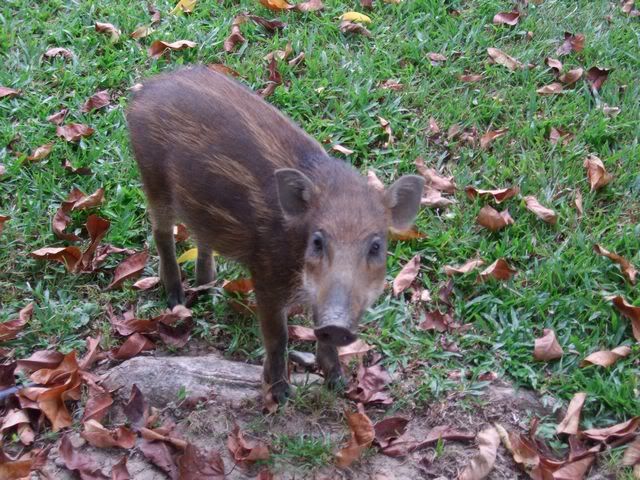 Just kidding la...WTF were you thinking?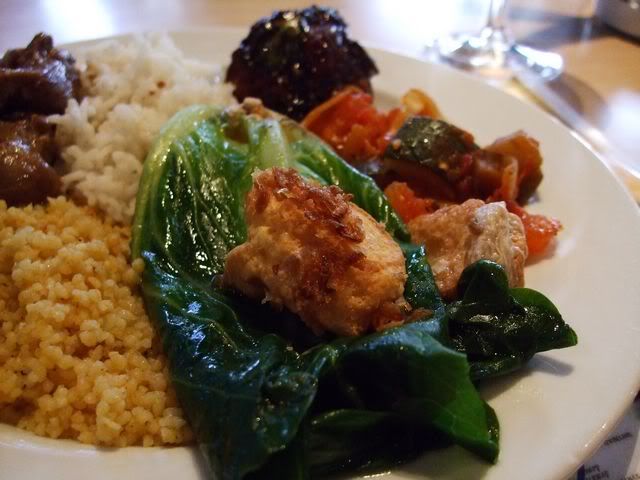 Kailan with japanese beancurd
Beef Tornedos(Marinated beef cutlet in creamy mushroom sauce)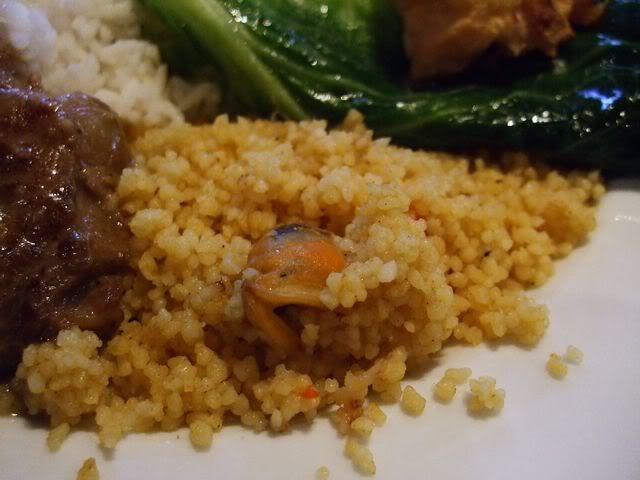 Cous-Cous with mussel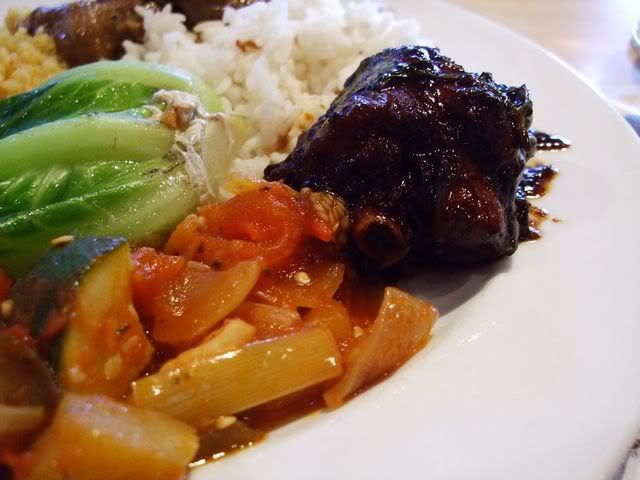 Ratta Tuille(some mixed vegetables) and Ayam Goreng Busamah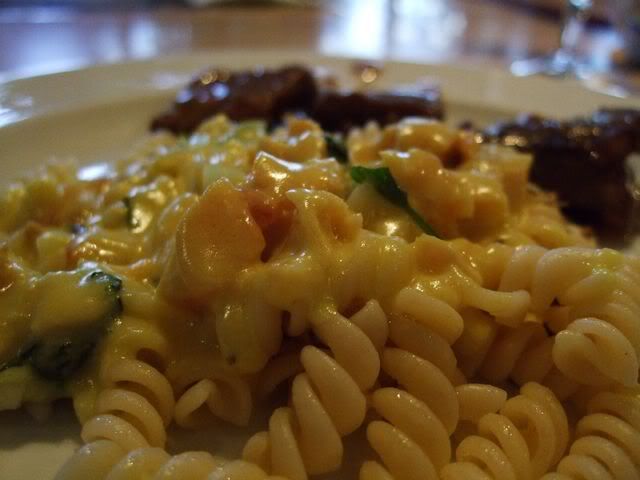 Pasta: Fussilli Pasta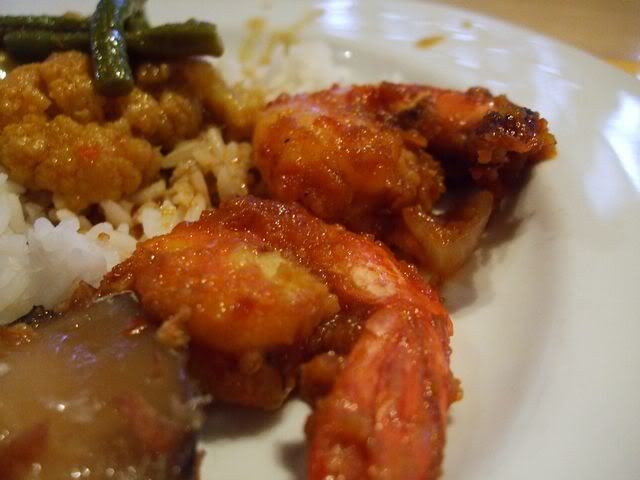 Sambal Prawn
s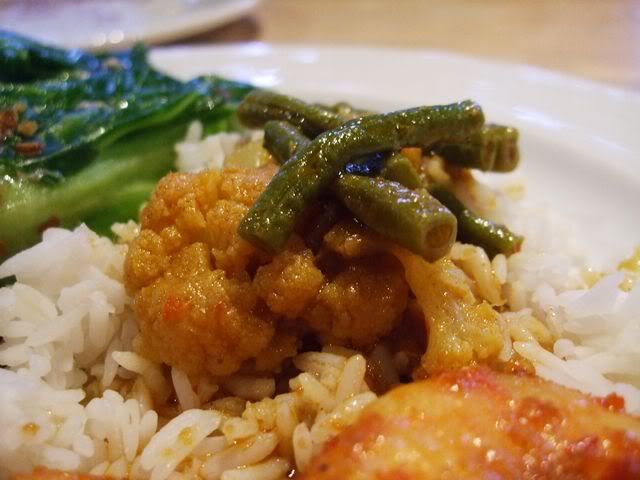 Vegetable Curry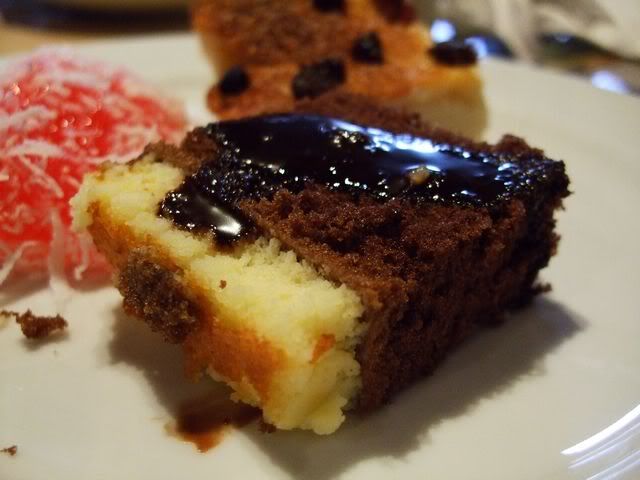 Some cake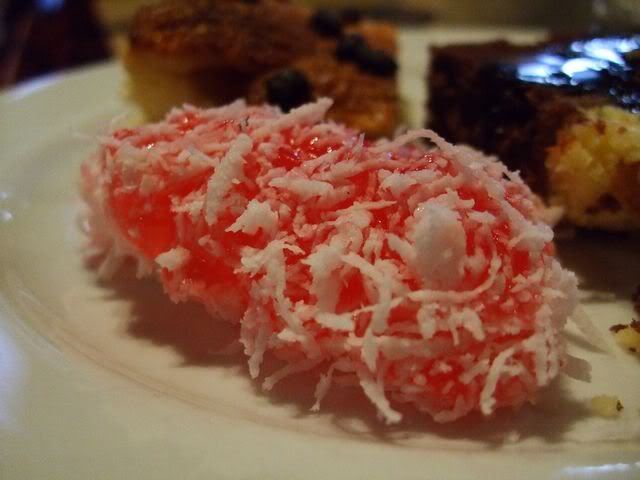 Jelly?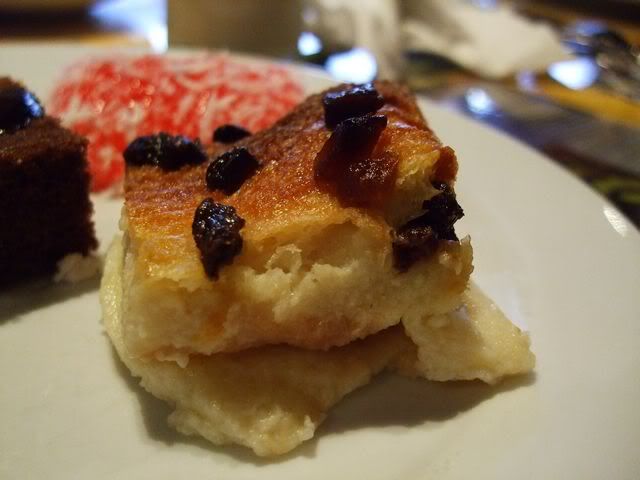 Bread and Butter pudding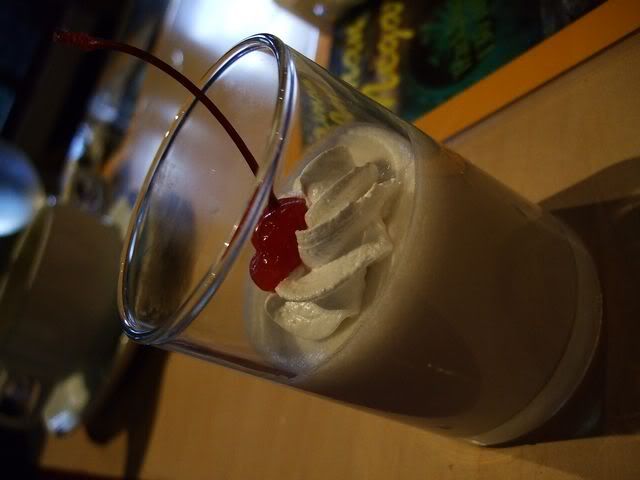 Some coconut jelly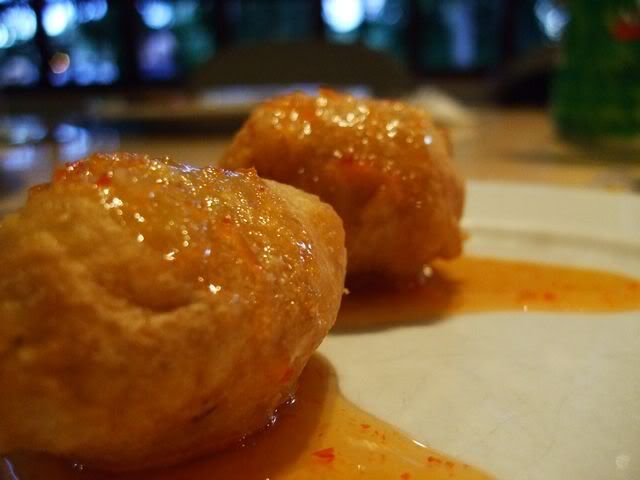 Cucur bilis
Wednesday, 17th February 2010
Last day of our stay at Taman Negara and I must say it has been a blast. I have never experienced "nature" quite like this and will definitely be back if I get the chance.
There was nothing to do for the day except having breakfast and checking out from the place.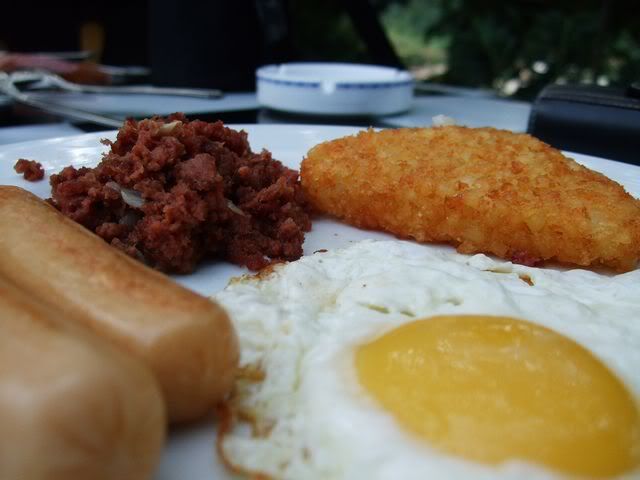 Sausages, corned beef, hash brown and egg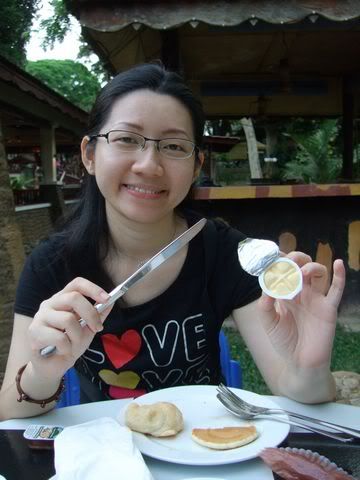 Smile :)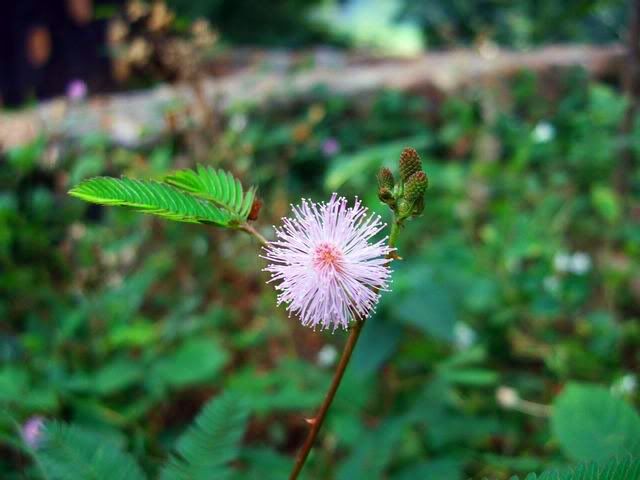 I wanted to take a picture of a bee on the flower but it flew away :(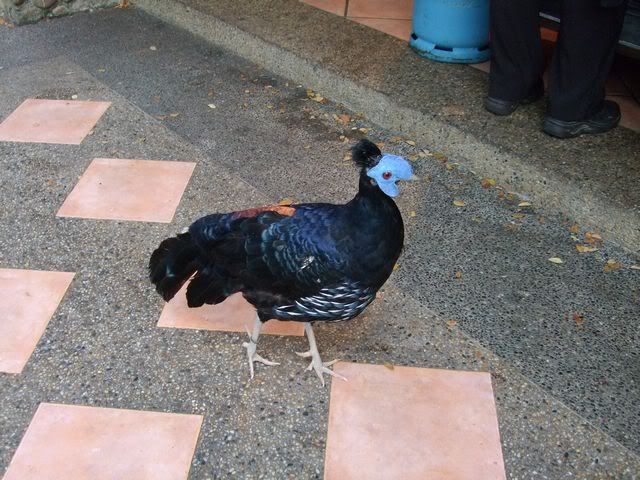 Crash helmet hen!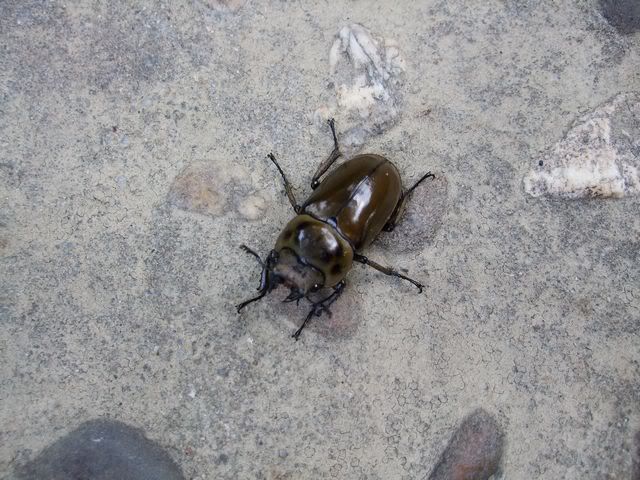 Some beetle I stumbled across on the way back to the chalet
We checked out from the resort after breakfast and it was another 2 hour boat ride to the Jetty at Kuala Tembeling.
From there, we drove to Temerloh for lunch at some restaurant called
Wiki
Wee Kee. Once again, I have no idea for names of the dishes so pardon me for that
.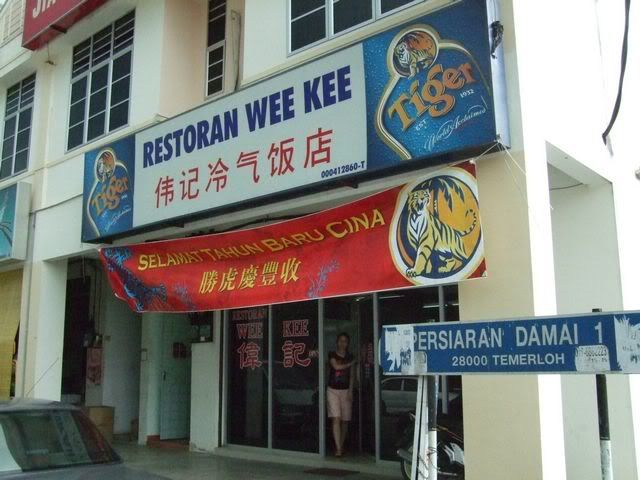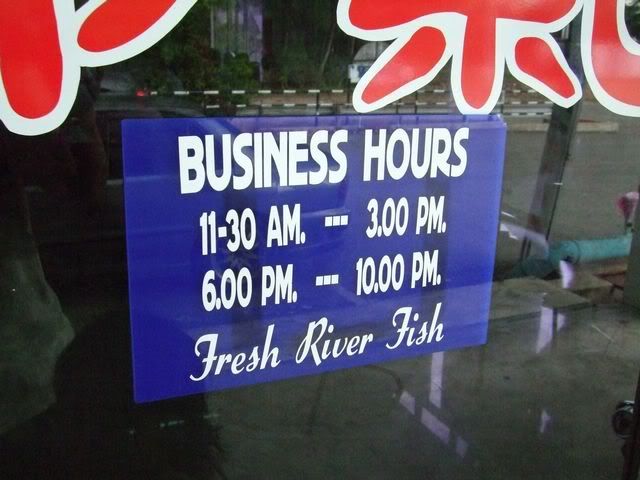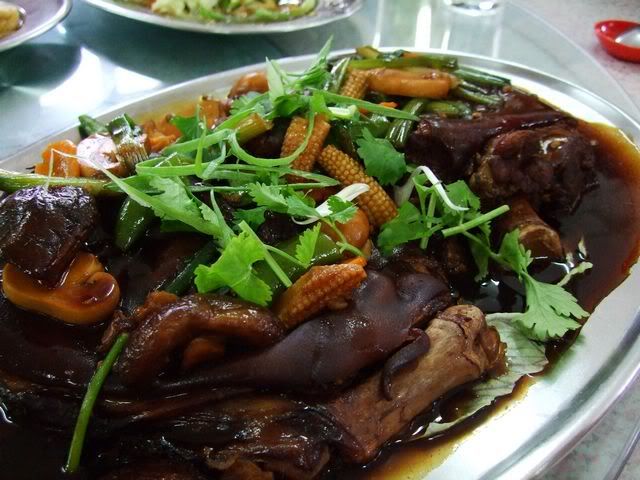 Some Pork leg or arm dish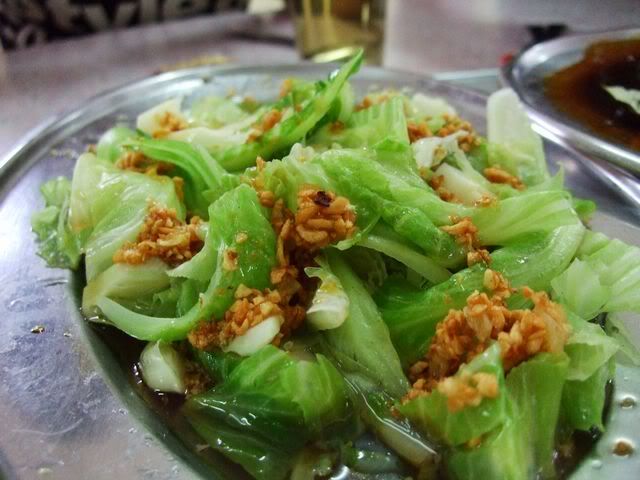 Veg with loads of garlic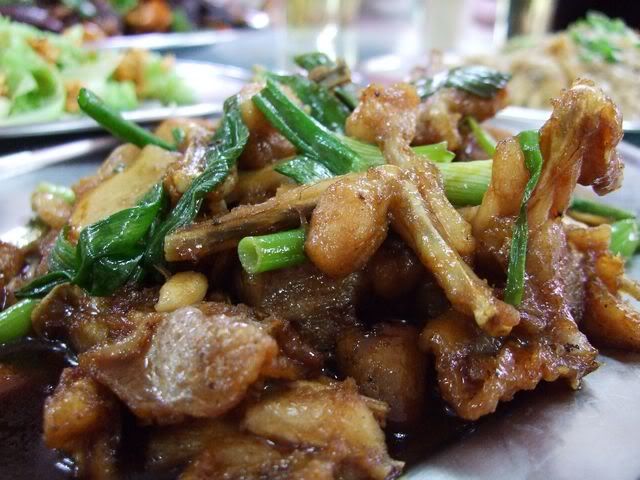 Ting Kai, Frog Leg?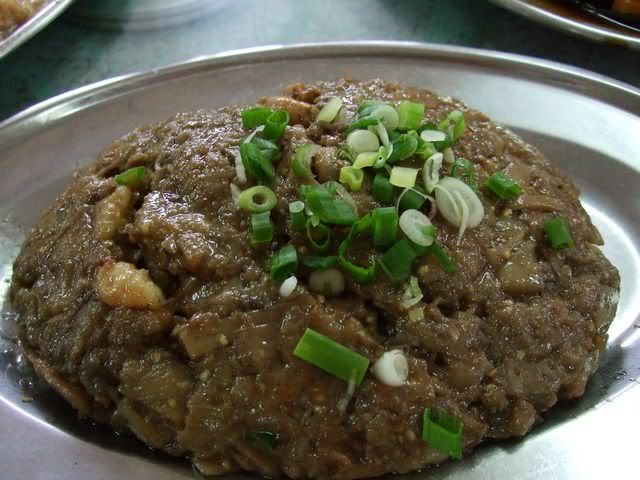 Aubergine
...canggih eh? It's brinjal la.....eggplant..tahu?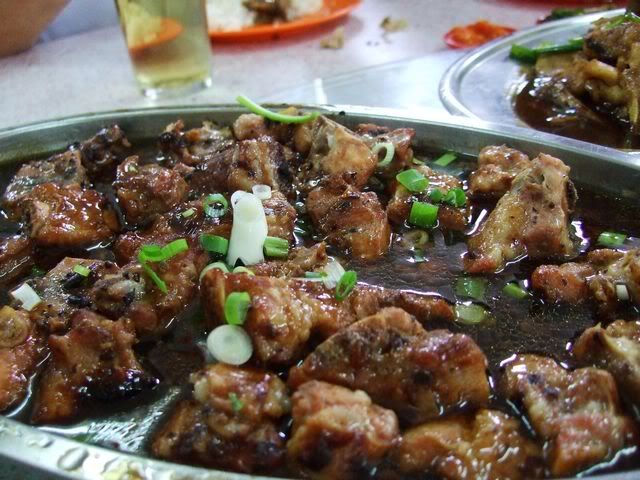 Pai Kuat! Pork Ribs!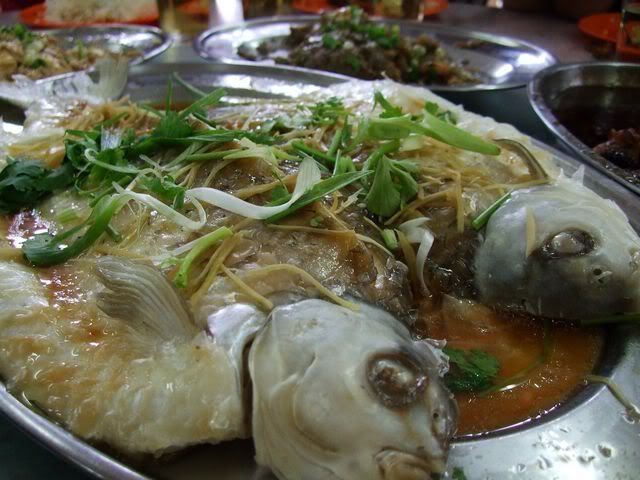 Ang Ker Loh Fish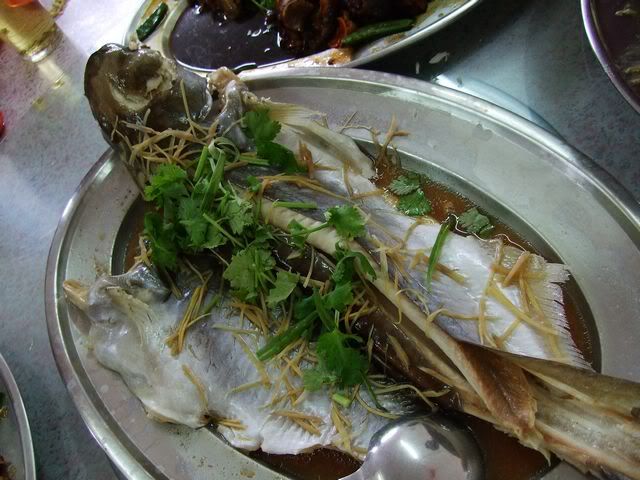 Patin Fish
Last but not least, how could we not have one of the most-important-must-have dish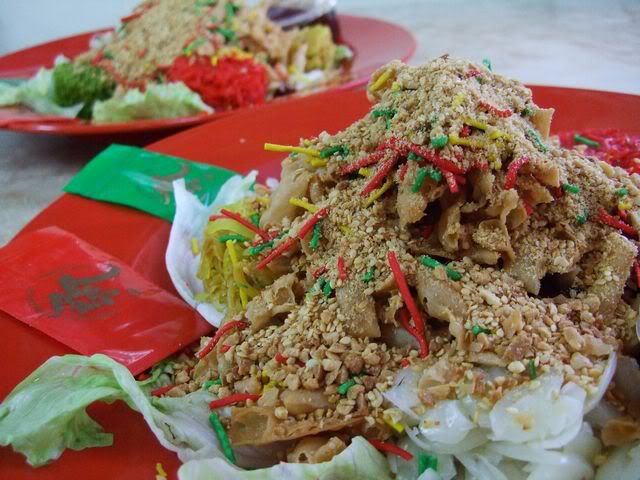 YEE SANG
So there you have it folks, my CNY trip to Taman Negara. I hope you guys had a wonderful and prosperous Chinese New Year this year too. Till then,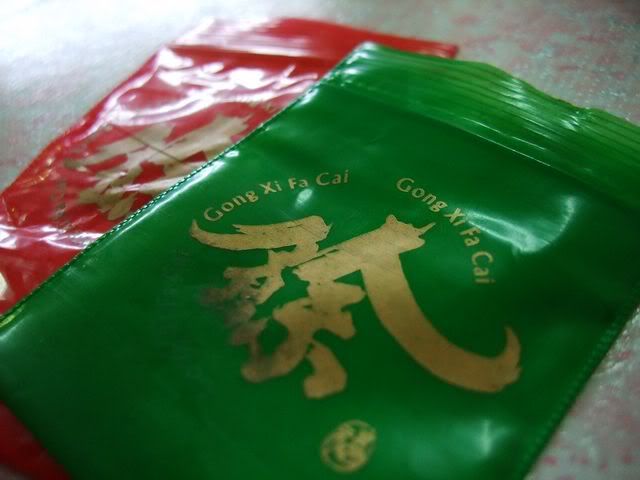 Gong Hei Fatt Choi!