What's up everyone! my blog has been selected for this year's
Time Out KL Food Awards 2011
for a special category. This time, there is a new category featuring some of KL's top food bloggers with their own choice of 'best meal' in the past 12 months;
Blogger's Choice Award
. I'm am very honored to be one of the selected bloggers for this and my nomination goes out to
Andes
at Aman Suria for their delicious pork burger.
Below is my review of the place.
I was doing some grocery shopping with my grandma when I noticed a friend's tweet asking if anyone was free to have lunch at Andes. As I was on-leave, had no lunch plans and was planning to head towards Damansara Utama from Puchong; why not? I replied, confirmed and Andes was the lunch place to be!
Andes is located at Aman Sura and it's really easy to spot the place. It wasn't crowded when we got there so that was good for me; I wanted to take lots of pictures without getting unwanted attention. The menu and food looked good but I was there for the pork burger that I have been hearing about.
Mike didn't expect his pork trotter's vindaloo to be such a full-meal because he thought it was an appetizer kind of portion. Lunch promotions are priced at RM7 and sound good for what is available on the menu. The pork trotter's vindaloo was alright. Meat texture was not too bad but could have been a little tenderer for that perfect touch.
As it was being served to our table, the THICKNESS of the patty caught my attention. Lots of mayo, fresh slices of tomato and onions, I couldn't wait to take my first bite! The coleslaw and fries were fresh and crunchy; yeah, both of them.
One may be fooled by the small burger size but this set packs quite a hefty meal with the coleslaw and fries that comes with it.
Cheese is mixed into the patty so for lactose intolerant peeps, do take note. I'm not sure if extra cheese can be added upon request but the burger is already awesome by its default serving style. The pork patty gives you a nice chewy texture and is NOT tough. Moisture and porkie flavours are pretty much still in the patty which makes it simply delicious. So far the only pork burgers I have tried are the Samurai Burger (McDonalds) in Bangkok and the one in SS2. I'm not comparing but all I'm saying is this is how a proper pork burger should be: meaty, chunky, juicy and porky!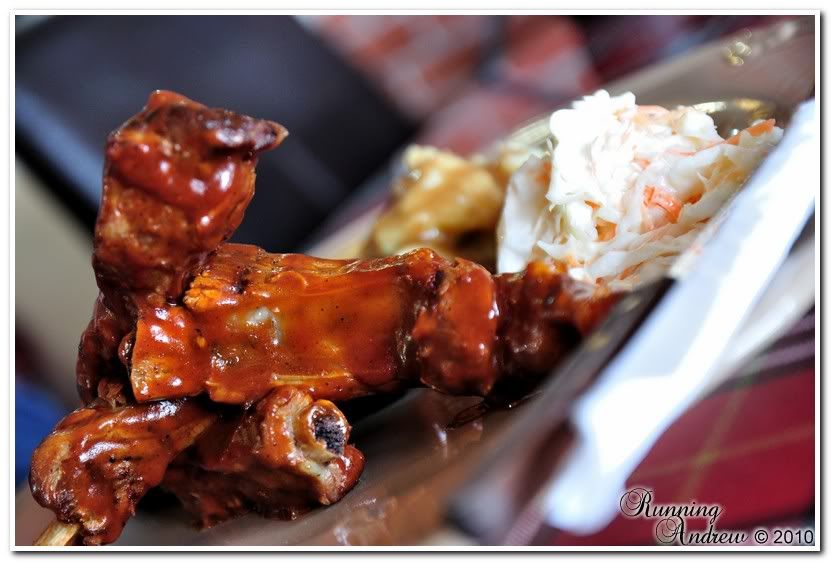 Mike's main course was the barbeque pork ribs. The BBQ pork ribs' smoke aroma was very, very apparent. Lots of ribs glazed in BBQ sauce served with mash potato and fresh coleslaw; now THAT is a combo meal. With that said, I got to try some of the BBQ pork ribs too. There weren't too many charred areas but what I like about the ribs is the smoky aroma alongside the BBQ sauce. It makes the pork ribs so tasty but I think Mike said that he preferred the ribs a little softer.
I was so engrossed with my pork burger and pork ribs that I forgot to try some of the mash potato but I'm sure it was good!
Mike was satisfied and so was I.
How muchie for the porkies?
Pork Burger = RM13.90
BBQ Pork Ribs = RM37.90
Last but not least, please vote for me and my nomination by clicking on the VOTE FOR ME link. Appreciate it!